The Graduate School at the University of Utah is proud to announce the inaugural 2022-2023 Curci Foundation Scholars. The seven students are the first cohort to receive support from a major $1.75 million gift from the Shurl and Kay Curci Foundation's PhD scholarship initiative, a program that will fund two years of graduate school for incoming students pursuing doctoral degrees in the life sciences, prioritizing two groups who have historically been excluded from funding: women and international students. The scholarships include full tuition, stipend, and benefits.
The U is one of six of prestigious universities chosen to host the PhD scholarship from the Curci Foundation, an organization that, according to their website, "supports science-based research striving for the advancement of a healthy and sustainable future for humans." The other Curci Foundation institutions include UC Berkeley, UC San Diego, UC San Francisco, University of Washington, and the University of Colorado-Boulder.
"Our partnership with the Curci Foundation significantly expands opportunities for women and international student to achieve a doctoral degree in life sciences at a top-tier research institution," said Dave Kieda, dean of the Graduate School. "Our graduate research programs span a wide range of disciplines across the School of Medicine and the Colleges of the Science, Pharmacy and Engineering. Our graduates are consistently ranked among the best programs in the world, and the Curci Scholarship will raise the diversity and international prominence of these programs."
Aakriti Bhandari, Neuroscience
I am originally from Nepal. I went to Centenary College of Louisiana where I majored in biochemistry and neuroscience. For the past 4 years, I worked as a research assistant in the Jackson Laboratory at Columbia University studying the molecular genetics of glaucoma using a mice model. I am interested in understanding the cellular and molecular mechanisms of disease pathology, specifically neurological/neurodegenerative disorders or addiction. I know there are limited scholarship and funding opportunities for international students, so I am very thrilled and honored to have received the Curci Fellowship.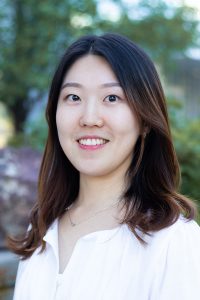 Jiyeon Hyun, Biology
I am studying Biology with emphasis on Plant Biology. Now I am rotating in a lab studying plant immunity – how plants deal with a pathogen attack. I graduated from Seoul National University in Korea with Bachelor's and master's degree in Plant Science. I am very glad and grateful for receiving the Curci Fellowship. It makes me keep trying hard to achieve something more!
Warittakorn Kategeaw, Pharmacotherapy outcomes research
I obtained my PharmD from Chulalongkorn University, Thailand. My focus of study is on health outcomes research and health economics. I am honored to be a part of the prestigious Curci PhD fellowship. The fellowship encourages and supports international women, which could be considered a minority in the research field. Being one of the recipients of this fellowship is rewarding and inspiring as I have just begun my research journey. Moreover, I believe this will encourage others to consider pursuing research.
Shannuo Li, Molecular Pharmaceutics
I completed my master's degree in drug discovery and development in 2022 from Uppsala University. My research was on the pharmacokinetic aspect of blood brain barrier drug delivery. My PhD research will focus on drug-free macromolecular therapeutics and drug-conjugate for Alzheimer's Disease.
Farhan Muhib, Biomedical engineering
I am a first-year Ph.D. student at the department of Biomedical Engineering, University of Utah. I am currently working on bone-fracture rehabilitation biomechanics under the supervision of Professor Jeffrey Weiss. It has been a fantastic experience, enjoying the classes, lab work, and especially the scenic beauty at the U. The Curci Fellowship has helped me achieve my dream of pursuing higher studies at this renowned university. I feel lucky and honored that I was considered worthy of this prestigious scholarship.
Becca Schnabel, Neuroscience
I graduated from Montana State University with my B.S. in cell biology and neuroscience. Then I completed a postbaccalaureate program at the Mayo Clinic before starting in the neuroscience PhD program here at the U. My research interests include the intersection of stress, early life adversity, and the development of psychiatric disease with the hope to identify resiliency mechanisms for conditions such as major depressive disorder or post-traumatic stress disorder. The support of both the university and the Curci Foundation further motivates me to conduct impactful behavioral health research.
Madelyn Stout, Biomedical engineering
I completed my B.S. in mechanical engineering at Brigham Young University, and my M.S. in biomedical engineering at Rensselaer Polytechnic Institute. My focus has been on clinically relevant medical devices that improve life quality and advances healthcare technology. I'm still working on finding a specific focus here at the U. The Curci Foundation Fellowship has been integral in providing me the freedom to explore different graduate study options to choose a Ph.D. project that I am passionate about and that will fall within my goals towards solving relevant medical issues.