By Annalisa Purser
The semi-annual Clothesline Project at the University of Utah will be displayed in the Union Ballroom hallway April 15-16, 10 a.m.-2 p.m. The shirts on display are decorated by local survivors and victims of sexual assault and/or domestic violence and are meant to bring awareness to a problem that affects one in three Utah women.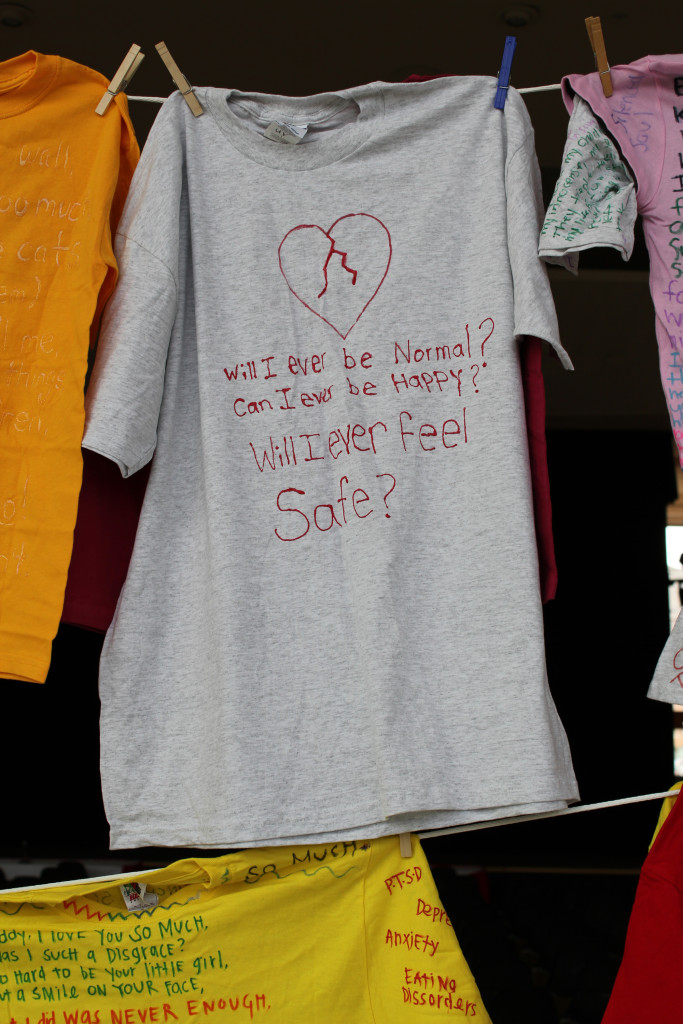 Each year, victims are invited to decorate shirts in a private, enclosed area where they will not be disturbed by those passing by the display. Shirts, paint and markers are provided by ASUU, the Center for Student Wellness and the College of Social Work, and participants share their stories however they feel comfortable. Some shirts express messages of healing and progress while many share feelings of being ashamed, hurt or broken.
"I want as many people as possible to learn about the prevalence of sexual assault and join in the fight to prevent it in the future," said student Jared Seachris, associate director of student advocacy for ASUU and member of the Sigma Chi fraternity, who helped organize the event. "I want people to take a step further and become active in preventing sexual assault."
The Clothesline Project started in Cape Cod, Massachusetts, in 1990 and has spread throughout the world, but it is relatively new to the U campus. In 2013, social work student Braxton Duston, who later served as director of student advocacy in ASUU, brought the project to the U.
"When I realized the project didn't exist at the U, I was concerned that the voices of survivors at the U and in Salt Lake City were not being heard," Duston said. "In the weeks leading up to the initial launch, I often felt discouraged, but the event turned out better than I imagined and has been one of the crucial turning points in my life. I am so grateful to those who share their stories—bringing awareness to the issue and demonstrating their incredible strength."
The Clothesline Project takes place every October during Domestic Violence Awareness Month and April during Sexual Assault Awareness Month.
The project is associated with the It's On Us campaign, which launched in February on the U campus. For support and resources available to help those dealing with sexual assault or domestic violence, visit the Center for Student Wellness or email wellness@sa.utah.edu. To take the pledge to end sexual assault, visit asuu.utah.edu/itsonus.
Annalisa Purser is a communication specialist at University Marketing and Communications. If you have an interesting story idea, email her at annalisa.purser@utah.edu.