Start the year off right and know where to park. There are new lots opening for hospital and clinic employees, shuttle routes and special prizes for those who use public transportation.
Look for parking lot ambassadors in the bright yellow shirts and golf carts. If the lot you're in is full, the ambassadors can help redirect you to available parking on campus.
Starting on Tuesday, Jan. 15, one lucky public transportation rider will be surprised at random with an Apple Watch 4. And four more watches will be given away at random over the following four weeks.
Also, check out our live campus shuttle tracker here.
[bs_row class="row"]
[bs_col class="col-sm-6″]
[bs_well size="sm"]
Eccles Broadcast Lot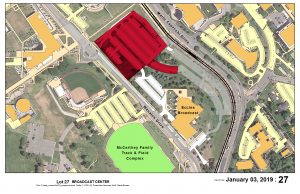 Nearing completion, this roughly 450-stall U lot will be partially open. It will better serve the Health Campus community with its location and will have shuttle service running to the hospitals and clinic. While not fully open, several hundred stalls will be available until construction is complete.
[/bs_well]
[bs_well size="sm"]
Guardsman Way Lot
Make this your primary or contingency parking lot. Hundreds of stalls are available, even at peak times. And it's not that far. A 7.5-minute walk is all it takes to get to the Business Loop. That's compared to a 10-minute walk from Rice-Eccles Stadium to Presidents Circle.
[/bs_well]
[/bs_col]
[bs_col class="col-sm-6″]
[bs_well size="sm"]
Union Electric Shuttle Route
Running from the South Campus TRAX station to the Union in a continuous loop Monday-Friday from 7:30 a.m.-3:30 p.m., with stops in front of the Garff Executive Education Building and the LNCO building, this route serves the central part of campus that cannot be accessed by private vehicles.
[/bs_well]
[bs_well size="sm"]
New Guardsman Shuttle Route
This new route will run between the Guardsman Way lot to the Business Loop, where transfers to the Union electric shuttle route can be made. The shuttle will run Monday-Friday from 8 a.m.-3:30 p.m.
[/bs_well]
[/bs_col]
[/bs_row]
[bs_well size="sm"]
Union and Library Pay Lots
Both lots will have sections available for U permit parking after 6 p.m. This will allow students who are studying later in the evening to park centrally on campus. Many lots on campus convert from an A lot to U. Click here for lot conversion times.
[/bs_well]
[bs_well size="sm"]
Shoreline Garage
For U Health Campus and hospital employees, level two of the Shoreline Garage has recently been opened to A permits. Roughly 100 stalls are available on a first come, first served basis. No other permit is required.
Central Parking Garage
Now all levels of the garage are open to U permits after 3 p.m., with the exception of special events and games hosted in the Huntsman Center. Reserved stalls and loading zones will still be enforced. Check lot entrance signs for event dates and times.
Merrill Engineering Lot
Fencing has been removed in the Merrill Engineering lot, freeing up nearly 50 stalls.
Institute Garage
U permits are allowed all day on levels two and three in the LDS Institute garage.
Stadium Lot
U permits are allowed in A stalls after 3 p.m. Spaces are typically available in the afternoons.
[/bs_well]