On Feb. 27, the College of Social and Behavioral Sciences gathered to honor its distinguished alumni, an annual tradition since 2003. For the college's 50th anniversary, it honored an alum from each of the past five decades.
A surprise family member or friend introduced each alum, and the luncheon's soundtrack featured popular songs from the past 50 years.
"We are delighted to honor this talented group of alumni from the college from the past 50 years of the college's history," said CSBS dean Cynthia Berg. "They exemplify the spirit of public service, innovation, and passion for inspiring  solutions to life's challenges that is so central to the college mission."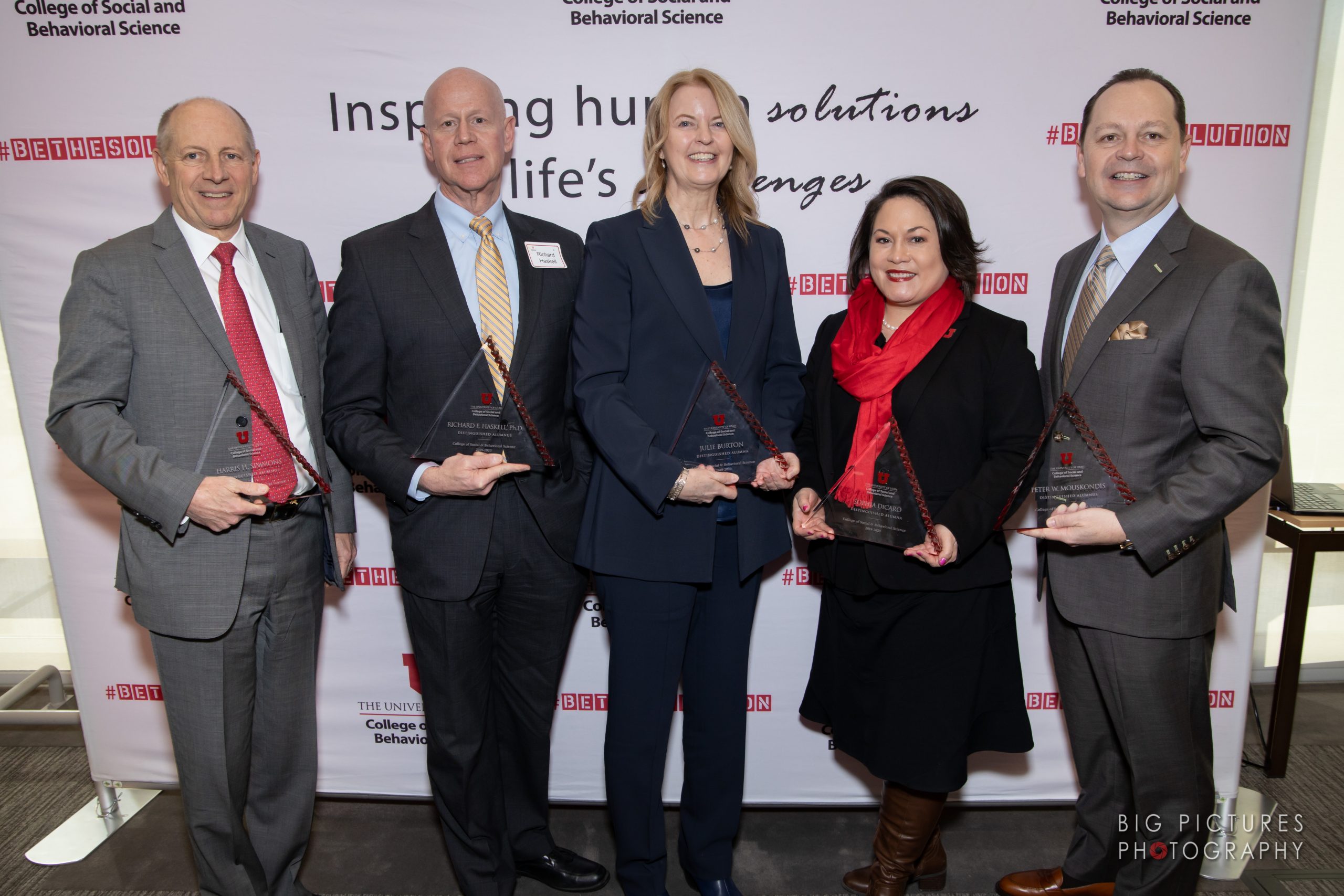 Left to right: Harris Simmons, Rick Haskell, Julie Burton, Sophia DiCaro, and Peter Mouskondis.
2010-2020: Rick Haskell
MS, Economics
PhD, Economics
Richard Haskell is an Associate Professor of Finance in the Bill & Vieve Gore School of Business, having come to the college after a fulfilling career in finance and investments. His research is centered around asset valuation models and methods, and the effects of capital intensity on labor markets. He teaches higher order finance courses to seniors and graduate students in the Gore School of Business, maintains a teaching appointment in the University of Utah's Department of Economics, and is the Managing Director of The University Valuation Group, a student-led valuation consultancy. 
Haskell and his wife of forty years, Leslie Jensen Haskell, raised four children whom they adore and today enjoy a growing family of grandchildren, daughters and sons. When not with his family or students, Haskell can be found in his workshop, garden, or hiking in the mountains. 
2000-2010: Sophia DiCaro
BA, Political Science
MPA, Public Administration
Sophia M. DiCaro is the chief compliance officer for The Cynosure Group, an investment advisory firm in Salt Lake City, Utah. Prior to joining Cynosure, DiCaro spent fifteen years with the State of Utah. After working under four gubernatorial administrations in various senior roles, DiCaro served a term in the Utah State House of Representatives, representing northern West Valley City in the Utah State Legislature.
DiCaro now serves as a commissioner for the Utah Alcoholic Beverage Control Commission, as well as a trustee for Primary Children's Hospital. She also serves on the advisory boards of the Kem C. Gardner Policy Institute at the University of Utah, as well as the Utah Women's Leadership Institute, and was recognized by Utah Business Magazine as one of Utah's 30 Women to Watch.
1990-2000: Peter Mouskondis
BA, Family and Consumer Studies
Peter Mouskondis is the Owner and Co-CEO of Nicholas & Company. Peter began his career at Nicholas & Company at 12 years old. He worked his way through nearly every department in the organization before becoming president in 2003. 
Peter also sits on the Boards of the Governor's Office of Economic Development, the Utah Sports Commission and The Alta Club. He was honored with a Living Legacy Award by the Boys & Girls Club, as well as being named a "Trailblazer" and one of the "40 Under 40" by Utah Business magazine. Peter was also the recipient of the Utah Valley University's Kirk Englehardt Ethics Award.
1980-1990: Julie Burton
BS, Political Science
Julie Burton is President of the Women's Media Center, a feminist organization co-founded by Jane Fonda, Robin Morgan, and Gloria Steinem that works to make women visible and powerful in media. As President of WMC, Burton leads its advocacy, online and on-air journalism, research, and leadership initiatives to empower women as equal players in media and society. She is widely quoted as an activist and leader in media and speaks on women's representation issues at forums in the U.S. and globally. 
For more than a decade, Burton was on the frontlines of the women's movement as the youngest CEO of a national pro-choice political action committee, Voters For Choice. She was the Founding Executive Director of Choice USA (now called URGE — Unite for Reproductive & Gender Equity). She organized a series of high-profile Concerts for Choice and produced a CD with Sony Music — Mary Had A Little Amp — to raise visibility for preschool education.
Early in her career, she was a recipient of the Women's Information Network's "Young Woman of Achievement Award" and was named "A Rising Star" by Campaigns and Elections Magazine. She is the recipient of a Wikimedia Distinguished Service Award and has been named one of Women's eNews 21 Leaders for the 21st Century.
1970-1980: Harris H. Simmons
BA, Economics
Harris H. Simmons is the chairman and chief executive officer of Zions Bancorporation, a $70 billion (assets) bank holding company that operates approximately 435 full-service banking offices throughout 11 western states. A native of Salt Lake City, Simmons first worked for Zions in 1970 and became CEO of Zions Bancorporation in 1990 and chairman in 2002. 
Simmons has served as chairman or president of Utah Symphony, Pioneer Theatre Company, Utah Foundation, and Economic Development Corporation of Utah. He is chairman of the Board of Regents of the Utah System of Higher Education. He is president of Shelter the Homeless, Inc., and serves on the board of Utah Youth Village. He also serves on the board of directors for National Life Group (Vermont) and O.C. Tanner Company. He is past chairman of the American Bankers Association and is a member of the Bank Policy Institute. Mr. Simmons was named Banker of the Year by American Banker magazine in 2018. 
He and his wife, Amanda Pahnke Simmons, are the parents of four children.