WeBeWell has been granted $1,000,000 in support from Eric and Wendy Schmidt's philanthropic venture, Schmidt Futures, which identifies and invests in, exceptional people and promising ideas. For more information, see a previous publication in @theU on WeBeWell here.
WeBeWell, previously known as Well-being Elevated, has been granted an additional $500,000 in support from Schmidt Futures. The company was granted its first $500,000 following its virtual presentation to the Alliance for the American Dream in Fall 2020. This additional support was granted after a successful 2021 pilot launch and progress towards scalability.
WeBeWell is a social impact enterprise aimed at empowering people to build sustainable well-being and thrive. The organization is breaking barriers by providing accessible and scalable evidence-based practices and peer support groups that are improving mental health, well-being, and creating connection. It has served hundreds of University of Utah students with its app and support group program. It has also begun serving additional institutions and is conducting research on the impact of its multimodal initiative on components of mental health such as anxiety, depression and well-being.
"Mental health issues are presenting themselves at earlier ages and have been exacerbated by the pandemic. It is imperative that we recognize the need for earlier interventions to protect our students and the future workforce," said Taylor Randall, president of the University of Utah. "We are proud of the work WeBeWell is doing on our campus and in our community, creating innovative solutions to the mental health crisis."
Alexander Becraft, researcher, Co-founder, and CEO of WeBeWell, stated "The WeBeWell team has done a remarkable job striving to impact the mental health and well-being of those we have served. Our impact and growth is a result of their incredible passion, dedication, and teamwork. Our organization is incredibly thankful for the continued and generous support of our champions at Schmidt Futures and the University of Utah. In particular, our team is so very grateful for the mentorship and support of Carol and Ed Diener, without whom our impactful work would not have been possible."
WeBeWell started as a small group of interdisciplinary college students with backgrounds in psychology, entrepreneurship, technology, and medicine. The team is led by U alumni Alexander Becraft, Mitchell Wulfman, and Amanda Jenkins. The team was co-founded in close partnership with world renowned psychologists, Ed and Carol Diener, and also in collaboration with Ryan Jackson, Merry Joseph, Ayana Amaechi, and Michelle Valdes.
As the company has expanded, it has been able to employ dozens of graduate and undergraduate students from various disciplines across campus. The team also includes clinicians and psychologists, and is working with U faculty, Marissa Diener and Nick Galli, on research and program implementation.
WeBeWell has been evaluating its program outcomes since its inception. In the Spring of 2021, the team launched its first large scale iteration serving just over 100 University of Utah students. In an Institutional Review Board (IRB) exempt study, they utilized self-report measurements to assess the mental health and well-being of students before and after the program. The outcomes of the program are shown in the following graphic.
The research found statistically significant differences from pre- to post-test on symptoms of depression and anxiety, as well as positive and negative emotions, indicating that the program improved college students' well-being.
"My experience with WeBeWell was great! I learned many valuable lessons and learned how to deal with stress from college," said Lauren, a participant in the WeBeWell program. "I just wish I would have found out about this earlier on in my college career – the lessons learned have definitely impacted my personal life along with my academic career!"
Lydia shared, "This program is beyond amazing. I was in the program when I was suffering… I felt completely alone. However, this program helped me feel less lonely in my challenges! The program helped me understand how to manage my well-being… I received amazing insight on topics we covered, and use these tactics today!"
The organization is actively cultivating new partnerships at the University of Utah and beyond, with initiatives that include: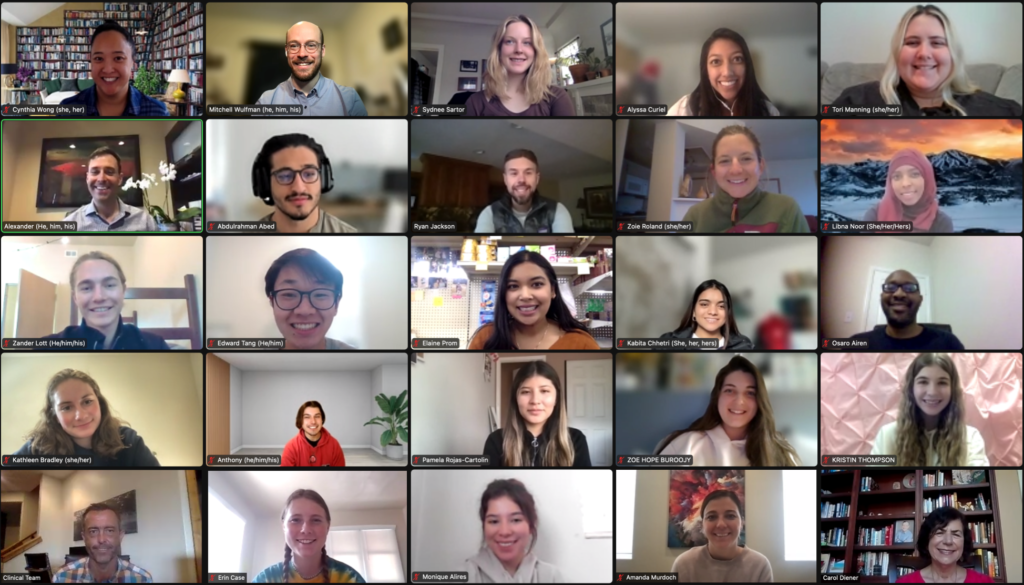 Mitchell Wulfman, Co-founder and COO at WeBeWell said that "We are very excited to be expanding our reach this year in order to serve more individuals in the higher education space and beyond, by scaling our unique model with a growing number of institutional partners. Our approach is proactive and preventive, not passive or reactive – which is something that distinguishes our solution from many other options out there in a compelling way."
WeBeWell now has its sights set on expanding to other institutions across the state and nationally. There is a direct link between mental health, well-being, economic mobility, and academic success. It hopes to use its proactive and preventative mental health and well-being interventions to empower students to thrive intellectually, emotionally and economically.
To learn more about WeBeWell and its associated programs, visit its website.