DESIGN BUILD BLUFF
U architecture students partner with Navajo community to create unique homes and public spaces.
Each year, U graduate students from the University of Utah College of Architecture + Planning design and build an architectural project to benefit the Navajo Nation in the southern Utah Tribal area. Known as DesignBuildBLUFF, the program immerses students in hands on cross-cultural experiences.
"We work in partnership with the Navajo community of San Juan County in the Utah Four Corners," said Program Director Jose Galarza. "We offer students an opportunity to design and build a full-scale work of architecture in collaboration with the Navajo people. We emphasize sustainability and a respect for the unique social, cultural and environmental needs of the region."
"In the most basic sense, it's about the importance of people from different backgrounds connecting and relating to each other, and respecting each other," said U architecture student Portia Strahan.
Historically, the projects are small single-family homes assigned by the local tribal chapters, but more recently these have expanded to include community projects. Students are encouraged to explore alternative building methods, unique materials and innovative solutions. Each spring, the U architecture students move more than 300 miles away to the remote campus in Bluff, Utah, close to the Navajo Nation's northernmost chapters to convert their drawings into habitable spaces.
Read the full story here.
---
AN INCLUSIVE CAMPUS: IT TAKES US ALL


As in the past, a multi-racial coalition is needed to change campus culture, professor says.
U Professor William A. Smith predicted this past December that college campuses would need to take a leading and decisive stance against racial discrimination after the 2016 presidential election — and events in August proved his point, he says.
"Under the current climate, we are going to have many more of these types of situations arise," said Smith, interim chair and an associate professor in the Department of Education, Culture & Society, and associate professor in the Division of Ethnic Studies.
In August, white nationalists and counterprotesters clashed in Charlottesville, Virginia, home to the University of Virginia, during a "Unite the Right" rally staged to protest removal of a Confederate statue. The event turned deadly when a 20-year-old man described as a Nazi sympathizer drove his vehicle into a crowd of counterprotesters, killing 32-year-old Heather Heyer and injuring 19 others.
Days before the Virginia rally, two unauthorized flyers that were anti-black and specifically targeted black males — with disparaging images and text that included the phrase "Stop the blacks" — were briefly posted on University of Utah property. A white nationalist group later claimed association with the flyers.
Click here to read the full story.
---
100,000TH ARTS PASS ISSUED


Arts at the U continue to flourish while university arts program hits major milestone.
In a world often focused on STEM education, the University of Utah is proud to celebrate something of a more right-brained nature and a milestone for its creative offerings – issuing  the institution's 100,000th Arts Pass ticket.
The U's Arts Pass program, which allows students to use their UCards to get free or nearly free tickets to the hundreds of arts experiences on campus each year, is a unique program that began during the 2011-2012 academic year. It is one of  the most robust arts programs for students among peer institutions because it provides free or affordable access to more arts experiences each year than similar programs at other institutions.
"We are weaving the effort to provide abundant and diverse creative experiences for students into the very fabric of the university," said Raymond Tymas-Jones, associate vice president for the arts and dean of the College of Fine Arts. "These experiences are sating a curiosity in our students that is leading to new interdisciplinary explorations, new knowledge, a greater collective empathy, heightened social tolerance and more community building."
Find the full story here.
---
GAME ON!
The U forms first varsity esports program in the Power Five conferences.
Varsity esports have arrived at the University of Utah.
The U and its nationally ranked Entertainment Arts & Engineering video game development program announced today that it is forming the U's first college-sponsored varsity esports program. Utah esports will compete in multiple games and has confirmed the industry leading League of Legends as its first game with additional games to be announced shortly. The esports program is the first of its kind from a school out of the Power Five athletics conferences (Pac-12, Big Ten, Big 12, Atlantic Coast and Southeastern).
"Esports has had a dramatic rise in popularity in the U.S. over the last few years – especially on college campuses," said A.J. Dimick, director of operations for the U's new esports program. "We think college esports is a great opportunity and we want our students to be part of it."
The U's esports program will be sponsored by the EAE video game development program, which has been ranked the No. 1 video game design program in the nation for three of the past five years by The Princeton Review.
"EAE is proud to elevate competitive gaming at the U," said Robert Kessler, director of EAE. "We think it is a great opportunity for our students, the vibrant gaming community here on campus and Utah fans in general to come together and watch these players hone their skills and play competitively to represent our school."
Click here to read the entire story.
---
C'MON, GET HAPPY
U professor gets worldwide platform to spread happiness ideas.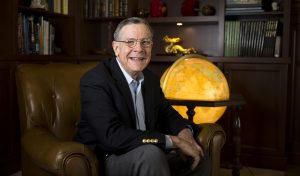 When the United Arab Emirates decided to get a happiness movement trending around the world, it turned to a University of Utah social psychology professor for help.
Ed Diener — known as Dr. Happiness — is a pioneer in the field of happiness research. He coined the term "subjective well-being" and developed many protocols used to measure happiness, life satisfaction and positive emotions.
Now, he'll play a key role on the World Happiness Council launched by the UAE as head of a subcommittee on personal happiness.
His Highness Sheikh Mohammed bin Rashid Al Maktoum, vice president, prime minister and ruler of Dubai, announced the creation of the World Happiness Council on March 19 — the eve of International Day of Happiness. The council is designed as a think tank with the goal of getting governments to consider the happiness of citizens and residents in strategic planning and policies that improve quality of life and open "windows for hope."
The council's six subcommittees will produce an annual report that highlights best practices by governments in promoting well-being and happiness and, through an annual summit each February, encourage world leaders to "look for a new way to bring happiness to their people."
And that, well, makes Diener happy.
Read the full story here.
---
Courtroom Social Work


Graduate students get real-life experience in forensics class.
When Rob Butters took the stand this spring to offer expert testimony about why justice was best served by keeping Abdullahi "Abdi" Mohamed's case in juvenile court, his comments were bolstered by the work of his students.
The second-year graduate students, all working on master of social work degrees, spent the semester diving deep into Mohamed's background and history and coming to a conclusion about how his case should be handled. Mohamed was 17 when he assaulted a man during a drug dispute and then was shot by police in downtown Salt Lake City.
Given what they learned, the students came to a consensus: Mohamed belonged in the juvenile rather than the adult court system — which Butters proceeded to tell 3rd District Court Juvenile Judge Julie Lund. Days later, that's exactly how Lund ruled.
"It really brings all the things we do in forensic social work to life — risk and needs assessments, the likelihood of recidivism, all the things we talk — right in front of them in a real-life case," said Butters, an assistant professor in the College of Social Work and director of the Utah Criminal Justice Center at the U.
Go here for the full story.
---
Learning: Not by the book


BlockU program takes students from campus to community for hands-on experiences.
By the third song, dancers are filling the floor.
Two couples spin hand-in-hand, gently smiling, as they gracefully make their way across the room at the Sunday Anderson Westside Senior Center. Nearby, a student coaxes an older gentleman to dance.
This evening of food, dancing and fun has been organized by University of Utah students as their capstone project for the Family & Health BlockU program. It is the third year that U students have put on a Senior Prom and the senior citizens who patronize the center have "come to ask for it," said Rebecca Utz, a sociology professor who co-teaches the BlockU program. "They say it is the highlight of the year."
Now, as the Stratford Street Big Band — several of its members also are from the U — works its way through an oldies playlist, the students are experiencing the joy that comes from their hard work.
"I've loved it," said Parker Smith, a first-year student from West Jordan. "It has been so fun. The seniors are so energetic and they always have a smile."
The BlockU program is designed to help first-year students like Smith successfully navigate college. Students who participate in the program select from one of six thematically organized blocks, with courses spread over two semesters.
Click here for the full story.
---
WHO IS THE CLASS OF 2021?
U welcomes largest, most diverse, most academically prepared incoming class.
This fall the University of Utah welcomed its largest, most diverse and most academically prepared incoming class. First-time freshman enrollment increased more than 14 percent over the previous year, for a total of 4,119 students.
These students came from across the country and the world, representing almost all 50 states and 36 countries. More than 29 percent of the first-time freshmen were domestic students of color, mirroring the demographics of Salt Lake County. Additionally, this group maintained the impressive 3.61 average high school GPA of the previous incoming class and earned an increased average ACT score of 25.3.
"We were delighted to see a 60 percent increase in applications for admission to the University of Utah this year," said Mary Parker, associate vice president for enrollment management at the U. "The caliber of education and experience students receive at the U is no longer a secret. Students and their families know that the U prepares them for a successful future, and we're excited to welcome so many new students to the U family."
Overall, the campus saw a 2.2 percent increase in enrollment, with a total of 32,760 students – 24,635 undergraduates and 8,125 graduate students. This growth comes on the heels of the institution's largest graduating class, which was celebrated earlier this year when more than 8,500 students earned more than 9,000 degrees.
Read the entire story here.
---
CALLING CAMPUS HOME


Less than 1 percent of foster youth graduate from college, but a new program launching at the U is designed to change that.
By the end of the day, no one would have guessed that 13-year-old Zachary Pruett originally wanted nothing to do with the First Star program at the University of Utah.
"I'm here because my grandma forced me to go to the preview for this program a few months ago," he said. "But I'm glad she did because I've met really cool people, and I'm excited about living on campus next summer."
Pruett is among a group of nearly 30 foster youth from across the state who will be in the inaugural cohort of First Star students at the University of Utah. First Star Academy is a nonprofit organization that has "pioneered support programs to launch foster children into productive lives and careers through higher education," according to its website. The organization was founded in 1999 by Peter Samuelson, a Hollywood film producer who has also created several charities.
"Children who experience trauma need extra mentoring and support to succeed," said Crystal Vail, adolescent services program administrator for the Division of Child and Family Services in Utah and partner in administering the program. "First Star follows students for four years, regardless of their permanency plan, so there's time to build relationships and support them over the years."
Vail pointed out the difficulty many foster youth experience as they transition out of the foster care system when they turn 18.
Find the full story here.
---
VALUING AN INTERNATIONAL COMMUNITY


With many cultures represented in the classroom, students can gain intercultural skills and global awareness right here at the U.
With more than 2,500 international students, the University of Utah continues to become a more diverse campus offering cross-cultural learning opportunities to better understand the complex and interconnected world. With many cultures represented in the classroom, students can gain intercultural skills and global awareness right here on campus. Below, students discuss how their lives and education have benefited from engaging with the U's international community.
Read the full story here.
---
YOUR LYING EYES
Educational psychology professor has become a leading expert in the detection of deception.
When John Kircher, professor of educational psychology, arrived at the U as a graduate student in 1977, he wasn't interested in studying lie detector technology, but after a sequence of events early in his career, he has become a leading expert in the detection of deception. Kircher served as a consultant to the U.S. Department of Defense, U.S. Secret Service, U.S. Department of Homeland Security, National Science Foundation, National Research Council, Royal Canadian Mounted Police and numerous state and local police departments.
Kircher's research led him to create groundbreaking technology that uses eye tracking behavior to detect lies. It's faster, less invasive and cheaper than a polygraph and since it's automated, it's unbiased and fair. He's commercialized the technology through Converus, a company that has provided the test to businesses and government organizations in North, Central and South America.
Below, Kircher describes his journey to creating the eye tracker, its uses and the future of the technology.
See the full story here.
---