*This article originally appeared in Continuum.

Parker Ence HBS'11 was only 9 years old, but he still remembers his first experience at the University of Utah's Alumni House. "My cousins and I were playing hide-andseek when we should have been listening to speeches and toasts at my grandparents' 50th wedding anniversary celebration." Parker didn't realize the significance of his grandfather choosing to have the party at the Alumni House until he was much older. "I learned that after serving in World War II, my grandfather didn't have the financial resources to finish his undergraduate degree at the U," Parker explains. "He returned to school later, and ended up earning his degree at age 40. In fact, he and his oldest daughter, my Aunt Karen, walked at Commencement together."
Since that night, Parker has added many more memories of his own associated with the Alumni House. "As president of the Student Alumni Board, I schemed ways to beat BYU in our annual food drive competition, helped grow the prestige of The MUSS, and planned Homecoming and many other events," he recalls. Since 1980, the Alumni House—located at 155 S. Central Campus Drive—has been the on-campus home for alumni such as Parker and his family as well as students and the community. It is also the headquarters for the U's Alumni Association, which connects the U with more than 265,000 alumni worldwide through a variety of services:
• Engages 17 national alumni chapters and 12 international alumni clubs.
• Raises more than $550,000 each year in student scholarships.
• Runs The MUSS, the U's famed 6,000-member student athletics fan club.
• Organizes one of the largest annual food drives in the state for the Utah Food Bank.
• Produces and distributes some 270,000 issues annually of Continuum magazine as well as a monthly e-newsletter and various email updates.
• Provides career coaching and professional development opportunities.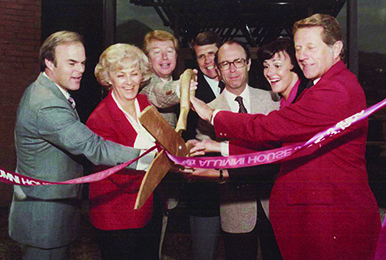 The Alumni House has also served as a meeting and gathering place, hosting more than 500 alumni, campus, and community events every year. It is the venue for awards ceremonies, conferences, campus orientations, service projects, MUSS ticket distribution, and wedding receptions.
With a nearly 40 percent increase in the student population since 1980, entry into the Pac-12, and the U's growing national and international reputation, the Alumni House can no longer keep up with internal and external demands. A major expansion and renovation is currently under way, thanks to a $4 million lead gift from the Spencer F. and Cleone Peterson Eccles family, and the generosity of other supporters including the O.C. Tanner Charitable Trust, Kem (BA'67 JD'70) and Carolyn Gardner, the Zeke and Kay Dumke family, the Sorenson Legacy Foundation, and Jeff (BS'80) and Helen Cardon.
The new facility will be named in honor of Cleone Peterson Eccles BS'57, an active U alumna and benefactor, former vice president of the Alumni Association, and a 10-year member of the U's Board of Trustees. In the 1970s, her husband Spencer F. Eccles BS'56 led the successful campaign to raise funds for the original Alumni House. "This gift brings the ongoing, generous involvement of the Spence and Cleone Eccles family 'full circle' with our Alumni Association," says Alumni Association Executive Director M. John Ashton BS'66 JD'69.
The new Cleone Peterson Eccles Alumni House belongs to all graduates and friends of the U. It will serve as a new home for generations of Utah alumni. "My closest and most lasting college relationships were forged because of connections I made at the Alumni House," Parker continues, "including meeting my wife, Laci, and getting my first real job. Although my career has taken our family to Dallas, Texas, the bonds created through the Alumni Association remain strong."
All alumni and friends are invited to participate in this exciting building transformation as we seek to reach our $10 million fundraising goal. This is a unique moment in the history of the U and the Alumni Association, and a unique opportunity to make your mark or pay tribute to a loved one or mentor. For more information or to make your gift, visit alumni.utah.edu/transformation or call 801-585-9021.