"Hi (lick), I'm Honey! I work at the U now and I love it! I got hired because of my great personality and powerful nose. As a canine officer, my job is to sniff out trouble. I'm almost two years old (14 in dog years) and am a yellow lab.
When I was younger, I spent a lot of time with humans to perfect my sniffing skill. Now, I go around campus, smelling EVERYTHING, looking for things that could hurt my human friends.  My nose knows. Not to brag, but I'm kind-of an expert in explosives. I got my degree in identifying seven different families of explosives. That's a lot! Training for this special training was ruff, but worth it because like keeping everyone safe.
Campus is my favorite place to be. It's soooooo big, and I get to experience it all. I visit the hospital and say 'Hi' to some of the patients. The nurses are really nice and give me all the best pets. I'm a VIP at all the football and basketball games too. I get there early to make sure the building is safe for all our Utah players and fans. I have a lot in common with the players. I like to run around and play fetch with my toys too!!!
My handler, Officer Rich, he's the BEST! I don't like sharing him with other dogs though. Sometimes I bark to let them know to keep their distance, but we're working on that. Officer Rich takes me on rides in our patrol car all over campus and shows me all of the great places to see and smell. Sometimes when I'm especially good, he gives me treats. But ALL day long he tells me what a good girl I am. I am a good girl and I love him!
I really like to meet new people on campus when we are out on patrol. If you see me, come say 'HI!' but ask Officer Rich first if you can pet me, he may need me to pay attention to what we're doing. But always ask anyway! I like giving kisses and like it when people pet and scratch me. Sorry in advance if I jump up on you, I'm still kind of a puppy and I just get sooooooooo excited to meet new people!!!!!
I hope to see you on campus, and remember to come say 'HI' if you see me! Smell ya later!"
— Honey, bomb sniffing dog extraordinaire
— Officer Rich Whittaker, University of Utah Police Department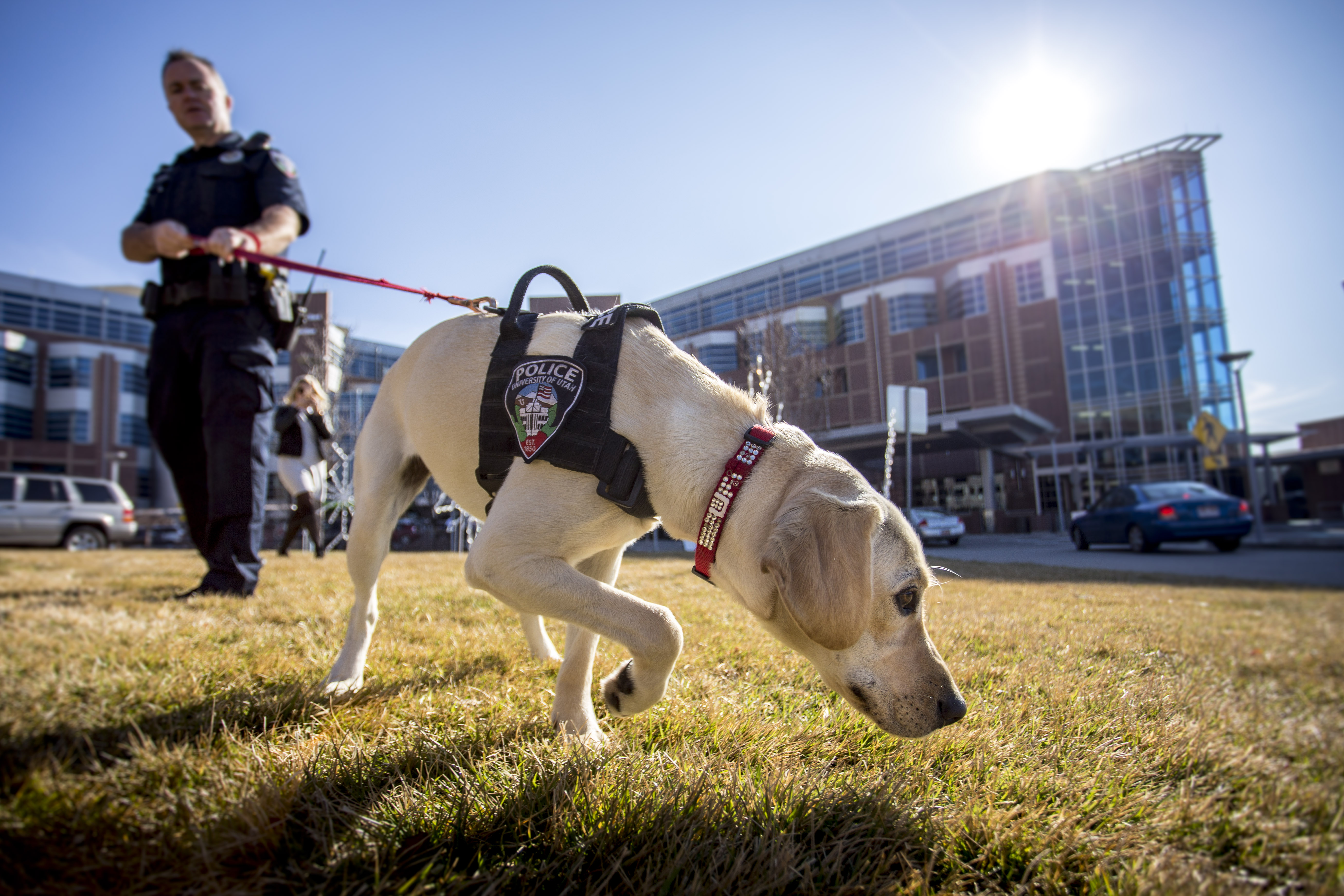 We'll be featuring Humans of the U and sharing their stories throughout the year with the university community. If you know someone with a compelling story, let us know at

ThisWeek@utah.edu

.