Whether you are new to campus or preparing to graduate next spring, here are 10 people you should get to know on the U's campus.
[bs_row class="row"][bs_col class="col-xs-2″]
[/bs_col][bs_col class="col-xs-2″]
[/bs_col][bs_col class="col-xs-2″]
[/bs_col][bs_col class="col-xs-2″]
[/bs_col][bs_col class="col-xs-2″]
[/bs_col][/bs_row]
[bs_row class="row"][bs_col class="col-xs-2″]
[/bs_col][bs_col class="col-xs-2″]
[/bs_col][bs_col class="col-xs-2″]
[/bs_col][bs_col class="col-xs-2″]
[/bs_col][bs_col class="col-xs-2″]
[/bs_col][/bs_row]
[bs_well size="sm"]
1. Campus safety officer
Ryan Speers is a sergeant with the University of Utah Department of Public Safety. He always wanted a career where he could help people, and when he started working with campus security as a first-year student at the U, he realized police work might be for him. While in school earning a degree in sociology, he completed training to become a police officer, and he's still on campus 13 years later.
In his time with the Department of Public Safety at the U, he has served as a patrol officer, a detective, sergeant supervising the night patrol and, this year, he'll oversee the Police Community Outreach Program and Campus Security Division. The program aims to promote campus safety by engaging with the community, attending events, giving presentations about safety and more.
Some of the most popular events are the annual Coffee with Cops on the Library Plaza (Sept. 19, 11 a.m.-12:30 p.m.) and the Lock It or Lose It program, designed to help keep students' bikes secure on campus (Sept. 14., 10 a.m.-2 p.m. on the Tanner Plaza). Other services offered by the department include a safety escort program that is available 24/7; help to those who have locked their keys in their car, need a jump start or who have run out of gas; and a Rape Aggression Defense (R.A.D.) program that focuses on education and self-defense.
The Department of Public Safety at the U includes both a campus and hospital security division, as well as a fully functional police department. To contact dispatch, call 801-585-COPS (2677) or 911 in an emergency. Sergeant Speers is available to answer questions or schedule safety presentations at 801-585-1194 or ryan.speers@dps.utah.edu.
[/bs_well]
[bs_well size="sm"]
2. Student success advocate
Jon Bernal is a Student Success Advocate here at the U. If you're looking to get plugged in to different resources, opportunities and programs on campus, he and the other Student Success Advocates are a great first step.
Jon and his colleagues focus their efforts on assisting students with their success, helping them reach their goals in and out of the classroom.
"Our office is unique because we can go to the student, opposed to the student having to come to us," Jon said. "We are mobile and can set up meetings with students anywhere on campus; like a grass roots way of connecting with individuals."
With a bit of information spanning the entire campus, they can connect students with different resources: Study and test-taking tips, goal setting, scholarships, time management, tutors, food and nutrition, health care, child care, etc.
Getting to know students' interests, backgrounds and support systems, allow Student Success Advocates to focus their advice.
"One student I met with for about 15 minutes. In that short meeting, she said she needed a scholarship. I stayed in touch with her via email and would send her scholarships. She ended up getting a full-ride from one I sent her," said Jon. "That one, short meeting is all it took to get her on my list to send specific information."
While their focus is helping students find resources, they can also lend a listening ear.
"Sometimes students just need someone to vent to. Whether it's about their roommate, significant other, societal issues or parents/guardians, we can be a good sounding board to help them get something off their chest," said Jon. "Depending on what it is, we can refer them to where they need to go or maybe it doesn't need to go anywhere and they just need someone to listen."
Read about the U's Student Success Advocates at studentsuccess.utah.edu and what they can offer you or give their office a call at 801-587-8556.
[/bs_well]
[bs_well size="sm"]
3. Counselor at University Counseling Center
At some point in your college years, odds are the demands of studying, socializing and figuring out who you are and what you want to do in life will feel overwhelming.
One study by the National Alliance on Mental Illness estimated 73 percent of college students experience a mental health crisis of some form during their academic careers. In addition, 75 percent of all chronic mental health conditions begin by the age of 24.
That's why it's good to know Susan Chamberlain and the rest of the team at the University Counseling Center.
"At this time in people's lives they are exploring a lot of things related to identity, values and beliefs, figuring out who they are and what they want and that is work I love to do with people," said Susan, a licensed staff psychologist and the center's outreach coordinator. "Our goal is to create a space where students feel they are not being judged and can work through whatever issue they are having with someone who can be objective."
Some of the most common reasons people visit the Counseling Center are anxiety, depression, stress, relationship issues (both romantic and family of origin) and loneliness, Susan said.
A lot of people come to college expecting to find an instant social network but "for a lot of us, it is harder than we thought it would be," she said. "It is very human to feel insecure, to feel not good enough, to feel alone."
Mental health is integral to wellness and can impact a students' ability to succeed in college, but many students don't seek help because they think they can handle it themselves or that their problems aren't bad enough or aren't as bad as those of other people.
"The reality is everybody needs help sometimes," Susan said.
The Counseling Center is one of three places on campus that students can get confidential counseling services, which means that, with some legal exceptions, whatever students share won't be disclosed to anyone — university administrators, parents, partners, etc. The Women's Resource Center and Victim Advocates also provide confidential counseling.
The center offers individual, couples and group counseling; grief and spiritual identity support groups; mindfulness workshops; crisis counseling; and psychiatric services. Some services are free, while others have a minimal charge. No one is denied service for financial reasons.
"I find this work deeply meaningful and I know the other counselors feel the same way," Susan said. "We want students to get the mental health help they need so they can succeed in school and in life."
[/bs_well]
[bs_well size="sm"]
4. ASUU president
Meet Zach Berger, this year's ASUU president. Whether you're a new or returning student, you should get to know Zach and what he and ASUU can do for you.
From on-campus child care, tutoring and legal services, to concerts, speaking engagements, movie nights and campus traditions, ASUU can help make college life easier and more enjoyable for students.
"I love ASUU because there's a really good network of friends you can hang out with, but more importantly, you can represent the student voice to administrators and make genuine impactful change," Zach said. "For example, back in 1999 ASUU students got together and started advocating for a new recreation center. This eventually became a reality when the Eccles Student Life Center opened in 2015. Successive ASUU presidents, student groups and administrations worked on this project and it is a big draw to our campus."
Through Zach and other ASUU efforts, students can be actively involved in administrative decisions.
"I'm part of the presidential search committee that's looking for candidates to replace President Pershing," Zach said. "While this search is confidential, I want to get student input. Whenever there is something big happening at the U, I want to get as much student input as possible so we can be accurately representing the interest of all students at the university."
Students looking to contact Zach can email him at zberger@asuu.utah.edu. To find out the latest with ASUU, follow them on Instagram at ASUUEvents.
[/bs_well][bs_well size="sm"]
5. MUSS president
Steven Havlik is your 2018 president of the Mighty Utah Student Section — MUSS for short. Voted in by his fellow committee members (there are 26 of them) it's Steven's honor to lead the MUSS at athletic events.
"First and foremost, we're the student section on campus. We're there to support all University of Utah athletics teams. But we're also a community where students can come to get to know each other and get a sense of family here on campus."
Six thousand members strong, during football games, the MUSS leads the stadium in the third down jump. "When we are on defense we make a three with our hands and jump and make as much noise as we can to throw the other team off," Steven explained. "The MUSS section is loud and fun and we like it that way."
The MUSS is free to join, with the exception of football, which requires a registration process and a $50 fee. All other athletic events — men's and women's basketball, women's soccer, gymnastics, volleyball, baseball and others — are free with your UCard and open to join.
Steven and his committee members regularly post to the MUSS social channels so check them out on Facebook, Twitter and Instagram. They might also email you asking to join, but don't wait that long. Visit their page and sign up.
[/bs_well]
[bs_well size="sm"]
6. Research Librarian
Lorelei Rutledge, assistant librarian at the J. Willard Marriott Library, provides research help to students, faculty and staff, teaches classes about how to use the library and creates online tools that people can use to find information about their areas of interest. She can help you find resources for papers, presentations and research.
Lorelei and library faculty can make your life so much easier. If you have questions about how to find something, they can help you get the material you need. Librarians can help with patent searching, literature reviews, systematic reviews, data management plans for grants and much more. They can also teach you how to use programs such as EndNote, which can help you manage the materials you cite in your bibliography more effectively.
Librarians can connect you to the tools you need to meet your academic goals, including research support and scholarly materials. At the library, you have free access to computers, software and other technology, such as 3-D printers, scanners and an audio/video recording studio. They library also provides additional support to students through a statistics TA who can help you use statistical software.
[/bs_well]
[bs_well size="sm"]
7. Office of Undergraduate Research
For any student interested in research, Stephanie Shiver is one of the people you must know on campus. As academic advising coordinator at the Office of Undergraduate Research (OUR,) she helps students find and get involved in student-faculty collaborative research and creative works in all disciplines on the U campus.
"Lots of people think of research as beakers and lab coats, but we work with students in every field — art history, creative writing, philosophy, biology, entertainment arts & engineering — literally anything that you can study on campus, we can work with students," Stephanie said. "And we want to fund students who are doing that work."
Stephanie and the OUR team give undergraduates access to the information they need to get involved in research. They help students figure out which topic interests them, how to get involved in research related to that topic, and then how to write that proposal successfully to receive funding.
From freshman to seniors, every undergraduate is eligible to take advantage of OUR's opportunities.
"Students don't have to be prepared in any way to meet with me. At any point, they can just come in and be like, 'I have no idea what I'm doing; the word research sounds neat. Help me,'" Stephanie said. "And it's also never too late. If it's your last semester, that's fine, too. Any research experience is legitimate research experience."
Benefits to using the Undergraduate Research Office, according to Stephanie:
Research allows you to develop closer relationships with faculty members.
We help students identify good mentors, and go through how to approach that faculty member professionally.
It's useful to know if you're in the right field, or the right major, early on in your academic career.
Research is extremely marketable on resumes and graduate school applications.
We pay you to deepen your experience in whatever field you study
We offer peer advising from undergraduate research leaders, who do research on campus and can offer a student perspective.
To learn more, visit our.utah.edu/about-our and reach out to Stephanie at stephanie.shiver@utah.edu.
[/bs_well]
[bs_well size="sm"]
8. Shuttle bus driver
From the hospitals down to the stadium, the U's shuttle bus drivers will take you where you need to go.
Marlowe Wood has been driving for just over a year. He's retired, but thought that driving a bus sounded interesting. "Driving a bus on campus?" he said. "How fun is that!"
His favorite routes are the blue, red and orange routes, which connect the Peterson Heritage Center with the Student Union. He loves getting to know students and learning where they're from and what they're studying. He's shuttled new freshmen and high-level hospital administrators alike. "They're good people to be around and good people to accommodate," he said.
Marlowe's top tips for riding the U shuttle bus:
Wave to drivers to let them know you want a ride, especially if you're in a crowd. Drivers can pick up riders even if they're not at an established bus stop as well, as long as it's safe to pull over. "If they'll give us a wave, they're on the bus," Marlowe said.
Marlowe does his best to be aware of his surroundings, including people who walk through crosswalks with their attention on their phones. Keep your eyes open and be aware of where the buses are.
Visit uofubus.com to find shuttle bus routes and schedules.
[/bs_well]
[bs_well size="sm"]
9. Spirit squad
One "person" to know is not really a person at all (well, he kind of is, but that gets complicated)—he's a red-tailed hawk, inspired by the aerial predators that frequently soar over campus and are indigenous to the mountain west. Of course we're talking about the University of Utah mascot, Swoop. And if you see him around, that usually means some serious fun is afoot.
In mascot years, Swoop is relatively young at 21. Yet, he is no eyas. Swoop has participated in 15 football bowl games and 12 NCAA basketball tournaments. Not to mention the hundreds of community and campus events each year that are totally unrelated to athletics. He visits elementary schools across the state, promoting good sportsmanship and the value of education; hospitals, boosting the morale of patients; and barbecues to heat up the happiness levels.
While Swoop is a free bird, he is part of the U's "Spirit Squad," which includes the school's cheer and dance teams, and is led by Jamie Duncan Plott. One question everyone seems to have is how does Swoop keep up with all the U sporting events in addition to his other appearances? The answer is that he has ample assistance from a few student friends who keep him on task and energized.
You can follow Swoop on his newly-verified Twitter account, @SwoopHawk.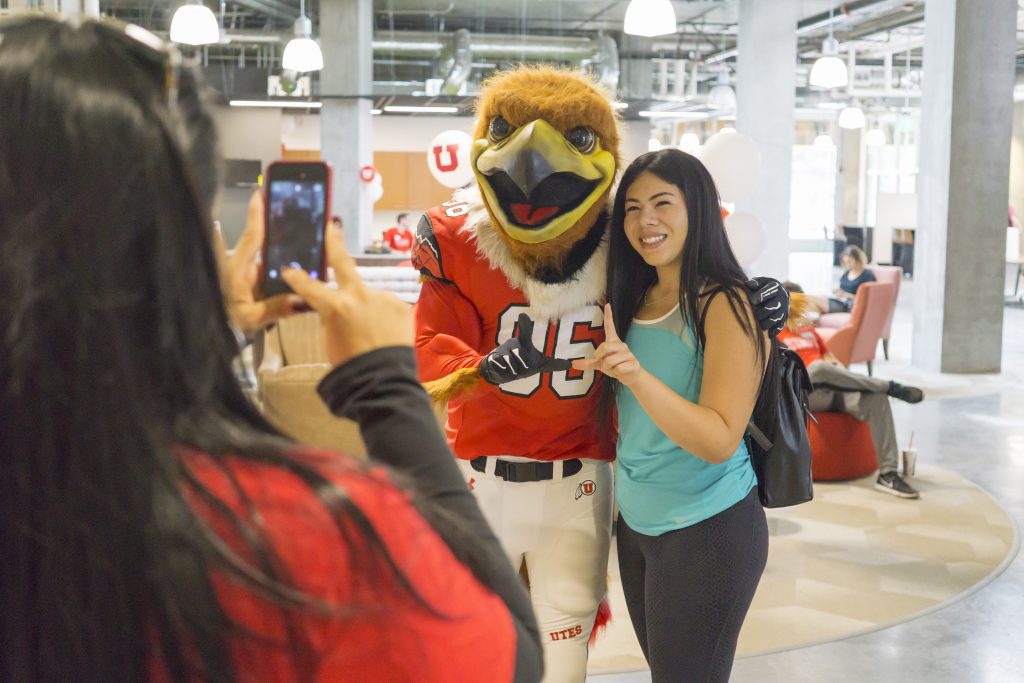 [/bs_well]
[bs_well size="sm"]
10. Campus Recreation Services
Originally from New Mexico, Julian has lived in Utah for the past 24 years; 19 of those spent at the University of Utah. He enjoys traveling, photography, biking, racquetball and a little shopping; you'll notice they are mostly recreation-based. While traveling, even when abroad, Julian always makes it a point to visit a university, especially their recreation services; he said it's interesting to see differences and similarities between institutions around the globe.
Julian started in Campus Recreation Services and Student Affairs as a student in 1998. Since then, he's worked in various capacities from sport clubs student assistant to intramural sports manager. His current position is associate director of communications and outreach.
"I've always enjoyed working with the students on campus and love to see the growth from first year through graduation, and sometime through their professional school experience," he said. "And because it's fresh on all of our minds, the first week of school may be quite the mad house, but I never get tired of the energy and activity of a new fall semester."
Although his current role focuses on more broad marketing and communications efforts for the department, he's still involved with the Intramural Sports Program.
"The Intramural Sports program really is a great, well-rounded program for our students. Campus involvement, making new friends, learning valuable skills like team-work and social interaction are all part of what makes intramural sports valuable for many of our students."
Whether it's mainstream sports like flag football and soccer or unique events like Canoe Battleship and the annual Turkey Target Shoot, the program has something for everyone. There are even some esport competitions like FIFA '17 and Madden NFL on the roster to encourage students from diverse demographics to visit the Eccles Student Life Center.
"Although I'm a big advocate of intramural sports, Campus Recreation Services also provides many other opportunities for our students," Julian said. "Outdoor Adventures, group fitness classes, lap swimming, climbing and of course self-directed work-outs, are all great ways for our students to get involved and increase student success and retention."
If you haven't been to the Student Life Center, or if it's been a while, stop by and take a tour of the amazing facility and learn about the Campus Rec programs
On Sept. 6-7, there will be a faculty and staff open house with free fitness classes, climbing clinics, free swag and discounted memberships. Just bring your UCard for free access.
[/bs_well]