By Lexie Maschoff, director, Rock the U, ASUU
In 2006, the student body president, Jake Kirkham, wanted to find a way to honor his father who had recently lost his battle with cancer. Kirkham created Rock the U, a dance marathon event, to unite the student body to help fight cancer. In its first year, Rock the U raised over $95,000.
Jake Kirkham, right, with 2006-07 ASUU Vice President Toby Collett at the first Rock the U event
For the past 10 years, Rock the U has benefitted the Huntsman Cancer Foundation and has helped raise more than $400,000.
Rock the U is the official student-led philanthropy event of the University of Utah and is unique because it is completely run by students. Rock the U allows opportunities for students to gain leadership, fundraising and volunteer experience while giving back and making a difference for an important cause.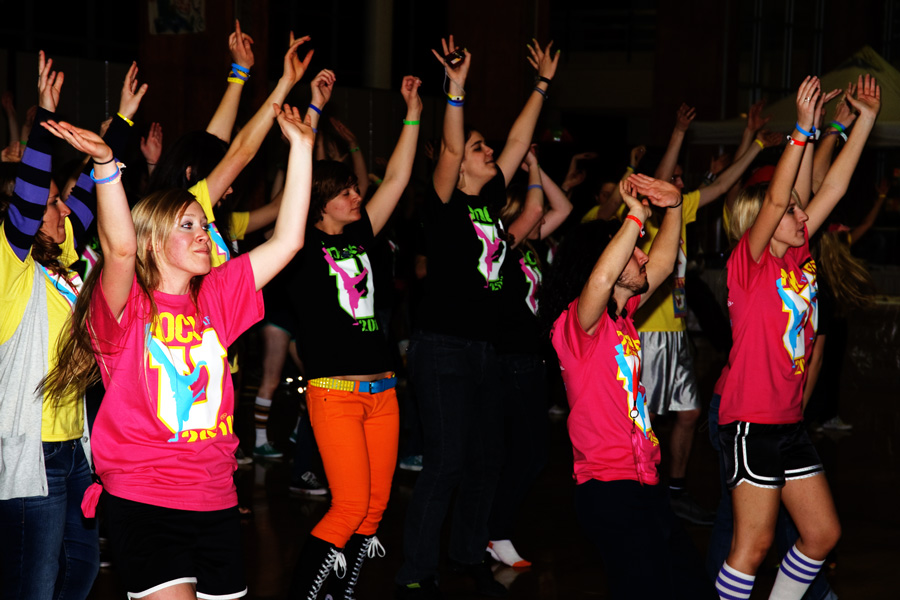 Rock the U ranges from 10 to 26.2 hours long, and encourages students to stay on their feet. Cancer doesn't rest, so neither do we! Even if you're not a dancer, Rock the U is still for you. The event includes other fun activities, competitions, special guests and food. Faculty, staff, family and friends of students are welcome to participate in Rock the U as well.
This year is a huge milestone for Rock the U – its 10th anniversary. To celebrate the occasion, the 2016 Rock the U dance marathon will be held on Jan. 29, 4 p.m.-2 a.m., in the Rice-Eccles Stadium Tower. To learn more and register for the event, go to
rocktheu.org
.
[bs_well size="lg"]The 10th annual Rock the U dance marathon to raise money for children with cancer will take place on Friday, Jan. 29, 4 p.m.-2 a.m., in the Rice-Eccles Stadium Tower.
To participate or donate, click here.
[/bs_well]