By Jana Cunningham, communications specialist, University Marketing & Communications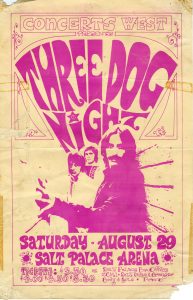 Since its birth in the 1960s, concert poster art has been on the rise, gaining popularity and continually changing over time with the introduction of different technology. These changes are evident in a collection of concert posters spanning more than 50 years from the multitude of small music venues around the Salt Lake Valley housed in the University of Utah's J. Willard Marriott Library.
"In many respects, poster art became an archival visual time-capsule of a current scene happening at a particular moment in time," said John Costa, U associate professor of music. "So much so, that viewing them years later can capture one's imagination and make that past scene live once again."
Marriot Library Special Collections has an extensive archive of posters from venues such as The Terrace Ballroom, The Salt Palace arena, the Union Ballroom at the U, Kilby Court as well as numerous bars and private clubs featuring bands large and small – ranging from The Who, Three Dog Night, Love and Alice Cooper, to indie bands such as Built to Spill, The Decemberists and Daniel Johnston and many local bands.
"I still have fond memories of concerts I went to 40 years ago in the Union Building Corkroom, listening to popular local bands like Stoneground and Holden Caulfield," said Ron Bitton, curator of historical maps and newspapers for the Marriott Library. "Upstairs, in the Union Ballroom, you could hear national touring acts like Tower of Power or Cold Blood. Of course, these days not many people will recognize the names of those bands. The Corkroom disappeared years ago and is now a computer lab."
The collection, which continues to grow, preserves a unique, vivid perspective on the changing character of the music scene and offers a colorful glimpse back at an era that's long since vanished.
"Forty years from now college students will be amazed to see that their grandparents saw performers with names like Cobra Starship and Death Cab for Cutie," added Bitton.
A more recent collection at the library includes concert posters created by Leia Bell, a popular local artist whose cartoon like prints have become synonymous with underground music in Salt Lake.
"Anyone who has attended a concert at Kilby Court in the last 10 years is familiar with her signature artwork and probably owns a magnet or two with the images of their favorite posters," said Julia Huddleston, archivist for Special Collections.
The collection is currently not on public display, but anyone can view them by inquiring at Special Collections desk on the fourth floor of the library.