"Is it acceptable if 99.99% of the time, we get the job right the first time?"
Vince "Bluto" Saporito—a retired fighter pilot who completed 45 combat missions and was a literal TOPGUN flight instructor—posed that question to about 400 staff, students and faculty attendees of Workplace Safety Days. On Nov. 5 and 6, 2019, the Colleges of Science and Mines & Earth Sciences (CMES) and the Office of Environmental Health and Safety (EHS) hosted the two-day event of keynote speakers and training sessions that addressed best practices for wide-ranging issues, from properly transporting chemicals to creating effective safety committees.
The crowd murmured, pondering Saporito's question. Some agreed 99.99% was enough. Others shook their heads. Saporito showed a spread of all of the world's commercial airline flights. If he applied a 99.99% safety rate to the airlines, there would be four fatal crashes per week, he told the crowd.
"Airlines are safe 99.99999999% of the time. What is it that we can add today through this conference that will add that extra '9' that will make us a little bit better?" he asked the group.
Rather than focusing on "being safe," it's crucial to follow procedural standards perfectly. Accidents happen when complacency sets in to routine operations, he warned.
"In military aviation, it's not always safety first. It's performance first. We're humans—we get rushed to execute, we get tired. Can we afford to just be safe? No. Everyone has to buy into that process."
Saporito travels the country using his 24 years as a fighter pilot, diplomat and engineer to facilitate cultural changes in organizations, emphasizing that safety will improve the quality of work. Workplace Safety Days is one of the ways that the U is aiming to do just that.
A culture of safety
"I love that I look around the room and see lead researchers, lab managers, department heads, deans, students. Your work matters to the long-term well-being of campus and building a culture of safety," U President Ruth V. Watkins told attendees. "We celebrate progress, but we're never done. I'm so grateful that you're taking the time to invest in safety at the University of Utah."
The U is prioritizing improving safety in research-focused areas of campus. In October 2017, the U commissioned an external peer review and in June 2018, it commissioned a Presidential Task Force on Laboratory Safety to evaluate safety practices in laboratories. These, alongside a State Legislature Lab Safety Performance audit released in May, revealed important gaps in safety and made recommendations for improvement. The university has dedicated significant resources to implementing nearly all of the recommendations, including restructuring EHS to report directly to the Vice President for Research Office and giving EHS the power to enforce repeat safety violations.
"In the next year, you'll see a lot of changes in EHS clarifying the requirements for safety. We're in a time of transition—let's get our feet under us, learn the tools, methods and processes that are in place," EHS Executive Director Fred Monette told attendees.
Colleges with accountability
The College of Science and CMES partnered with EHS to put on the event to send a clear message that safety should be everyone's priority.
"What both of our colleges have in common is that we work in environments with inherent safety hazards," Darryl Butt, dean of CMES, told the crowd. "We'd like to get your feedback on how we can prioritize developing a culture of safety excellence. Safety translates into quality and quality translates to excellence. Safety is not a burden—it adds value to your research."
CMES has been a leader in trying to keep their colleagues safe and accountable. Three years ago, the college reconvened a safety committee made up of staff, students and faculty who act as a conduit between their peers and EHS. The committee meets monthly to discuss a range of topics including safety in the lab and in the field, emergency responses, and they also perform routine lab inspections. The committee will respond to concerns when they can, but also report to EHS for issues outside of their authority, said Wil Mace, a research manager and chair of the CMES safety committee. Mace stressed the importance of having a group of peers from the college help address issues rather than relying solely on EHS, a governing body that doesn't know all the day-to-day needs of people in the departments.
"The communication is great. It's a really important part of safety culture," Mace said. "It empowers people and helps to clarify safety expectations. Everybody has a part."
Mace wore a "Safety Committee Member" button while others sported black T-shirts emblazoned with "Ask me about safety!" on the back, boldly illustrating the point that peers can keep peers accountable.
If you don't feel safe, don't do the work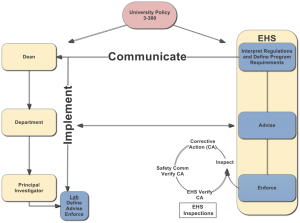 Members of the colleges and EHS led breakout training sessions that covered topics important to research-related workplaces. Monette led one titled "Roles and Responsibilities," which addresses one of the state legislative audit's recommendations.
The room represented the various roles in research settings—there were undergraduate researchers, doctoral candidates, lab managers and principal investigators (PI) who run their own labs. While every individual needs to take ownership of their safety, those in leadership positions are accountable for ensuring safety protocols are being followed in their space—and are responsible should anything go wrong due to lapses in safety.
"If you don't feel safe, you shouldn't do the work. At universities, that can be difficult because some PIs may have a lot of power. So, if you don't feel safe but don't feel like you can tell the PI that you won't work, come to us. We can help you," Monette said.
It's not all on the individuals and colleges, Monette continued. EHS has clarified its own role in workplace safety. They are committed to setting people up for success to improve safety. They are working to better translate safety regulations from legalese into a language everyone can understand by interpreting, defining and evaluating policies and helping people meet those requirements.
Over the two days, Monette hopes to make this an annual event that involves all university colleges and departments.