Love for the University of Utah was in the air on March 28 and 29 during the fifth annual U Giving Day, a virtual fundraising event to support all the university's programs and partners. It was a 1,850-minute global affair that saw everyone from administrative leaders and deans to students and alumni volunteers working together to raise awareness—and an incredible $1.2 million—for the many amazing programs offered at the U.
"U Giving Day is a celebration of the strengths of our campus in the areas of academic excellence, health care, athletics, the arts and community outreach," said Kris Bosman, chief alumni relations officer for the U. "Our donors, students, parents, alumni and community partners showed up from around the world to give back to what they love at the U."
University causes highlighted this year included the following:
Arts and culture
Campus community resources
Equity, diversity and inclusion
Health and wellness
Scholarships
U Alumni
U Giving Day donors were invited to select a project to give to under one of the highlighted causes, or they could select from one of many additional projects or programs that better aligned with where they wanted their donation to go. Fundraising activities included challenges and matches as well as celebratory posts on social media as campus community members, friends and family united to make an investment in the university.
The 2023 U Giving Day was particularly memorable because it served as the closing event for Imagine New Heights, the nine-year capital campaign for the University of Utah.
"A lot has changed since we started this journey. We have been through a great deal together, including a global pandemic," said Heidi Woodbury, vice president for institutional advancement. "Yet the outpouring of support never wavered—and has exceeded all our expectations. It is a testament to our people and the passion they have for the U."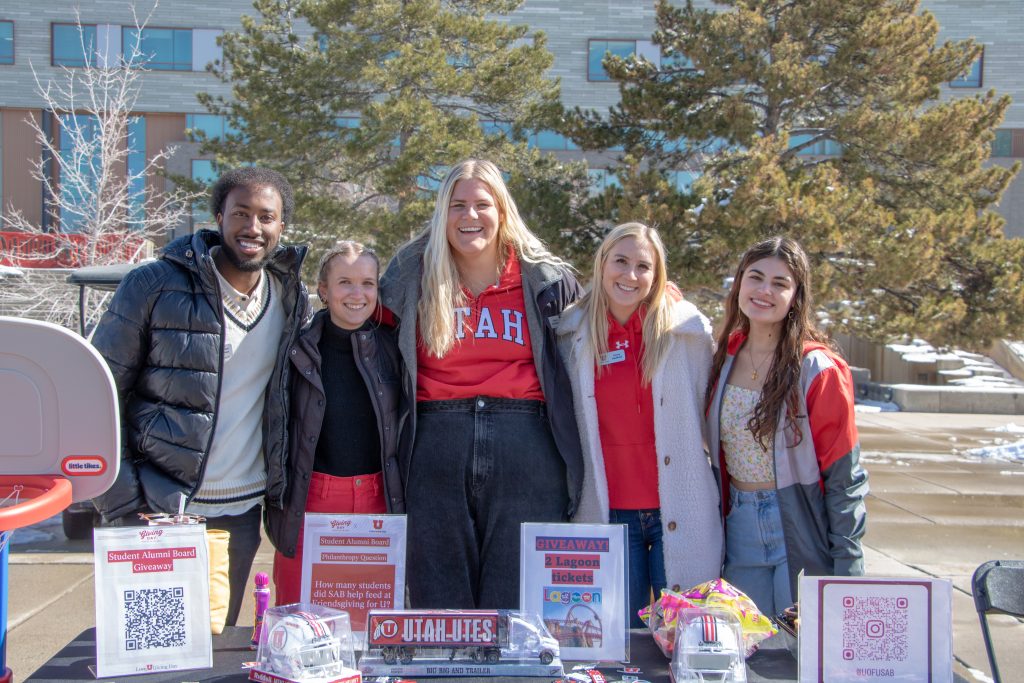 To mark the momentous occasion, U Giving Day organizers from the university advancement team hosted the third annual Philanthropy Fair on March 28 at the Marriott Library Plaza and on March 29 at the Saltair Room in the Union.
Over 1,000 students attended the Philanthropy Fair, where 35 campus partners united to share information about the many resources available on campus. Organizers of the fair sought to create an educational experience that shed light on three major ways to give: time, talent and treasure.
"My favorite thing about the Philanthropy Fair is seeing our campus community come together to help students understand the impact of giving back," said Brandi Lavoie, associate director of annual giving student engagement and philanthropy and Philanthropy Fair organizer. "Whether they donate their time or money—or just learn about philanthropy—it creates a culture of giving across our campus. Students are then able to better appreciate where resources come from and how they are supported."
Students in attendance had the opportunity to sign thank-you cards to private donors who create and provide scholarship support across programs while indulging in local food donations provided by Little Caesars and Smith's and picking up University of Utah swag. Most importantly, they more deeply connected with the campus community as they learned about the significance philanthropy makes to the student experience.
"I learned about a lot of cool programs that I had no idea were even associated with the U—or even existed," said Katie, a third-year student studying environmental and sustainability studies.
The air on campus was electrified by comradery—a current that swept its way around the world during the 1,850 minutes of Giving Day. Gifts were received from all 50 states, while 20 international gifts were made—the furthest coming from Tel Aviv. The university received over $130,000 in gifts of $100 or less and 207 Giving Day Champions generated 299 gifts totaling over $14,000.
"Giving back helps because if we all support each other, we can have an amazing support system here at the U. If we all give back a little bit, it'll even the playing field for all," said Kareem, a first-year student studying psychology and Middle Eastern studies.
It was a Giving Day to remember—and the celebrations of support and community united will continue as the magnitude of the Imagine New Heights campaign's success will be felt for many years to come.
While the final numbers for the capital campaign are still being counted, Woodbury boasted that "more individuals gave more gifts to the university during this campaign than any prior fundraising effort. That is due to the success of Giving Day, and we are incredibly grateful."