The Utah Philharmonia presents the 18th annual "Haunted Orchestra: Myths and Legends"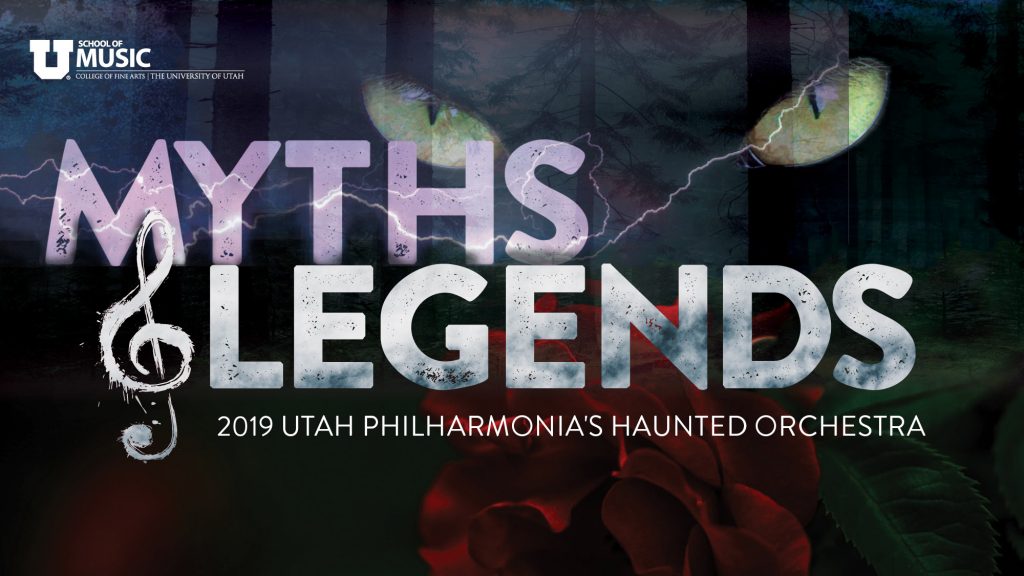 The Utah Philharmonia's will channel the mystique of supernatural folklore at this year's "Haunted Orchestra: Myths and Legends," Oct. 24-25 in Libby Gardner Concert Hall.
For 18 years the Utah Philharmonia has delighted audiences with its annual Halloween concert. In previous years the orchestra performed scores from "The Phantom of the Opera" and "Star Wars," becoming an anticipated favorite and family tradition.
This year the orchestra will perform selections from the movie "Thor," Disney's "Beauty and the Beast," "Holst's The Planets"—which will feature dancers from U School of Dance—plus other Halloween favorites.
The entire orchestra will be dressed in costume including the conductors. Attendees are encouraged to wear their costumes too. The annual costume parade will showcase audience members of all ages. Concerts starts at 7:30 p.m.
Admission is $12.50 for adults and $6.50 for students and children. The event is free for U students through Arts Pass (their UCard). Tickets may be purchased from Kingsbury Hall Ticket Office, at the door, or by calling 801-581-7100. For more info, visit tickets.utah.edu.
UMFA unveils four loans from major national collections
By Mindy Wilson, UMFA marketing and communications director
Four paintings by renowned artists are coming to the Utah Museum of Fine Arts (UMFA) this fall through loans from prestigious national art collections, made possible by two innovative collection-sharing programs.
Three iconic landscape paintings by American artists Thomas Moran, Georgia O'Keeffe and Alma Thomas, on loan from the Smithsonian American Art Museum, will be on view in the UMFA's permanent collection galleries. A fourth painting, by renowned Mexican artist Diego Rivera, is on loan from the collection of Art Bridges. All four works will be on public view from Oct. 25, 2019-Sunday, Oct. 4, 2020. In conjunction with these loans, an ambitious slate of tours, talks and programs is planned—new outreach undertaken by UMFA to engage and welcome more people from the community.
"These remarkable paintings will accentuate the museum's own treasures and intensify the UMFA's efforts to present diverse artistic visions and more underrepresented artists," said executive director Gretchen Dietrich. "Most importantly, these loans help make great art accessible to more people—truly something to celebrate. Equally exciting is our wide-ranging programming around these loans, which is designed to interest everyone, from schoolchildren to art scholars alike."
The museum is hosting an exclusive preview celebration "What Makes a Masterpiece?" on Oct. 24 from 6:30-9:30 p.m. Tickets are available for purchase here.
On Nov. 2, the UMFA is hosting a Día de los Muertos celebration from 10 a.m.-5 p.m., featuring entertainment for all ages: traditional live music, dance, spoken word, art-making, food trucks and more. At 11:30 a.m., U professor Armando Solórzano will discuss his new book on the tradition, cultural religiosity and anthropological aspects of Día de los Muertos, titled "Come Quickly for We Are Waiting for You: The Day of the Dead in Zapotlan" (University of Guadalajara Press, 2018). The celebration is co-presented with Artes de México en Utah, a Salt Lake City-based nonprofit that promotes the appreciation of Mexican art in the state. Support is provided by Art Bridges. Additional support is provided by the Center for Latin American Studies at the U.
About the Smithsonian American Art Museum loans
The paintings from the Smithsonian American Art Museum are on loan through a multi-year, multi-institutional partnership formed by the Smithsonian American Art Museum as part of the nationwide Art Bridges + Terra Foundation Initiative. UMFA is one of five institutions selected by the Smithsonian American Art Museum for a five-year partnership, made possible by a nearly $2 million grant from Art Bridges and the Terra Foundation for American Art. In addition to UMFA, the cohort, known collectively as the American West Consortium, includes the Boise Art Museum, the Jordan Schnitzer Museum (Eugene, Oregon), the Nevada Museum of Art and the Whatcom Museum (Bellingham, Washington). The partnership includes a two-part exhibition program and professional exchange sessions. In the first set of exhibitions, partner museums present loans from the Smithsonian American Art Museum collection; the second exhibition will be organized by the cohort together, and will include artwork from and be presented at all six museums.
UMFA chose three paintings from the Smithsonian American Art Museum's collection to augment the stories of pictorial approaches to landscape painting from 19th-century idealized naturalism to contemporary abstraction: Thomas Moran's "Mist in Kanab Canyon, Utah" (1892), Georgia O'Keeffe's "Manhattan" (1932) and Alma Thomas' "Red Sunset, Old Pond Concerto" (1972). These loans will be presented as a focused exhibition titled "The Lay of the Land: Landscape Paintings from the Smithsonian American Art Museum."
The galleries are curated to highlight UMFA works that contribute to new perspectives prompted by these special loans. Moran's depiction of a celebrated Utah landmark, on view in the UMFA's award-winning American and regional galleries, enables deeper exploration of how 19th-century artists represented the Utah landscape and shaped popular perceptions of the American West. O'Keeffe's modernist take on a Manhattan skyscraper, situated within the same galleries, invites visitors to examine modern responses to the urban landscape at a key moment in American history. The painting by Alma Thomas, an African American artist whose work had been marginalized until very recently, will anchor a section of the UMFA's modern and contemporary galleries, offering fresh insights on women working in the post-World War II moment.
"The Lay of the Land: Landscape Paintings from the Smithsonian American Art Museum" is one in a series of American art exhibitions created through a multi-year, multi-institutional partnership formed by the Smithsonian American Art Museum as part of the Art Bridges + Terra Foundation Initiative.
The project is supported locally by Presenting Sponsor Sue and Al Landon and Curatorial Sponsor Stephanie and Tim Harpst.
About the Art Bridges loan
Diego Rivera's "La ofrenda" (1931) is on loan from Art Bridges, a new foundation dedicated to increasing access to American art across the country. "La ofrenda" showcases the artist's skillful depiction of the indigenous traditions of his home region in Mexico in a modernist idiom. The painting, which will be on view in the UMFA's American and regional galleries, depicts an altar dedicated to a deceased person, part of a ritual associated with the Mexican celebration of life and death called Día de los Muertos (Day of the Dead).
The loan has inspired a year-long partnership with Artes de México en Utah. Both UMFA and Artes de México en Utah seek to broaden audiences, enhance exhibitions and celebrate the artistic and cultural contributions of Salt Lake's Latin American communities.
First statewide Intimacy Directing Workshop hosted at the U
By Josiane Dubois, communications specialist, Department of Theatre
Performing artist students, faculty and professionals from all over the state of Utah participated in the first statewide Intimacy Directing Workshop weekend, Oct. 12-13, hosted by the University of Utah Department of Theatre with support by the College of Fine Arts and Southern Utah University's Department of Theatre.
Through the guidance of Intimacy Directors International (IDI) instructors Jessica Steinrock and Rachel Flesher, the workshops explored choreography techniques and broad self-care strategies through IDI's pillars of intimacy. By focusing on respecting physical and psychological safety, each intimacy pillar guided the participants through context, communication, consent, choreography and closure. The main objective of the workshops was to introduce and integrate intimacy practice with an emphasis on consent in the rehearsal and performance space for all who participate.
The demand for intimacy choreographers directors, and coordinators has risen since the #MeToo movement exposed abuse in the entertainment industry as writer Clare Warden explained in an article published in American Theatre Magazine.
In July 2019, the Screen Actors Guild‐American Federation of Television and Radio Artists (SAG-AFTRA) announced that it will collaborate with Alicia Rodis, the associate director and co-founder of IDI, intimacy coordinators with IDI and other trained professionals to standardize, codify and implement guidelines for on-set intimacy coordinators. As organizations nationwide aim to establish guidelines and standards that address the dangerous culture and power imbalances that contribute to harassment and sexual violence, the U's Department of Theatre is taking the lead by teaching best practices for staging theatrical intimacy.
"IDI was the first organization I heard of that was doing this work with intimacy choreography. I'd always been interested in the responsibility that comes with doing this work, and when I found out that my friend Clare Warden was working with IDI and leading a workshop in London, I applied to take part," said Sarah Shippobotham, Actor Training Program professor, who has been doing this work now for some time.
It was Shippobotham who introduced choreographing scenes of intimacy to many in the Department of Theatre which caught the attention of department chair, Harris Smith, who advocated to start hosting workshops back in the spring semester for faculty in the department.
"It's exciting to have a faculty member in our department who has recognized the importance of this subject and the impact it will have on our students and faculty," Smith said.
As the flagship institution of higher learning in Utah, Smith believed it would be fundamental for the U to host workshops where artists from all over the state could attend. The department contacted several universities and colleges with theatre programs, multiple professional theatre companies including Salt Lake Acting Company and Pioneer Theatre Company and invited faculty and students from each area of the U's College of Fine Arts.
"Attending the workshop was an amazing opportunity," said U Actor Training Program sophomore student Danny Borba about his experience during the Intimacy Directing Workshop weekend. "This type of cutting-edge training is a priceless opportunity as an acting student, and helps me to become a better and more employable actor."
"The future of entertainment is going in a path where intimacy direction will be part of any productio, and will eventually lead to faculty positions at universities that are tied to performance intimacy pedagogy," said Smith. "My hope is that the next generation of artists will feel empowered to change a culture, not just the choreography."