Art + Wellness at the UMFA: Living Better through Art
By Mindy Wilson, UMFA marketing and communications director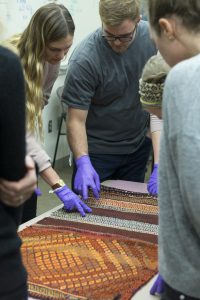 If you've been to the university's fine arts museum, you know it's a great place to look at and learn about world-class art from around the world. But did you know that visiting the Utah Museum of Fine Arts can also improve your physical and mental well-being?
Art + Wellness, a new initiative at the UMFA, aims to help you live a better and healthier life through unique and inspired interactions with visual art. The program is based on current scientific research showing that appreciating and/or making creative works can positively impact health and well-being, from improving cognitive issues to boosting the immune system. Art + Wellness programming takes a holistic approach to incorporating art into visitors' everyday lives through yoga, mindfulness, music performances, writing in the galleries and more.
"For those who are limited in their ability to communicate as the result of a physical or mental trauma, art making can offer an avenue for self-expression," said Iris Moulton, UMFA coordinator of campus engagement. "Because of these proven effects, organizations and programs are springing up around the world to help unite art and medicine. Many arts organizations are beginning to ask how they can help their communities live better, and the UMFA is proud to be active in this conversation."
Art + Wellness includes popular existing programs like Yoga in the Great Hall and the Chamber Music Series along with new programs piloted this fall, including Mindfulness at the UMFA, in which an instructor leads participants in traditional guided meditation as well as slow and mindful looking at artwork, and Writing in the Galleries, in which participants are given writing prompts and then encouraged to explore the galleries for insight and inspiration. All events are free and open to the public.
The UMFA partners with a number of campus departments and organizations on Art + Wellness programs, including PEAK Health and Fitness, the School of Music, the English Department's undergraduate literary journal The Canticle and the School of Medicine. As part of the School of Medicine collaboration, doctors-in-training utilize the museum's permanent collection to hone their close-looking skills and practice evaluating medical imagery.
"As staff develop this initiative, we expect to broaden opportunities and pilot more new programs, including a Sensory Awareness Day for families with autism, and slow-looking and art-making activities for people suffering from post-traumatic stress disorder," says Moulton.
Grounded in thoughtful collaborations and current research, Art + Wellness is another way in which the UMFA is striving to be more welcoming to the many audiences it serves and to fulfill its mission to "illuminate the role of art in people's lives."
For a schedule of Art + Wellness events scheduled for spring 2018, please visit the UMFA online events calendar. Museum admission is free for U faculty, staff and students.