By the Sustainability Office
On Friday, Oct. 20, world-renowned scientist and activist Dr. Vandana Shiva spent the day on the University of Utah's campus. The main purpose of her visit was a powerful lecture to more than 600 people at Libby Gardner concert hall describing sustainable farming practices and sharing insights into how learning to coexist with the earth can better inform our coexistence with each other.
In addition to the public lecture, Shiva shared ideas and meals with university students, faculty and community members.
Her day began with students who filled the Sustainability Office to ask questions about creating sustainable futures, protecting the rights of farmers to breed and exchange seeds, and learn how to ground themselves through self-care.
"Her presence enlightened me to the power of a community and brought peace and knowledge into the room," said Nayethzi Hernandez, sustainability ambassador and undergraduate student.
Later that day, Shiva met with the Sustainability Faculty Learning Community, an interdisciplinary group of faculty members who integrate sustainability into their courses. The conversation ranged from understanding interconnections to the indigenous concept of the Good Life – a system of knowledge and living rooted in the interrelation of humans and nature –  to how to imagine the future of public education through the metaphor of the seed, which represents past and future evolution and embodies the connection between humans and nature.
"If I share seeds, there is more," Shiva explained. "If I share love, there is more."
Members of the community also engaged with Shiva while she was in Salt Lake City.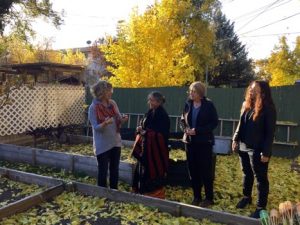 "Dr. Shiva is not only brilliant, but a wonderful conversationalist, and her ideas around sustainable agricultural practices are essential to maintain the planet we love," said Ashley Patterson, director of Wasatch Community Gardens.
Building on her visit, contemporary Indian dance company, Ananya Dance Theatre, or ADT, spent a week leading workshops that explored how relationships between people, as well as the earth, transform the future.
A small group of faculty, students and community members spent several days working with the company at the Utah Museum of Fine Arts's ACME Lab.
"Each workshop felt like in-depth meditation on what a socially, environmentally and economically just future looks like and what my role is in the creation of it," said Ivis Garcia Zambrana, assistant professor in City & Metropolitan Planning.
"Releasing and expressing our creativity and expressing it without being afraid of not knowing the steps, and then experimenting and refining that expression with others is exactly what society needs in order to make a more just and collaborative world," said Zambrana about the workshop.
Company director Dr. Ananya Chatterjea also provided a lecture for the Global Change & Sustainability Center's Seminar Series. In her lecture, Chatterjea highlighted the impact of corporations on local ecosystems and people.
"I propose to you that every single issue of environmental justice is felt in minute ways in the body," she said. "In fact, our bodies are the microcosmic manifestation of the world's eco-system."
Inspired by the work of Shiva and other women activists of color, ADT's residency culminated in a public performance of "Shyamali: Sprouting Words" at the Tanner Black Box Theatre.
This series of events was a collaboration between UtahPresents and the University of Utah Sustainability Office, with support from the Council of Dee Fellows, the Sustainable Campus Initiative Fund, UMFA, the Global Change & Sustainability Center, the School of Dance and the Environmental & Sustainability Studies Program. Specific events were also supported by the Center for Teaching & Learning Excellence and ArtsBridge.