By Janelle Hanson, communications specialist, University Marketing & Communications
"I just thought maybe I could be of some help," Cody Robinson said in response to the news that flooded social media and news outlets on April 25, 2015, that a 7.8-magnitude earthquake killed thousands of people and left Nepal's capital Kathmandu and its surrounding areas in rubble.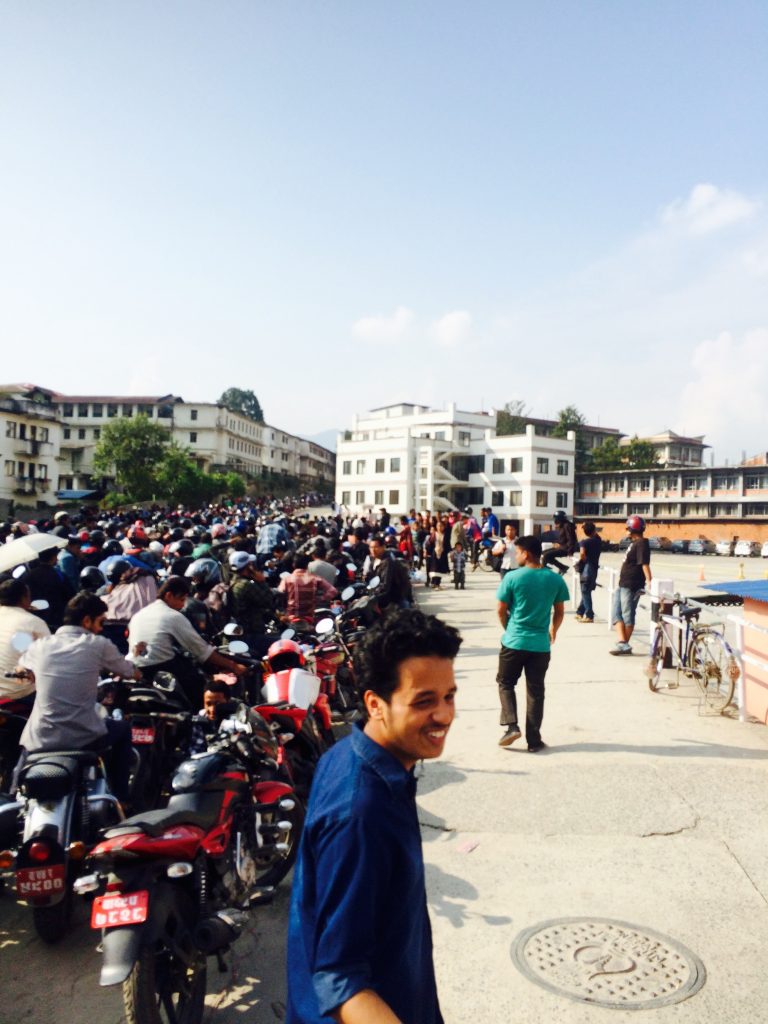 The University of Utah senior studying music business and technology had already decided a couple of weeks prior that he would be joining CHOICE Humanitarian in Nepal, but after seeing a Nepalese friend who couldn't return home to his family and worrying about good friends living there when the earthquake hit, he knew he needed to go.
On Aug. 21, 2015, Robinson traveled over 7,000 miles to Kathmandu.
"It looked like a war zone," he said. "It became real for me suddenly. You hear reports on television and it sounds and looks terrible, but once you're there experiencing it, it becomes personal to you."
Hitting him on a personal level, he was anxious to begin expeditions to the hill regions where a lot of the heavy damage occurred, but about a month into his stay, a trade blockade halted everything and the whole border of India was sealed off. Robinson and the nonprofit organization he was working with, couldn't even put gas in their cars to reach the villages. Nepal wasn't receiving the vital supplies of gasoline, medicine, cooking oil and even food.
"I had good intentions to help people, but my hands were tied because of conditions out of my control," Robinson said. "We helped locally in Kathmandu, but after a couple of months of this, you can imagine the frustration."
His humanitarian trip was coming to an end and Robinson was feeling like he hadn't done enough.
"There were still so many who needed supplies and help, but we couldn't reach them and that's when immediately it came to me. 'Why don't I write a song.' Maybe music could do something for them I couldn't."
He holed up in his apartment for three days and wrote a song he titled, "Batti Ayo," meaning "the light is back," a common phrase used by the Nepalese once the power was restored after the daily outages.
"People's faces light up and they say "Batti Ayo," Robinson said. "It encapsulates the message I wanted to leave with the people in Nepal because it was so easy to be depressed in the conditions. I wanted to lift people's spirits."
The day before his return flight he performed the song live for a crowd on the streets of Thamel. After he returned to the states and was able to record the song, Robinson's friends back in Nepal were able to shoot footage for the music video.
In its first few days the music video garnered only a few hundred views, mostly from his family and friends, but then it started gaining momentum after a prominent Nepalese politician, a folk singer and a couple of editors-in-chief of news outlets shared the link and news of "Batti Ayo" began to light up social media. The Nepal web footprint is small compared to most developed countries, but in a matter of days the song was spreading.
Within the month the music video made the front page of a Canadian Nepalese news website Canada Nepal and with over forty thousand views and counting, "Batti Ayo" continues to grow among the Nepalese community.