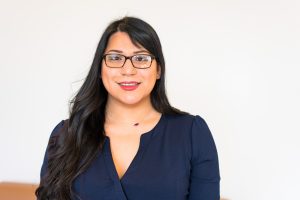 "I love what I do at the Women's Resource Center (WRC) because I get to help students who are often in very similar situations as I was.
When I was in high school in Texas, I always knew I wanted a greater life for myself where I was self-sufficient. A big part of that included going to college out of state, but neither of my parents graduated high school and I was the first in my family to go to a university. I didn't know anything about applying to college, but I knew I had to jump in the deep end and learn how to be on my own and take care of myself.
I ended up at a private university in Ohio because it had the best financial aid package. Still, the entire college journey for me was unbelievably difficult. I was working four jobs at once, plus double majoring in music performance and political science and participating in choir, band, orchestra, Model U.N. and the International Model African Union.
Then, my dad passed away during my first semester after a battle with cancer. I didn't have a relationship with my birth mom, so I really felt like I was on my own and money continued to be a huge obstacle.
My sophomore year, I sacrificed my plane ticket home to help pay for tuition. I had to secretly live in my dorm during winter break—anything to stay there and continue my education. My junior year I did a semester in Washington, D.C. and I had an internship by the White House, but I played my clarinet on the streets to make money for the metro and food.
My undergraduate experience did pay off, but I don't think students should have to overcome the obstacles that I had to. What I love about the WRC at the U is we're trying to eliminate those kinds of barriers. We're trying to make it so students don't have to live off $8 for an entire winter break or sacrifice semesters of college because they are $400 short in paying their tuition. We are often able to help make their dreams and goals attainable through counseling services, scholarships and other resources.
I wish I had understood the importance of having these types of mental health services and support during college. My advice to students who need any kind of help achieving their goals would be to talk with a Student Success Advocate. They can connect you to people and services across campus such as WRC or the Financial Wellness Center and help you navigate those conversations.
Even though it was really hard, my college experience was so valuable and gave me the tools to build the life I wanted. I'm hoping to start on my MBA soon and would love to continue creating and improving upon systems that help students and employees thrive."
—Catalina Cardona, office manager, Women's Resource Center