Jaclyn Wright, an assistant professor of photography and digital imaging in the U's Department of Art & Art History, knows her colleagues have been busy making art but hasn't gotten to see much of it in person. That's one big reason she's looking forward to "Space Maker," a new exhibition at the Utah Museum of Fine Arts (UMFA), that celebrates the recent creations of 30-plus working artists from the department.
"How often do any of us show together, if ever?" Wright mused during a recent virtual sneak preview of the exhibition. "We're very aware of each other's work, but it's not often that I'm seeing everyone's work together. So I'm really excited about it, especially following a year and a half in quarantine. To have this momentous occasion where we can in some ways celebrate one another is really exciting. "
Joshua Graham, an adjunct assistant professor, is also eager to revel in the successes of "this really robust and remarkable community we have here in the University of Utah art department." The exhibition "really stands as a testament to this group of people really pushing through and working through difficult times," he said. To hear more from Wright and Graham and see selected works from the exhibition, click here.
"Space Maker" provides a snapshot of the distinct and varied art practices of the participating artists, including traditional and innovative techniques from charcoal on paper and hand-built ceramics to digital coloring and 3-D models. Many of the works were made during the past year and speak to what's on so many minds right now—the past year's isolation, renewed urgency around social and racial justice and increasing evidence of the impacts of climate change on our world. Click here for details and a complete list of artists.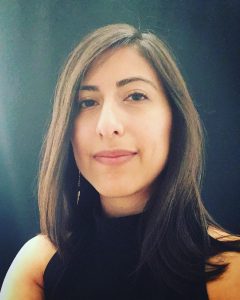 "A common theme that emerges through the exhibition is an exploration of place and space," said guest curator Nancy Rivera. "In a time when we found ourselves confined to our homes, artists became hyperaware of their surroundings and created work that highlights their contributions as artists examining and looking beyond the ordinary."
Rivera herself is a U art and art history success story. A Mexico City native, she earned her MFA in the department and has gone on to establish herself as an artist and a leader in the Utah arts community. She's now the visual arts coordinator for the Utah Division of Arts and Museums. To read more about Rivera and her take on the exhibition, click here.
"Space Maker" is on view through Dec. 5. Advance tickets are strongly encouraged. U faculty, staff and students are admitted free with valid UCard. Reserve tickets here.
"Space Maker" is supported by Installation Sponsor UMFA Art Lovers and presented in partnership with the U's College of Fine Arts and the Department of Art & Art History, with in-kind support from the Utah Division of Arts and Museums.