By Annalisa Purser
In addition to celebrating the accomplishments of more than 8,000 graduating students, commencement is also a time to recognize the achievements of members of the University of Utah faculty, as well as individuals whose work warrants the university's highest honor, the honorary doctoral degree. This year's honorary doctoral degree and special award recipients include:
Honorary doctoral degrees:
Anne Cullimore Decker is best known as a professional actress in theatre, opera, television and film, but she has also spent considerable time teaching at the University of Utah. She is an active member of the U's National Advisory Council and has served in other capacities, including as an advisory board member for the Pioneer Theatre Company, the College of Fine Arts, as a past vice president of the U's Alumni Association and chair of the Utah Arts Council. Among her numerous awards is the Madeleine Award for the Arts and Humanities, arguably the state's most prestigious award for distinguished contribution in her field. In 2009, she received the Governor's Leadership in the Arts Award, and last year, she was named one of the state's most influential artists. She has had an enormous impact on the arts in Utah as an actress, an educator and advocate. She will receive the honorary degree of Doctor of Fine Arts in recognition of her dedication and passion for advancing the arts, on and off the stage.
Henry B. Eyring is the first counselor in the First Presidency of The Church of Jesus Christ of Latter-day Saints and has held numerous leadership positions within the church prior to this calling, including church education system deputy commissioner, member of the General Sunday School Board and first counselor in the Presiding Bishopric. He was president of Ricks College, now Brigham Young University-Idaho, for six years after working as a professor at the Stanford Graduate School of Business and serving as a Visiting Sloan Faculty Fellow at MIT. As an accomplished scholar, educator and religious leader , last year he was invited to present at a three-day interreligious colloquium at the Vatican. He will receive the honorary degree of Doctor of Humane Letters for his ongoing service as a civic leader, and global ambassador.
Mark Fuller is the CEO of WET, the industry leader and creative genius behind some of the world's most innovative water- and fire-based designed environments and experiences. The company has designed more than 250 fountains, including The Dubai Fountain, The Fountains of Bellagio in Las Vegas, and the Olympic Cauldron for the 2002 Olympic Winter Games in Salt Lake City. He was involved in developing a Discovery Channel reality competition called "The Big Brain Theory: Pure Genius," featuring weekly engineering challenges. The show was filmed at WET, and Fuller served as one of the judges. Before co-launching WET, he worked for Disney, supervising the creation of more than 300 special effects and water projects. In a 2011 New York Times feature, Fuller discussed the company's unique culture and how he uses improv classes to teach employees active listening skills. He will receive the honorary degree of Doctor of Engineering for his pioneering efforts in engineering innovation, entertainment, artistry and education.
Distinguished Teaching Awards
David Derezotes
Professor of Social Work
Director of the Peace & Conflict Studies Program
"It is easy to see that David is a professor who is totally in love with teaching," one nominator expressed, and David Derezotes agrees, saying he's fortunate to be paid to do the work he loves. For more than 10 years, he has voluntarily increased his teaching load without additional compensation because he enjoys working with and mentoring students. Students consistently praise his interactive teaching style saying it's "so much better than just lecturing." He has published five textbooks supporting his teaching approaches, which include role-playing, introducing students to diverse groups of people, deconstructing live counseling sessions, and creating a safe space for students to share ideas and express opinions. Through his work with the community, he exposes students to real-life experiences, including his work with the Red Cross responding to tragedies involving individuals with mental health issues. In 2013, he was named director of the U's Peace & Conflict Studies program after helping to develop the major and minor. He joined the College of Social Work 25 years ago and has received the college's teaching award five times. Derezotes holds a doctorate in social welfare from the University of California, Berkeley, and a Master of Social Work from San Diego State University.
David Gard
Professor of Biology
Director of Undergraduate Advising in Biology
"Dr. David Gard is really excited when he teaches and is pretty effective at inspiring the same enthusiasm in his students," read one student evaluation, which perfectly summarized the rest. A student even changed her major to biology after becoming "hooked by the world of cell biology that Dave explored in class." In his 28 years at the U, Gard has taught cell biology to more than 5,000 undergraduates, as well as teaching classes in developmental biology and graduate cell biology. His PowerPoint slides have become somewhat of a legend among students and faculty alike. In large classes, he finds ways to emphasize student interaction, answer every question and is knowledgeable enough to let student curiosity drive course content. Even in introductory courses that have more than 300 students per section, he consistently receives evaluations higher than the departmental average. In 2010, he was appointed director of undergraduate advising for biology, where he is solely responsible for advising more than 1,000 students. He has received ASUU's Student Choice Teaching Award and was named Outstanding Upper-Division Instructor award ones and Professor of the Year twice from the Biology Student Advisory Committee. Gard received a bachelor's degree and doctorate from the California Institute of Technology.
William (Bill) Richards
Clinical Professor of Law
"Bill Richards changed my life," says a former law student, and it's easy to see that most students feel the same. It's not uncommon for students to rearrange their entire class schedule to take his classes, and even when they're full, students who are not enrolled will occasionally attend just to hear him speak. He has earned this high praise through his focus on personalized instruction and commitment to each student. He is always accessible to his students, who have his home phone number and are invited to call him with questions any time. Richards was instrumental in redesigning the college's legal methods program, which has become one of the "crown jewels" in the curriculum. The program is recognized by employers, judges, and others as one of the best ways the school prepares students to practice law. Richards has been recognized for his teaching excellence with two ASUU Student Choice Awards, the College of Law's Peter W. Billings Excellence in Teaching Award and Outstanding Faculty Award and the University of Utah Distinguished Honors Professor Award from his time teaching in the Honors College. Richards began teaching law at the U in 1985 and earned a bachelor's degree and Juris Doctor from the University of Utah.
Kenneth W. Spitzer
Professor of Internal Medicine (Cardiovascular Medicine)
Director of the Nora Eccles Harrison Cardiovascular Research and Training Institute
"Periods of outstanding performance are rarely sustained through multiple decades," writes one nominator, but students have been praising Ken Spitzer for more than 30 years, beginning in 1980 when he was named the best physiology instructor the first time he taught medical students. It is clear he cares about his students' success and dedicates time to helping them learn. One student recalled that Spitzer prepared a special presentation and spent two hours reviewing material with her and some classmates in preparation of a final. He goes beyond receiving feedback through surveys and schedules time at the end each teaching cycle to meet with small groups of students to conduct a thorough review of his lectures. He has devoted countless hours to developing handouts, which more than one student referred to as "gold." Additionally, he is an internationally acclaimed cardiac physiologist, a National Institutes of Health 10-year MERIT Grant awardee and has been the director of the Nora Eccles Harrison Cardiovascular Research and Training Institute since 2003. He even uses videos produced by his research to help students grasp challenging concepts. Spitzer holds a doctorate in physiology from the State University of New York (Buffalo) School of Medicine.
Distinguished Scholarly and Creative Research Awards
Christopher D. Hacon
Distinguished Professor of Mathematics
"The landscape of algebraic geometry has changed," declared a recommender. This sentiment is echoed by numerous colleagues when speaking of Christopher Hacon's contributions to his field of expertise. Algebraic geometry aims to classify all varieties of a given dimension and the Minimal Model Program is the tool utilized to do so. Prior to Hacon's work, the Minimal Model Program was only able to classify varieties up to the third dimension. In 2010 Hacon and co-authors made the groundbreaking discovery that certain infinite sequences of flips do not exist, thereby making the Minimal Model Program available in all dimensions. For this, Hacon has won numerous, prestigious awards such as the Frank Nelson Cole Prize in Algebra and the Clay Research Award, he was named a Simons Investigator and colleagues praise him as "A star of the highest caliber." Hacon holds a doctorate in mathematics from the University of California at Los Angeles and has been on faculty at the University of Utah since 2002.
Colleen McDannell
Professor of History
Sterling M. McMurrin Professor of Religious Studies
How religion functions in modern society is one of the most important questions asked in the humanities, and Colleen McDannell has given us pathbreaking answers. Her first book, The Christian Home in Victorian America, and the highly regarded Material Christianity look beyond the conventional focus on church and clergy. By considering family bibles, needlework and home furnishings, and even cemeteries, she uses the home and family to understand religious practice and history. Her attentiveness to everyday life, which scholars have often dismissed, allow her to more fully reveal the role of women as agents in American religious history. In Heaven: A History, McDannell and her co-author broke new ground by analyzing popular representations of the afterlife along with the intellectual speculations of elites.  A Guggenheim Fellowship supported her research on photography, religion, and the New Deal.  "McDannell's resourcefulness in conceiving of new sources for the study of American religion has made her a model for other scholars," says an admiring colleague. McDannell earned a Bachelor of Arts at the University of Colorado, a Master of Arts at the University of Denver, and a doctorate at Temple University. She joined the University of Utah faculty in 1989 as Sterling M. McMurrin Chair in Religious Studies and was named full professor in 1996.
Wayne K. Potts
Professor of Biology
As immune defenses evolve to fight viruses and bacteria, these pathogens evolve to overcome immune defenses. Wayne Potts studies the genetics of this coevolution, but his work reaches beyond the conventional boundaries of the field. Most famously, Potts was first to show that the mate choices of wild mice are influenced by the immune system's major histocompatibility complex genes — a finding widely contested at first, but now confirmed as a way humans and many other species provide their offspring with a superior immune system and avoid inbreeding. This groundbreaking work "heralded the beginning of an entire new research field," one colleague says. Another praises his "imaginative out-of-the-box thinking, rigorous execution of decisive experiments, and critical evaluation of implications." Potts pioneered the use of semi-natural populations of animals to more sensitively detect health performance deficits caused by inbreeding, and he has used this method to characterize the hidden toxicities of sugar and widely used pharmaceuticals. He was the first to show experimentally that pathogens adapt to specific mammalian genotypes, which reduces their ability to infect other host genotypes, thus reducing their overall virulence. Potts earned a Bachelor of Science at Brigham Young University, a Master of Science at Utah State University, and a doctorate at the University of Washington. He joined the University of Utah faculty in 1996 and was named full professor in 2003.
Distinguished Faculty Service Award
Carrie L. Byington
H. A. and Edna Benning Presidential Professor of Pediatrics
Associate Vice President for Faculty and Academic Affairs for Health Sciences
Director, Utah Center for Clinical and Translational Science
Dr. Carrie Byington, M.D., founded a library in 1998 at the University of Utah's South Main Clinic, which serves women and children living in poverty, the majority of whom are recent immigrants. The library was founded on Byington's philosophy that education can be used "as a means to lift individuals from poverty and improve their health and their lives." Today, the "reading room" distributes more than 1,500 books per month to needy children, teaches computer literacy to families and supports a summer reading program for approximately 750 children each year. As director for all career development programs in Pediatrics and the Center for Clinical and Translational Science, she has mentored more than 110 trainees, 70 percent of whom are women or under-represented minorities. She developed a paid parental leave policy and education debt reduction program to facilitate their success. She created a new minor in child health research, the first program of its kind in the country, and runs the Native American Summer Research Program that brings aspiring American Indian students to the U to learn about medical research. This program, along with her Academic Associates program, received the U's Beacon of Excellence Award. She truly embodies her philosophy of using one's skills and resources to serve others.
Distinguished Innovation and Impact Awards
Lisa Cannon-Albright
Professor and Chief of the Division of Genetic Epidemiology
"At this point, everyone knows of the importance of genetics in cancer. This was not true in 1978, and Lisa's work was instrumental in that change," says a colleague. Drawn to Utah to pursue genetic research when the Utah Population Database was in its infancy, Lisa Cannon-Albright not only helped develop the database, but also designed ways to use the database to help discover a number of new disease-related genes. As personalized medicine becomes more mainstream, she can be credited with being a part of developing the first such genetic tests for assessing the risk for future disease and bringing them to use. She was a key member of teams that mapped, localized, and identified what are still the major common cancer genes that have been discovered, including those for breast and ovarian cancers and melanoma. Some of these genes became the topic of a Supreme Court case last year—a testament to the impact of these discoveries on society. She has more than 200 publications, holds numerous patents, serves on editorial and grant review boards, teaches, and continues to use unique Utah resources to find predisposition genes. Cannon-Albright joined the U in 1988 and holds a doctorate in genetic epidemiology.
William (Bill) Jenson
Professor of Educational Psychology
Bill Jenson's colleagues concur that his "unshakeable mission to use psychological science to improve people's lives" has not only changed the field but has given hope to potentially millions of children with autism spectrum disorder, serious oppositional behavior and attention deficit hyperactivity disorder, and their families. He is the primary developer of the Tough Kids book series, one of the most widely used resources in the nation for those dealing with challenging behavior problems. More than 20 years later, the series totals 13 books in English and Spanish and has sold more than 400,000 copies. Jenson co-founded and directed the Carmen B. Pingree Autism Center for Learning, which has served thousands of Utah families with children on the autism spectrum. He also developed an interactive video curriculum for teaching social skills to children with autism, using superheroes to captivate participants. First distributed to 800 schools for testing, the program is now used around the world, and he is currently in the second year of a million-dollar training grant to develop a parent-training component. It is not an overstatement when his colleagues say that his "contributions to the field of autism, behavior and parenting is beyond measure." Jenson received the College of Education's Teaching Award in 2012 and holds a doctorate from Utah State University.
Calvin S. and JeNeal N. Hatch Prize in Teaching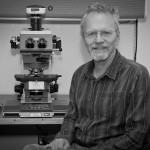 John (Rick) Ash
Professor of Neurobiology and Anatomy
"Dr. Ash is one of the teachers you hope to have," is the consensus from multiple students, but Rick Ash's contributions reach beyond just those who take his classes. He has been involved in developing the medical school curriculum for more than two decades through service on multiple education committees and is ever thoughtful of the big picture and the students' entire schedule. He has a passion for innovative electronic teaching tools and recently worked with staff at the Eccles Library to digitize hundreds of glass slides to create a system in which students can explore cells at high power, similar to using a microscope, but in an easier and familiar format. This conversion allowed 30 additional students to participate in the course. Ash also created a self-study computer program in 1988 and has been refining it ever since. His technological innovations for the classroom are obviously appreciated as evidenced in one student's evaluation: "His computer programs are the best thing that ever happened to histology." He has been recognized with the Department of Anatomy's Faculty Teaching Award and the University of Utah Distinguished Teaching Award. He joined the U in 1980 and holds a doctorate from Stanford University.
Douglas Christensen
Professor of Bioengineering
Bioengineering Undergraduate Advisor
Professor of Electrical and Computer Engineering
"The reason Doug is the best is because he cares the most, and he works the hardest to fulfill his most important mission in life—to help and inspire students," writes a colleague. Doug Christensen's impact on students is apparent as one student evaluation admitted: "I would easily pay double my tuition if all my classes were taught by him." Christensen's teaching philosophy revolves around hands-on experiences. He has a set of props he uses to make points from analogy and even hands out cans of RC brand soft drinks when teaching about the "RC" value of electronic circuits. To demonstrate the difference between engineering and physics electrical notations, he parted with his typical tie and sweater vest and instead wore a backwards baseball cap and announced he was wearing his "physics hat" today. He has been with the department since its founding 40 years ago and has designed and organized eight new courses, written two textbooks for courses where no suitable text existed, and helped develop an accelerated dual-degree program in biomedical engineering. He has received the College of Engineering's Outstanding Teaching Award, the ASUU Student Choice Excellent Teaching Award and the U's Distinguished Teaching Award. He holds a doctorate from the University of Utah.
Annalisa Purser is a communications specialist at University Marketing and Communications. If you have an interesting story idea, email her at annalisa.purser@utah.edu.