This story originally appeared in Utah Med, the School of Medicine's alumni magazine, on Jan. 20, 2020. We are sharing it here to re-introduce Dr. Michael L. Good as he begins his tenure as interim president of the University of Utah.
In August of 2018, Michael L. Good, M.D., arrived to take the role of CEO of University of Utah Health, senior vice president for Health Sciences and the 31st dean of the School of Medicine. One year into his term, we spoke with Good about his career, the state of health care today and his outlook for the future of U of U Health.
Why did you decide to pursue a career in medicine?
Medicine was in my family. My father was a pharmacist, my uncle a general surgeon. For as long as I can remember, I've always wanted to be a physician. I attended the University of Michigan as an undergraduate and for medical school. I found myself interested in a whole range of subjects. My wife joked that I'd do a pediatric rotation and come home and say, "I want to be a pediatrician." Then I'd do a surgery rotation and say, "I want to be a surgeon." I was interested in everything. I eventually settled on anesthesiology.
What drew you to anesthesiology?
I think the numbers and mathematics appealed to me. While pursuing pre-med, I majored in computer science. It was the late 1970s, a fascinating time for computers. I started programming with punch cards that were fed into large mainframe computers. In 1979, Michigan tore out the third floor of the undergraduate library and installed 50 Apple IIe machines and 50 IBM XTs, and away the microcomputer revolution took off. As I continued in medical school, I kept my coding skills sharp, programming medical office applications and business jobs. It helped give me another perspective. I find that there's a strong correlation between anesthesiology and programming. If you've ever looked at an anesthesia record, it's a mathematical graph. While most physicians write narrative prose for their medical records, anesthesiologists tell the story through numbers, charts and lists. Anesthesiology combines physiology and pharmacology, which are the subjects I enjoy the most. So in a sea of things that I liked, anesthesiology rose to the top. I was accepted to the University of Florida, which has one of the top-five anesthesiology training programs in the country. I told my wife we'd be in Gainesville for three years. She likes to point out that I was only off by about three decades.
While in residency in Florida, you developed the idea for a patient simulator to help in anesthesia training. How did the thought occur to you?
That idea came about because I wanted to practice more. I wanted to master anesthesiology skills more quickly. Administering anesthesia is a little like flying an airplane. The takeoff and landing are usually the most intensive. The in-flight analogy, which is the surgery, is often a more stable or calm time for the anesthesiologist. When I first started my training at Florida, we did about three surgical cases a day. But I wanted to do 20 or more—to learn and really master and perfect the techniques required for anesthesia "takeoff and landing." My wife Danette and I were on our church softball league at the time. One night I was in a batting practice cage hitting balls pitched to me by an automatic machine. That's where the light bulb went off. I said, "I'm basically practicing softball with an artificial pitcher. Shouldn't we be able to create an artificial patient so that anesthesiologists can similarly learn and practice their skills?"
This appealed to my programming capabilities, but I knew right away that I would need help. The University of Florida's engineering school was just three doors over from the medical school. Quickly, I was able to recruit colleagues from engineering. We used a 1963 Journal of Physiology publication from Arthur Guyton in which he laid out the cardiovascular system as an analog circuit. I turned the analog circuit into digital code and was able to make it work on a desktop computer.
How soon did you know it would work?
Pretty quickly. An early study showed that we could help residents acquire necessary skills faster than they could in the operating room on real patients. The project just took off from there. I continued to work on the simulator for the next eight years. By 1994, we patented a prototype and licensed the technology to an aerospace company, which eventually turned it over to a new start-up company called Medical Education Technologies Incorporated [METI], created by Louis Oberndorf. METI would go on to become the world's leading producers of patient simulators. Recently, METI was purchased by CAE Healthcare, which now produces and sells the human patient simulator. Today, there are all kinds of patient simulators to train for a vast array of medical scenarios, including trauma, pediatrics, birthing and more. I'm very proud of that work, not just because of the novel technology, but for the impact it has had on the training of health care providers worldwide. I'm gratified to know that there is a generation of anesthesiologists now practicing who started learning on—and I'd like to think are better because of—the human patient simulator.
Why did you choose to remain in academic medicine?
The University of Florida was so supportive of our work developing the simulator that it was just natural to join the faculty. As the simulator project began to wind down in the mid-to-late 90s, I became interested in leadership. I took a position as chief of anesthesia at Malcom Randall VA Medical Center, which served northern Florida and southern Georgia. That led to a job as the chief of staff for the hospital and then medical director of the entire health system. I enjoyed working as a physician leader in the VA system, but to advance further in the VA required relocation to Washington D.C. To focus on my family, I transitioned back to the University of Florida full-time and devoted myself to teaching and clinical care for several years. The call to serve in leadership kept presenting itself, however. One thing led to another, and eventually, I applied for and was appointed as the ninth dean of the University of Florida College of Medicine, serving from 2008 to 2018.
Do you enjoy leadership?
I do. I'm often asked how an anesthesiologist winds up with this type of career. It comes down to systems. As a clinical anesthesiologist, my job is to keep a patient's organ systems working together under anesthesia. If I overpressurize the lungs, the blood pressure will drop. If I don't infuse enough intravenous fluid in the vascular system, I may injure the kidneys. When I became chief of the VA anesthesia service, it was another system. I now needed to keep surgeons, patients, nurses, blood and equipment operational and working together in a coordinated fashion. As chief of staff, it was a hospital system. Now I had to coordinate the efforts of nurses, internists, pharmacists and many other departments. Then as dean of the medical school, it was a much larger entity, but still a system. I'm proud of my decade leading University of Florida's College of Medicine. We advanced all missions. Clinical growth was robust, with ambulatory-practice visits, hospital admissions, surgical procedures and emergency-department visits all increasing 70% or more. Research and education programs saw similar advances, and NIH research funding increased from $61 million to $102 million annually. We completely revised the medical curriculum, then built a $46 million state-of-the-art medical-education building that drew national attention.
How did you come to be interested in the University of Utah?



We were always watching Utah because of the many years of outstanding quality performance. We wanted to learn the approach. I also had some personal connection and awareness. I served under Bernie Machen, who became president at Florida after serving as the president here at Utah. Machen helped to connect me to former Senior Vice President Lorris Betz, who would become an important mentor to me. In late 2017, Dr. Betz encouraged me to look at the Utah SVP position. The more I learned about the University of Utah, the more excited I became about the opportunity and the possibilities. I began to understand why the quality rankings were so high, why the institution was a leader in patient satisfaction, why the research programs were excelling, the disease-causing genes that have been discovered here. Great work was happening in basic, translational, clinical and population science. Plus additional advantages: an integrated health plan, retail pharmacy and geography that's very supportive of its academic medical center. The more you looked into the story, it just got better and better. So I decided this would be a great place for the next chapter of my life and career.
Now that you are one year into your role, what are your initial observations?



Academic health care in the U.S. exists at the very dynamic and complicated intersection of health care and higher education. How do you move forward during such rapid and fluid change? My approach is to work hard to continually improve. Experiment. We have to be courageous to try new things, then agile and responsive to shift as new opportunities present themselves. But while the currents are shifting rapidly, we also have a North Star.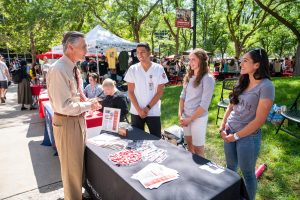 We are a mission-driven organization. Our vows start and end with patient care, education, research and community engagement. As we look forward, our strategy needs to be built around excellence in our missions. How do we further improve the world-class care that we provide to patients? How do we keep our researchers on the front lines of discovery and innovation across the full spectrum of health care? How do we make sure we're preparing the next generation of health professionals, physicians, nurses, pharmacists, dentists, physical therapists and occupational therapists? How do we translate these elements into our community and make sure we are listening to their needs and feedback? I don't pretend to have all of the answers, or that it will be easy. But I do know that we will work hard and actively participate.
You have several titles. Not only are you the CEO of University of Utah Health, but you are also the dean of the School of Medicine. What are your thoughts about the school?
The School of Medicine is exceptional. The first way I became aware of that was at the University of Florida, where we commonly accepted graduates from the U into our residency programs. I noted how well qualified and well prepared the students from Utah were. The curriculum here is very contemporary. A number of our initiatives are particularly forward-thinking—such as our focus on rural and underserved areas, global health and an exceptional Physician Assistant program, just to name a few. The fact that two-thirds of all doctors in the state of Utah were trained here speaks to our societal impact. I arrived here at an exciting time. You need only drive onto campus to see the rapid expansion that is already underway. This past fall, we opened Area E, a new acute care center at the hospital, followed by the advanced Sugar House Health Center and a number of other facilities. This coming spring, we will open the Craig H. Neilsen Rehabilitation Hospital. We have strong partnerships, including Intermountain Healthcare, the Veterans Administration, Shriner Children's Hospital and so many others.
Taken together, these expansion efforts and strategic partnerships will significantly impact the services we can provide to our patients and in our community. U of U Health is very much an organization on the rise. The biggest challenge we face is the School of Medicine building itself. The 521 building is, unfortunately, decaying in front of us. The facilities are significantly outdated. This has long been identified as a need, and several plans had been prepared in the past, but they weren't successfully completed. So in the fall of 2018, I asked leaders to take another careful look at the building and plans that were in place and develop a strategy to make them a reality. Very soon, we will be able to announce those plans and communicate them to the entire community. I think that you will be tremendously excited by what we have in store.
What gives you joy in your career?
Helping others. I remember one patient who had gone many years with excruciating knee pain because he was afraid of anesthesia. Not of knee replacement surgery, but the anesthesia. I spent a great deal of time with him to build his confidence, then performed the anesthesia for his surgery. He did just fine and returned to an active lifestyle and church work that was so important to him. A few months later, he brought me a beautiful wooden rocking horse for my children that he had carved by hand in gratitude.
Similarly, I think the greatest joy in being a teacher is when you help a student understand something they previously did not. I describe my leadership style as an upside-down pyramid. If each of us works every day to make someone else successful, we'll unleash unbelievable organizational energy and power that will make this university the best place for people to work, learn and be.
President Ruth Watkins likes to say that we are not just the University of Utah, we are the University for Utah, and I strongly agree. We are the only major academic medical center in the Mountain West, serving people in 10% of the landmass of the continental United States. We have a tremendous responsibility to help people of this great state and throughout the region. As the national debate about health care continues to unfold, our job is to ensure that we're providing the best possible care to each and every patient. To do that, we need to be at the leading edge of the best treatments, find cures when we can and preventing diseases from even occurring. Wouldn't it be great if a U faculty member discovered a new drug, new device, new diagnostic test or new medical procedure that becomes the standard of care in America?
We do all of this for one purpose—we want better health for our citizens. My role is to help ensure that the University of Utah continues on its path of excellence well into the future. I'm honored to be a part of this exciting team and meaningful journey.