JUMP TO:
Join the Clear the Air Challenge
---
JOIN THE CLEAR THE AIR CHALLENGE JULY 1-31, 2016[bs_row class="row"][bs_col class="col-sm-4″]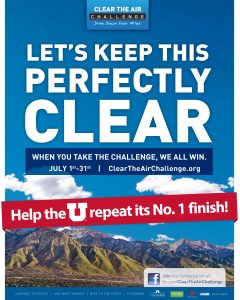 [/bs_col]
[bs_col class="col-sm-8″]Help the University of Utah repeat its No. 1 finish in the July 2016 Clear the Air Challenge.
The Clear the Air Challenge is all about improving air quality in Utah by eliminating unnecessary vehicle trips. By participating in the Clear the Air Challenge, employers, employees and individuals can help by driving less and driving smarter. Seek out public transportation, trip-chain, bike, walk or carpool whenever possible to campus or any of your destinations, and then log those trips on the dashboard at travelwisetracker.com.
Cool prizes are available for participants, but more importantly, with clearer air, we're all winners. Get involved and get your friends to participate.
Be a champion of the challenge with your friends and colleagues. Download marketing materials, including flyers and social media ideas, for the 2016 Clear the Air Challenge through Box here.
For questions, contact the Sustainability Office at 801-585-9352.[/bs_col][/bs_row]
---