This semester, as an Undergraduate Research Opportunity (UROP) Scholar I had the opportunity of collaborating with associate professor Annie Isabel Fukushima Ph.D., and the University of Utah Dream Center to enact what is called participatory action research regarding how notions of illegality impact undocumented students and students from mixed-status families in Utah. Participatory action research is a common form of community-based research where the researcher works in collaboration with the defined community. Action-oriented research involves the participants in the product/mean-making of the study. Therefore, this study invites participants to define the outcomes of the study through action-oriented activities as it relates to immigration.
New estimates, drawn from the 2019 American Community Survey, indicate that undocumented students (with or without Deferred Action for Childhood Arrivals status) account for approximately 2% of all students enrolled in higher education in the United States. Several of these students face unique challenges as they navigate the system of higher education while simultaneously being tasked to confront the consequences of being undocumented, otherwise known as the conditions that immigrant "illegality" produces. The conditions associated with "illegality" include fear of deportation, psychosocial issues, complex policies to navigate, discrimination and racism, the ongoing perpetuation of stereotypes about immigrant communities and barriers when seeking out opportunities, among others.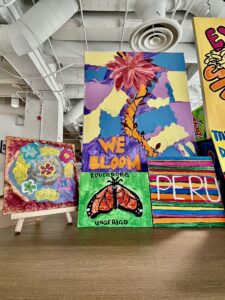 This project sought to understand how undocumented students at the University of Utah are impacted by immigrant "illegality" as well as immigration discourse and policies through participatory action research. Participants met multiple times throughout the semester and spoke about a variety of themes including the need for visibility on campus, their existence on campus and different institutions as a form of resistance, and the importance of community and unity. Participants further spoke about the responsibility that the university has in educating themselves on the issues impacting undocumented students to establish an inclusive, supportive and welcoming space. The importance of action, access and advocacy were stressed amongst all participants as a way toward helping undocumented students become successful at the university and beyond.
For the last meeting, participants came together to create a community-centered project aimed at bringing awareness to immigration issues impacting students, staff and faculty on campus. Puerto Rican artist, Alli Arocho, facilitated the painting event and spoke about joyful resistance and using art as a form of advocacy. The result included seven beautiful paintings that focused on the theme of visibility. One participant painted a face with the words, "Existo Sin Permiso" or "I exist without permission" on a bright yellow canvas with a face smiling in the middle. Another embedded amongst green vines stated "Sin Todos No Lo Queremos" or "Without all of us, we don't want it," invoking how the inclusion of some immigrants has left out many of their loved ones and family members in decisions regarding immigration policy. Another painting illuminated diverse national origins, with the word "Peru" on top of an indigenous Peruvian textile pattern known as Aguayo. Together, the images quilted a tapestry of a community of images in solidarity with immigrant communities and mixed-status families.
Increasing the visibility of undocumented students and students from mixed-status families fosters educational equity and opportunity for diverse communities that are part of the university student body. Through conversations with the Dream Center community, we learned that our immigrant students have a range of needs that create barriers when accessing a fundamental human right: education. These barriers include ineligibility for scholarships and funding opportunities despite their stellar academic records, the need for mental health services and professional development opportunities for post-graduate life. Institutions of higher education have a responsibility to do more to support the academic and professional goals of these students. Undocumented students make a significant contribution to universities and communities around the United States. Their pursuit of higher education is critical to any community's future because undocumented students are more than their status.
This work was generously supported by the University of Utah Office of Undergraduate Research.
Want to learn more? Check out these reads
"Dear America: Notes of an Undocumented Citizen" by Jose Antonio Vargas
"'I'm Here to Fight Along With You': Undocumented Student Resource Centers Creating Possibilities" by Jesus Cisneros, Diana Valdivia, Alonso R. Reyna Rivarola, Felecia Russell
"The Racialization of 'Illegality'" by Cecilia Menjivar
"Impossible Subjects" by Mae Ngai
"Constructing Immigrant 'Illegality': Critiques, Experiences, and Responses" edited by Cecilia Menjivar and Daniel Kanstroom
About the University of Utah Dream Center
The University of Utah Dream Center works holistically with undocumented students and mixed-status families from college access to graduation. To get in contact with the Dream Center, please visit dream.utah.edu or email them at dream@utah.edu.
About the author
Thaiss Del Rio Sanchez is a recent first-generation graduate from the University of Utah where she received her bachelor's degree in sociology and political science. During her time at the University of Utah, she worked as the academic advisor for the Dream Center, where she worked to close the gaps and barriers that exist for first-generation and undocumented students who are learning how to navigate the system of higher education.