By Brooke Adams, communications specialist, University Marketing & Communications
Photo courtesy of Lucas Foglia.
Rachel Hopman wasn't quite sure who might see a video featuring research taking place at the U on the connection between being in nature and improved thinking ability.
She definitely wasn't anticipating it to be viewed by more than 2.5 million people — and counting. But the numbers are in and growing rapidly since ATTN, who created the video for the outdoor retailer REI, posted the 96-second story on its Facebook page just before Thanksgiving. As of Nov. 30, the video had been shared nearly 21,000 times, received 25,000 "likes" and accumulated 1,800 comments.
"I am happy to get the news out there," Hopman said. "It's a good way to get more people interested in the topic of nature restoration and it will hopefully spark interest in preservation issues and communicating science at a simpler level."
REI contracted with ATTN to produce the video after Strayer's research on the restorative effects of being in nature were featured in National Geographic in January 2016. Strayer has studied the subject for the past six years — along with research on distracted driving — and teaches an honors college class each spring called "Cognition in the Wild" that explores the topic.
ATTN came to Utah last October. Hopman and Strayer were in the midst of a new study focused on whether short nature excursions are as beneficial to cognitive function as longer stints in the outdoors. The video was filmed at Red Butte Garden, where the study was staged.
Study participants, wearing caps to capture brain wave activity, were asked to spend 10 minutes observing nature. They then spent 10 minutes counting backwards by threes in 15 second intervals, using a different random number provided by researchers as a starting point, to measure cognitive ability. Next, each person spent 30 minutes or 60 minutes walking through the garden before repeating the testing to determine changes from the nature exposure. The sessions took about 3 hours per participant to complete, Hopman said.
The video shows snippets of an ATTN reporter going through those same paces though, of course, "you can't show everything in a one-minute video," Hopman said.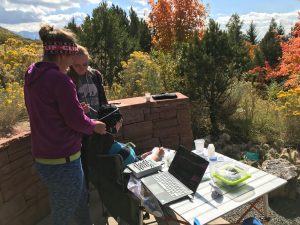 The researchers are now analyzing the data to see what it reveals about varying exposure to nature and changes in mood and cognitive function, Hopman said.
The video's condensed overview of the study's methods and measures has led to some critical comments on the Facebook post, but Hopman said once the research is published in a peer-reviewed journal people will be better able to evaluate the project.
"I also saw a comment from someone who said 'nature is not for me,'" Hopman said. "Nature might not be for everyone, but our research is showing nature is pretty good for the majority of the population."
Hopman's own experience with the outdoors is a case in point. She came to the U for her graduate degree after reading about research Strayer co-authored on how long-term exposure to nature, disconnected from electronic devices, improved performance on creative tasks. Attention Restoration Theory suggests nature can replenish depleted neural circuits.
Hopman — who is from Illinois, where cornfields are plentiful but recreational opportunities are not — was intrigued.
"Utah was an eye-opening experience for me," Hopman said. "Everyone here seems to love the outdoors, through hiking and backpacking. It's addicting to spend time outside, moving away from technology and the struggle of everyday life. There is something about nature that makes you feel better."
The questions for Hopman and Strayer: Why? And how?