By Jana Cunningham, communications specialist, University Marketing and Communications
The University of Utah's J. Willard Marriott Library honored two legacies that helped make Utah a world-class winter sport and recreation destination at the 26th annual Ski Affair, Nov. 1 at Little America Hotel.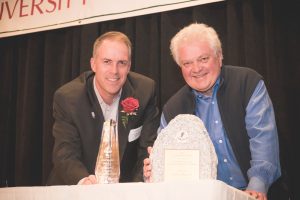 The Utah Olympic Legacy Foundation received the library's History-Maker Award for maintaining three Olympic legacy venues, Utah Olympic Park in Park City, Utah Olympic Oval in Kearns and Soldier Hollow Nordic Center in Midway.
"Through the strategic direction of the foundation, these unique Olympic venues have become recreational havens for local communities as well as incubators for elite winter athletes," said Greg Thompson, associate dean for Special Collections. "They also continue to make history by hosting national and international competitions."
Gary DeSeelhorst received the S.J. Quinney Award for his contribution to winter sports in the region. He led Solitude Ski Resort from 1977 until 2015 when he sold it to an affiliate of the Deer Valley Resort Company. Along with his wife Betsy and their sons, he nurtured Solitude through its most formative years and made the European-style ski village a premier destination resort.
DeSeelhorst also spearheaded the effort to build the 17-mile Big Cottonwood Canyon sewer line in 1990, which today serves the Brighton, Solitude and Silver Fork areas.
[bs_row class="row"]
[bs_col class="col-sm-3″]
[/bs_col]
[bs_col class="col-sm-9″]
"We were delighted to celebrate once again the Utah Ski Archives—the largest archive of it's type in the United States," said Barbara Yamada, event chair. "It was a delight to have both Gary DeSeelhorst and the Legacy Foundation join us this year."
Proceeds from the event further the development of the library's Utah Ski Archives. Founded in 1989, the archives house the complete records of the 2002 Olympic Winter Games and document the history of ski competition on local, national and international levels, the founding of major resorts, snow safety and avalanche control, ski equipment, ski instruction, freestyle skiing, back-country skiing and virtually every facet of winter sports in Utah and the surrounding region.
[/bs_col]
[/bs_row]
Credit: J. Willard Marriott LibrarySpence Eccles, a longtime supporter of the Ski Archives and the J. Willard Marriott Library
Credit: J. Willard Marriott LibrarySuzy Rytting, received the Sue Raemer Memorial Award, which is given each year to an individual who has made significant and voluntary contributions of time, talents and resources to the Ski Archives.
Credit: J. Willard Marriott LibrarySuzy Harris Rytting racing down a slope, 1940s-50s. From the Suzy Rytting photograph collection.
Credit: J. Willard Marriott LibraryBob Wheaton, president of Deer Valley Resort and his wife Marion.
Credit: J. Willard Marriott LibraryColin Hilton, president of the Utah Olympic Legacy Foundation and Gary DeSeelhorst.
Credit: J. Willard Marriott LibrarySki jumping medalist Alf Engen, airborne, 1930s. From the Alf K. Engen photograph collection.
Credit: J. Willard Marriott LibraryA skier jumping the Alta road on an avalanche in the mid-1960s; Jim Gaddis Collection