"I've been repairing bikes on campus for 10 years now. At first, I would mostly just work on the parking patrol bikes, but anyone who needed a tune-up or a flat-tire fix, I'd help them out, too.
With more and more cyclists on campus, and with the U's greater commitment to bike commuting and whatnot, I decided to "officially" open up the shop to the entire community. Now, I see all kinds of bikes, from those old, heavy Stumpjumpers to the fancy, new carbon fiber bikes. Most of them just need a little TLC, a part or two and they're good as new.
I spent almost 24 years in the Navy before retiring and working at the U. I now bike about 600-800 miles a month — the only limitations in life are the ones we place on ourselves.
I got the nickname "wolf man" from my cycling team because I would howl as I passed other riders on the road. My favorite local ride is the MS 150 Ride, a two-day, 150-mile event for a great charity.
I love bike commuting and cycling in general because it's therapeutic. It's just you, the bike and the people you meet along the way. And you feel great when you get into work after a brisk ride."
— Ted "Wolfman" Main, parking services officer, bicycle repair specialist, Commuter Services
"Being student body president is a big responsibility that I intend to respect. It's a really unique opportunity that very few people get to have, and I intend to make the most of it.
This year with my two VPs, Xandra Pryor and Maggie Gardner, we want the Associated Students of the University of Utah to do more for our 32,000 students. We don't want to just host events. We ran on a platform dedicated to lifting up the student voice, promoting campus safety and pursuing more collaboration with on-campus partners.
The most important thing we want to do is promote more student advocacy across campus. We want to focus more on the U's non-traditional students.
ASUU has several overarching initiatives this year. We want to create a culture of advocacy through thinking deeply about what it actually means to advocate for students. Then voicing those opinions to university administration and to all levels of government.
We want to improve campus safety by providing bystander intervention and diversity education trainings to student organizations to try to prevent acts of violence and discrimination from happening in the first place, rather than just reacting to them.
With the help of student fees, we want to increase mental health services. With these funds, the Counseling Center could stay open longer and hire more counselors.
We want to promote family and child care by increasing services, such as lactation pods, family-sized restrooms and access to more affordable child care.
And finally, we want ASUU to be a collaborative hub for student involvement to expand our collective reach and to make an impact.
I love our campus and want to do my absolute best, along with ASUU, to advocate for our students."
— Connor Morgan, Class of 2019 student body president
"We have a grant called the Antarctic Search for Meteorites, ANSMET. We do the recoveries and the collection of meteorites in Antarctica. Forty-one years now we've been recovering meteorites and bringing those samples to science.
Some people are paid on this grant to go, but then we fill the rest of our field party with volunteers from the scientific community. Back in 2004 I had volunteered to go. Several years later I saw an opening and said, 'I really enjoyed that and I'd like to do it full-time.'
We go down in December and January, which is summer in the Southern Hemisphere. Our field areas are around 0° F. I grew up in North Dakota, where it's colder than that in the winter.
You're living out there in a tent on wind-swept glaciers. There's only mountains, rocks, ice and snow sticking out. There's no bugs, no ants or spiders. There might be some moss on some rocks. It's solitary and desolate, but peaceful and gorgeous. You can see forever our there—beautiful majestic mountains and icescapes.
Finding your first meteorite is a huge deal. The leadership usually finds the first ones. Once you know what they look like, you clue into that.
We usually have a gift exchange at Christmas and at New Year's, we have a camp oven where we can cook pizza. That has become a tradition over the last five years. It's pretty fun.
After about four weeks, people start to want some creature comforts. There's no running water and you're cooking for yourself every night over this camp stove. That gets a little tiring. And you're away from loved ones.
Once you get back to McMurdo Station, a shower is the first thing you do. It's heavenly.
I think humans have a tendency to collect things, to hunt things. I still get excited to hunt meteorites."
Note: The samples Karner is holding are real meteorites, but were not collected in Antarctica. They were collected in Arizona (left) and Texas (right).
Learn more about ANSMET, based at Case Western Reserve University, at caslabs.case.edu/ansmet/.
— Jim Karner, research associate professor, Geology and Geophysics, co-principal investigator, ANSMET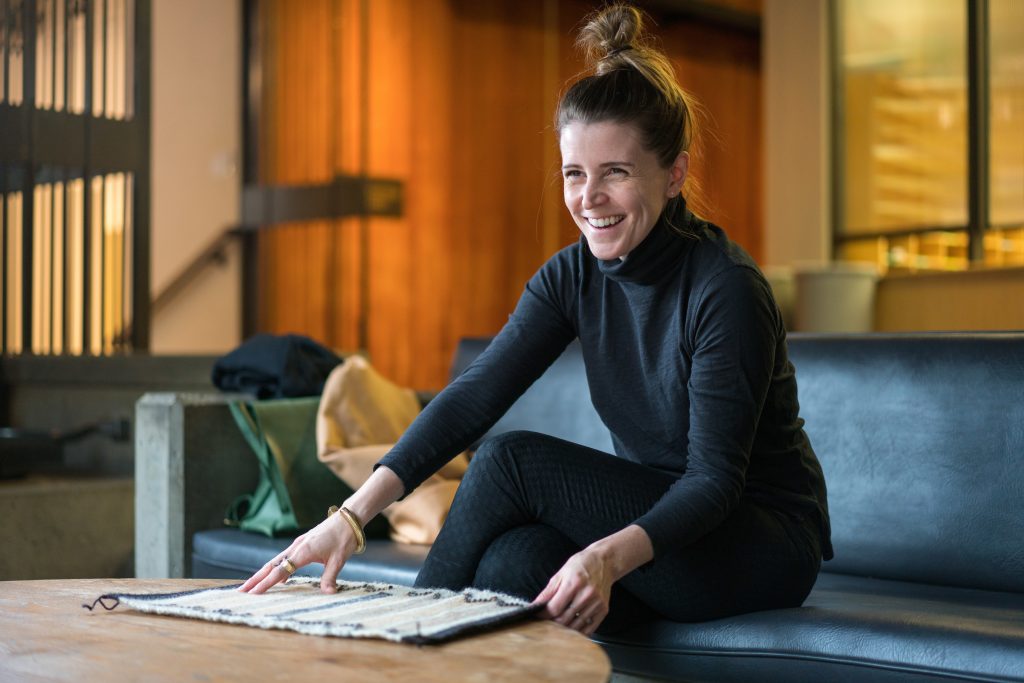 "Throughout most of my life, I've been traveling around the world and living in chaotic-filled cities. After attending the School of the Art Institute of Chicago, I wanted a calmer lifestyle, so, I moved to Salt Lake. While still in school I took a weaving class while getting my degree in fiber material studies, I became fascinated with the history and complexity of weaving, and that eventually led me to starting my own business. I developed a line of textiles and accessories and I realized that there was a market for hand woven goods in the U.S. My business, Aporta, now manufactures textiles and accessories and works with handmade goods and art from artists around the world. My woven art can be found in homes and commercial buildings around the globe.
Moving to Montana in 2017 was another step towards a lifestyle that was less busy and more time giving. The university let me work remotely and I began to manage the Arts Pass social media accounts.
Being an entrepreneur is all about taking the time to produce valuable work versus just producing for the sake of money and productivity. We have been wired to constantly produce, achieve and work, we've forgotten to reflect on ourselves as humans. If you think about how an artist works, they need space and time to create, so why is it any different for us to think about living our lives with that same intention.
Being surrounded by nature has increased my self-awareness. For me, life is about becoming more self-aware, because the more aware I am of myself, the better I can exist."
— Noelle Sharp, Development community relations specialist
"My artwork is focused on wildlife and ecology. I am inspired by my encounters with wildlife—how I react, what biases come up.
Friends of Red Butte Creek and the Global Change & Sustainability Center awarded me a grant to create art of the wildlife in the Red Butte Creek area and I was able to combine that with my master's degree project. I spent a year working in the Research Natural Area above Red Butte Garden, and the creek below it.
I wanted to know what the wildlife I encountered thought of me, but there wasn't a way to do that. So, I paid attention to the emotions and feelings I had and worked to capture that.
One day I came across a snake. I've always been afraid of snakes, even non-venomous snakes. This snake's eyes reminded me of my cat's eyes. Given this familiarity, I felt affection toward the snake. I considered why I feel differently about a cat versus a snake. Is it the way it looks? The way it moves? It shifted the way I view snakes.
Another time I was working along the edge of the creek in Research Park. To avoid poison ivy, I ended up walking in the creek. I was photographing an insect egg structure when two fawns came down behind me to drink water. They were surprised, very curious and aggressive for fawns. I wondered if I was the first human they had seen, which was bizarre and exciting, and may have informed their odd behavior.
Through this project I considered what it would be like to be another species and challenged my biases toward particular species."
— Claire Taylor, BFA '07, M.S. '16. Claire's artwork will be featured on the U's 2018-19 sustainability events calendar.
"I got my American citizenship exactly a day before my birthday this year. It was one of the best birthday presents I've ever gotten. Right after the ceremony, I took my citizenship certificate and ran to the passport office. Then I ran straight over to the elections office to register myself. The guy was like, 'Are you crazy, why so much energy?' He didn't know how long I had to wait for this day.
In 1999, my parents applied for citizenship with my uncle as a sponsor. For 12 years we were just sitting and waiting for a visa to come to the U.S. You don't know if you're ever going to make it to the U.S. It's not like we were having a hard time; in Pakistani culture family is very close, and we'd hang out every weekend and have huge dinners. But when I came here in 2012, I fell in love with Utah.
There are so many opportunities that we—I can say we now that I'm American—just have to look. I did a Hinkley internship in D.C, attending senate and congressional hearings and writing briefs about them. I learned firsthand how the hill works, and that's one reason that I want to run for office at some point. I want to be that person building a bridge between the U.S. and Pakistan. I love Utahns, they've given me so much and it'll be a way for me to repay them.
This country is great, and a lot of people gave up their lives and their time to make it what it is today. It inspires a person like me to do more. Whatever negative influences come at us, we're good at doing the positive thing to counter it, but we need to do even more."
—Noman Khan, media relations & content marketing, U of U Health
"When my mother passed from domestic violence at the hands of my father when I was three years old, it had a dramatic impact on me and my older brother. My father was in prison until I was 25 and died from alcoholism, and my brother eventually committed suicide. Of that union, I am the last one left. The only thing that was different for me was that I was given the opportunity to go to school—this is what truly allowed me to be where I am today.
I was always told that my mother was smart—she was the valedictorian of her high school. I clung to the idea that academics were important. Nonetheless, my family had a history of veterans and I was also military-bound my senior year of high school. When my uncle found out I was one step away from finalizing entrance into the Army, he told me, 'We have plenty of vets in the family. We have no college graduates.' That made the decision for me.
I went to the University of Arizona and later completed a master's at University of Nevada, Las Vegas. I participated in TRIO while in my undergraduate years, which provided me with an amazing life. Today, there are a few college graduates in my family, but I was the very first one because of TRIO and other college support programs."
—Kyle Ethelbah, TRIO director
"I became a teacher to change the world. I feel that one should give back and, in my case, I knew I wanted to work with kids. Being a minority male, I felt that I could exemplify important things for young kids during a crucial time in their development. Something I did not have until junior high.
My favorite thing about teaching is those "aha" moments when a child finally gets it, especially if it took perseverance and hard work.
I entered the U as an individual. However, my experience of being a part of something much larger than myself showed me the value of personal growth, but more importantly the possibilities when one is dedicated to the greater good.
The U taught me to trust in myself and that perseverance and attitude is everything. I have a poster in my room that states, 'Attitude is a small thing that makes a huge difference.' I truly believe that.
The football program has always been very open and available to me as an alumnus, a fan and a current coach. They have really focused on keeping ties to the past, as the program has come a long way since I sat in the stands my entire childhood.
I still keep in touch with old teammates. I coach with several and see many of them frequently, including Coach McBride.
I don't recount the 'glory days' with my students. But they do know they have the fastest teacher ever! The one hard life lesson I still can't give up—if you challenge me to a race, I'm going all out, slacks and dress shoes included."
—Calbert Beck, B.A. '96, M.Ed '08, first-grade teacher
"This past summer I joined the U as an associate professor of chemistry. I'm also excited to be a part of the Henry Eyring Center for Cell and Genome Science. My lab uses chemistry to understand how bacteria, and also immune cells, perceive and change behavior in response to their surroundings.
My first experience in a research lab came from meeting my undergraduate advisor, professor Barbara Imperiali, as a freshman. She saw I had work-study financial aid. I told her boldly, 'Actually, I'd love to do work-study in a research lab.' That same week I got an email from one of her postdocs saying 'I'm looking for a student to work with me on a project. Why don't you come meet with me?'
I worked in her lab every semester and summer for three years, so I feel like I got my 10,000 hours in early on. I learned a lot of things in the lab before taking the classes. It really motivated me academically. I wanted to learn and understand more about what I was doing in the lab.
My parents, to this day, will ask me 'How is Professor Imperali doing?' They wanted to meet her at graduation. Two years after I started my own lab, I had déjà vu when meeting the parents of my first undergraduate at her graduation. They told me that they'd set my lab webpage as their computer's homepage.
As a professor, I think back sometimes to how impactful my experiences were as a freshman, getting that chance just because I asked. The first person you ask isn't necessarily the first person to say yes, who will give you that shot. But we all started out as that nervous freshman, eager to try new things."
—Ming Hammond, associate professor, Department of Chemistry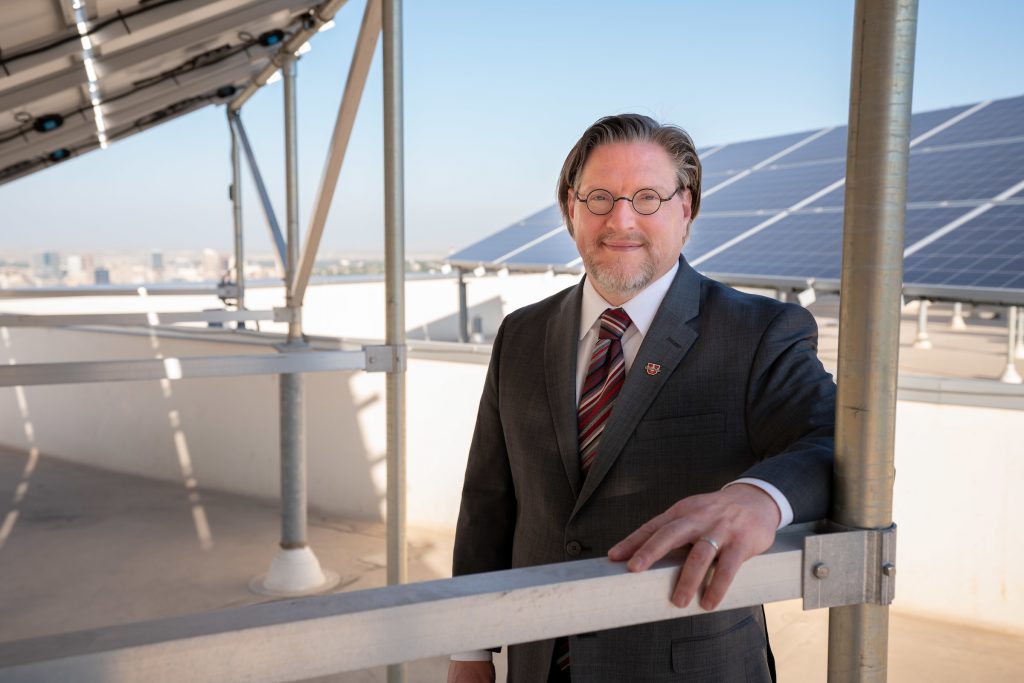 "When people think of health and well-being, they may think of medicine, pharmacy, nursing—I think of architecture and design. What drove my architectural career was visiting my grandmother with Alzheimer's disease in a lockdown wing of a nursing home. Architects, designers and planners have a social responsibility to do better, to act with an ethic of care. That has been my driving force.
When others think sustainability, they might think the environment—I think health. This imperative convergence is why we are pursuing and championing renewable energy, like geothermal and solar; active transportation, like bicycling, public transit and subscription ride service; and lifestyle practices, such as healthy foods and zero waste. We need to clean our air, to leave resources for future generations and to make the campus not just sustainable but resilient to future challenges yet unseen.
When others think of higher education and its current challenging context—I think of the amazing opportunities we have to lead. I am a public-school kid from K through Ph.D. and I personally know the powerful transformational force of public higher education. What if the University of Utah envisioned itself as a healthy and resilient campus? One that promotes physical activity, energy independence and overall wellness. One that understands that our community of diverse students, faculty and staff bring their minds, bodies, souls and personal backgrounds to campus. How do we nurture all of those in an inclusive and welcoming setting? This, to me, begins the exciting conversation of the resilient campus of the future.
Every day, no matter where I turn, I see a mountain view challenging all of us to aspire. We are all but part of an amazing ecosystem and much like a mountain, one that is both enduring yet incredibly fragile. How do we, each and every day, play a small role in making this ecosystem a resilient and inclusive one for all?"
—Keith Diaz Moore, Ph.D. AIA, WELL-AP, dean of College of Architecture + Planning and Interim Chief Sustainability Officer
"I was born at Hill Air Force Base to a military historian and a Dutch immigrant, and have lived all over the western world. Because of that, I am owned by the love of history and the need to preserve it for future generations.
I've done many things professionally—photo printer, server, elevator operator, dog groomer. I once owned my own hair salon. But when I decided to come back to school, there was no doubt that I would do something involving words and history. I've worked all over the library in the years since I graduated and consider myself fortunate to have landed here in manuscripts.
We hold history in our hands. It's our duty to not only take care of what is given us, but also to make it available for anyone who wants to use it.
We have people's diaries, correspondence, professional documentation and even some objects as well. NASA models belonging to Dr. James Fletcher, head of NASA, and the eighth president of the U are now on display in the reading room. We have Wallace Stegner's typewriter, on which he wrote 'Angle of Repose,' a Pulitzer Prize winner. Looking through the drafts of that book—complete with handwritten edits in the margins—is an amazing experience. It gives you insight into Stegner's life and how he thought when he was writing. The Stegner papers are probably the most used of all our collections and as such are something of a flagship.
There is a sort of majesty in what we have, and the fact that being responsible for original autographs, one-of-a-kind photos and the hand-written thoughts of geniuses is part of our daily life. But then, so are the diaries of the common pioneers who also had something to say."
—Liz Rogers, curator of manuscripts, J. Willard Marriott Library
"I really want to communicate my science to people—I study the electrical properties of organic materials, basically plastics. Computer screens made out of organics instead of silicon would be more flexible and more efficient, but we don't fully understand how they conduct electricity. If you do astrophysics, you can point to the sky and say, 'That's neat. Let's talk about why that's neat.' I'm like, 'Hey kids, you want to know how diodes work?' And nobody wants to know how diodes work.
Well, modern society wouldn't exist without them—your computer wouldn't work if they didn't have diodes. It's super important and ubiquitous, but if someone asks, 'How does electricity work?' it takes a lot to understand it. Before physics, I was a designer, which is all about communicating complex ideas in novel ways. So, I came up with a board game. The basic idea is that you build an electrical circuit with your neighbors. Each player is a type of material, like silicon or germanium. Using currencies such as energy and photons, you push electrons around to the interfaces of the materials to create light. For example, in a real diode, current only goes one way. But you could spend, say, two energy tokens to push electrons in the opposite direction. When you combine them at the interfaces, you make a photon, like an LED, and get a point.
I tested it with 20 people who were gamers and a few physicists. The scientists liked how accurately it demonstrated the science, and the gamers really had fun, and actually learned how electrical circuits work. You really connect with people and ideas when you're playing a game like you can't in a physics lecture. It's such an unexplored space that I'd love to keep working on."
—Kevin Davenport, doctoral candidate, Department of Physics & Astronomy, Science Communication Fellow at the Natural History Museum of Utah, STEM Ambassador Program alumni, 2018 AAAS Mass Media Science and Engineering Fellow
We'll be featuring Humans of the U and sharing their stories throughout the year with the university community. If you know someone with a compelling story, let us know at

ThisWeek@utah.edu

.