Four University of Utah students have received highly competitive Fulbright U.S. Student Program grants from the U.S. Department of State and the J. William Fulbright Foreign Scholarship Board for the 2023-24 academic year. Two additional students are listed as Alternates and will receive the award if an opening is created.
Grant recipients are selected based on academic and professional achievement as well as a record of service and demonstrated leadership in their respective fields.
Fulbright finalists
Rilie Atkinson / Czech Republic
Atkinson is graduating with a double major in Honors Peace and Conflict Studies and Sociology. She has participated as the Student Director of Peace and Conflict Studies, an Honors Peer Mentor, and U Student Media Executive Director. Her work includes teaching positions in the Uinta Mountains, at the Utah Museum of Fine Arts, and as members of Salt Lake City's Youth and Family Programs and Salt Lake School District. Atkinson is currently researching the legacies of the Vietnam War on intergenerational communication within families in her Praxis lab, and she hopes to pursue a graduate degree in the Human Rights field. She has been awarded a Fulbright English Teaching Assistant Award.
Corinne Clarkson / Portugal
Clarkson is a second year Master's student studying Latin American Studies, with an emphasis in Brazil and political science. She is a two-year recipient of the Foreign Language and Area Studies Fellowship studying the Portuguese language. Clarkson has been awarded a Fulbright Research Award to Portugal to conduct research on "Three Generations of Female Political Attitudes in Portugal's Democratic State." She will analyze how Portuguese women's political attitudes have evolved since Portugal transitioned from an authoritarian regime to a democracy. This unique position of having three generations of women raised in the same family yet in radically different political environments promises to reveal interesting and potentially groundbreaking patterns about democracy and gender equality.
Nolan Phan / Vietnam
Phan graduated in May 2022 with a B.S. in Finance with a minor in Advanced Financial Analysis as well as a B.S. in Information Systems. He is originally from Las Vegas, NV and currently works in Chicago, IL. Nolan has been awarded a Fulbright English Teaching Assistant Award to Vietnam.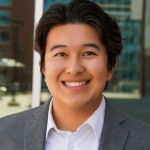 Anna Tang / Germany
Tang is graduating with Honors in Mathematics and a chemistry minor. During her undergraduate career, she has been passionate about utilizing mathematics to model the natural world for biomedical research. Tang also is part of the leadership team for the University of Utah's Association for Women in Mathematics chapter. She has been awarded a Fulbright Research Award in Germany. Her project ("Mathematical Models to Understand Cancer Heterogeneity in Acute Myeloid Leukemia") will explore the cancer cell population heterogeneity and mutational landscape of acute myeloid leukemia using mathematical oncology.
Fulbright alternates
Evie Atom Atkinson / Croatia
A doctoral student in literature and creative writing, Atkinson currently lives and works in Queens. Formerly the Director of Writing Programs at Catapult and the inaugural Director of Literary Arts at Chautauqua Institution, she is also 1/6 of the poetry collective Line Assembly, a winner of the University of Utah's Larry Levis Prize for poetry, and a recipient of a Critical Language Scholarship (Korean). Her research is entitled "Oral Histories and Futures: Building a Speculative Novel with Trans Croatians." Atkinson will write a verse novel (a novel written in poetry) that makes creative use of interview responses from trans Croatians, with the stated intention of imagining alternative trans futures in Croatia.
Leila Tatarevic / Croatia
Tatarevic is a political science and psychology double major. Following graduation, she plans on attending graduate school to receive her Ph.D. in clinical psychology. Academic interests aside, she is an active skier and frequently attends as many concerts as her schedule can permit. She has applied for a Fulbright English Teaching Assistant Award to Croatia.
As the flagship international educational exchange program, Fulbright is designed to build relationships between people in the U.S. and other countries with the aim of solving global challenges. It is funded through an annual appropriation made by the U.S. Congress to the U.S. Department of State.
At the U, the Fulbright Program is directed by Prof. Howard Lehman and is sponsored by the Office for Global Engagement and the Graduate School. For more information on the University of Utah's Fulbright Program, please contact Lehman at lehman@poli-sci.utah.edu.