The Obert C. and Grace A. Tanner Humanities Center at the University of Utah presents the 2020 World Leaders Lecture Forum given by Reshma Saujani, founder of Girls Who Code, on Friday, March 6, 2020, 11 a.m. at Kingsbury Hall. The event is free and open to the public, but tickets are required and can be obtained through the Kingsbury Hall box office.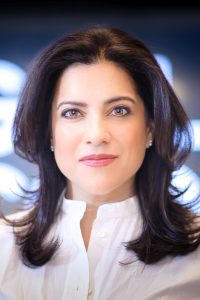 "I am especially excited to welcome Reshma Saujani for the World Leader Lecture because she invites us to rethink leadership," said Erika George, director of the Tanner Humanities Center. "The world needs more women in leadership, yet too often we do not think of women as leaders and we socialize young girls to be too cautious. Saujani encourages courage because perfectionism prevents far too many women and girls from taking the risks required to become leaders. Utah has a unique opportunity to bring humanists and technologists together to create an inclusive innovation ecosystem."
Saujani is dedicated to closing the gender gap in technology and changing the image of what a computer programmer looks like and does. In 2012, she founded Girls Who Code to provide young women with the computing skills necessary to pursue tech opportunities in the 21st century. Along with her international nonprofit, bestselling books "Brave, Not Perfect" and "Girls Who Code: Learn to Code and Change the World," TED Talk and award-winning podcast, she has sparked a worldwide conversation about women and technology.
In her 2016 TED Talk, Saujani discusses how girls are taught to be perfect while boys are taught to be brave, which contributes to the underrepresentation of women in STEM. She says, "When we teach girls to be imperfect and we help them leverage it, we will build a movement of young women who are brave and who will build a better world for themselves and for each and every one of us."
Saujani is a graduate of the University of Illinois, Harvard's Kennedy School of Government and Yale Law School. Her work on behalf of young women has earned her broad recognition on lists including, Fortune World's Greatest Leaders, Fortune 40 Under 40, Wall Street Journal Magazine Innovator of the Year, Forbes Most Powerful Women Changing the World and Fast Company Most Creative People, among others. She is the winner of the Harold W. McGraw, Jr. Prize in Education.
This lecture receives support from the Tanner Humanities Center's World Leaders Lecture Forum Advisory Board and campus community organizations. For a full list, visit thc.utah.edu.
Women's Week
March 2-6, 2020
Women's Week is an annual, weeklong event focused on the issues and challenges faced by those who identify as female or women. Topics are relevant to today's socioeconomic and political climate, intersectionality and cultural movements. This year's Women's Week theme, "Allies in Activism," focuses on the power of indigenous women activists in and beyond the United States.
All are welcome to attend these free and open events.