The festivities outside the Jon M. Huntsman Center on Thursday, May 2, were in full swing as thousands of graduates lined up to celebrate their hard work with family, friends and fellow students.
Hundreds of university faculty and staff joined the 150th general commencement ceremony as the U honored the 8,465 graduating students.
Alisa Cloward, who graduated with a bachelor's degree in business administration, was chosen as the student speaker. Watch here and read the transcription of Cloward's speech below.
Rev. France A. Davis gave the keynote speech. Watch it here and read the transcription of his commencement address below.
Watch the presentation and conferral of Baccalaureate degrees and certificates by the academic deans here.
Honorary degree recipients May Farr and Gary L. Crocker were honored during the commencement ceremony. Robert "Archie" Archuleta was also honored, posthumously, with an honorary degree.
Click

here

to watch Robert "Archie" Archuleta's honors.
Click

here

 to watch Gary L. Crocker's honors.
Click

here

to watch May Farr's honors.
---
2019 Student Commencement Speaker – Alisa Cloward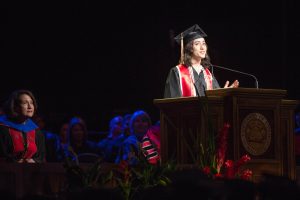 Thank you, President Watkins, faculty, fellow classmates and distinguished guests.
I moved to the states from Japan when I was 17, and whenever people ask me why, I tell them very candidly, "Because I wanted to be the first in my family to graduate from college. . . and I wanted to be a Disney Princess." At least one of those dreams stuck.
College had never been an option for any of my older siblings, and it certainly had never been an option for me. I remember being 7 and homeless, living out of a bulky cargo van with my parents and 11 siblings and just wanting to "go home" without any real sense of what "home" meant. Homework was a little difficult to do without the "home" aspect, and paying for rice was a little more of a priority than paying for tuition.
But I wanted it. I didn't really know what college was. I'd read blogs. I'd seen movies. I'd heard about. . . finals, and if that didn't scare me, nothing was going to. So, I scraped and saved, and—at 17—moved to the states with a grand, whopping total of $500 in my shoe. No, not in my pocket and, yes, in my shoe.
And I thought to myself, "I have moved to a country I've only seen in movies, with $500 in my shoe, and I am all alone in this. I have made a very large mistake."
Read Cloward's full speech here.
---
2019 Commencement Keynote Speaker – Rev. France A. Davis
Good evening.
Thank you. I appreciate your response. My culture is called responsive. That is to say, if an old man like me greet you, the minimum you ought to do is return the greeting. Congratulations to all of those of you who are graduating. Those of you who are have earned your degrees and I hope that your future will be bright. I want to thank your families for their support, there being there for you to help you along. President Watkins, to Chairman Burton, to the trustees. Thank you for your kind invitation to me, to chairman summons and members of the Board of Regents, to the students, staff, faculty, friends, ladies and gentlemen. I am overwhelmed with the opportunity to speak this afternoon. One of my mentors was Dr. Howard Thurman. Dr. Thurman taught at Harvard, at Stanford, was dean of the Chapel and Dr. Thurman taught us when we were youngsters. That respect is due to everybody. That honor is due to a few people, but kindness, kindness, kindness, nobody ever quite deserves kindness. For kindness says more about the person who shares it than it does about the one who receives it.
And I'd like to take this opportunity on behalf of my wife [inaudible] our children and grandchildren, great-grandchildren, our entire family to say thank you, University of Utah for your kindnesses that you've shown to me. Now permit me to take a few moments of your time and share a bit of my own personal story. I was born during the days when it was against the law if you look like me, to sit in the same section, to ride in the same part, to eat in the same restaurant, and even to use the same toilet facilities that the majority use. I remember the very day that my father was finally allowed, who by the way was some 40 years older than me, but he was finally allowed to register and vote, and he got up early one morning and did a strange thing.
He dressed in his black shiny suit from ironing, polished his shoes with [inaudible]. Put his derby on his head, got in his 1949 Chevrolet and drove into town to serve on a jury. He was proud to be a registered voter and finally the opportunity to serve on a jury. Plessy v. Ferguson in 1896 separate but equal in Cotton Creek and made it illegal to get out of one's racial place. The problem for me was I'd never quite knew what place that was. Is it up front in the train? Is it in the back of the bus? Is it upstairs in the theater? Is it down below in the boat? I never knew quite what place that was and so I'd never stayed.
Read Davis' full speech here.
---