EMPLOYEE APPRECIATION DAY COMMITTEE OPPORTUNITY


Employee Appreciation Day is coming up on Sept. 24. Our organizing committee has started making plans and is excited about this year's event.
We have one spot open on our committee: co-chair for volunteer coordination. This position will assist our volunteer chair in scheduling and managing our wonderful EAD volunteers. Time involved would include one EAD committee meeting, one-on-one meetings with the volunteer chair, any necessary preparation work and attendance throughout the event on Sept. 24.
If you are interested in participating in EAD as a co-chair, please contact Danielle Thomsen at danielle.thomsen@utah.edu.
---
 JUNE WELLU COOKING CLASS
Join the Benefits Department and Chef Carl for hot and cold quinoa recipes.  For dessert he will make his famous Irish Whiskey Chocolate Cake.
This month's cooking class will be held on today, Monday, June 8 from 6-8 p.m. at th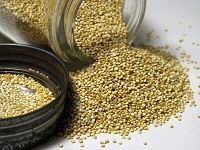 e Salt Lake Culinary Center (2233 S. 300 East).  The cost is $20 per person, which includes the class and the meal for each participant. Payment method is a one time, automatic payroll deduction.  Registered employees will be charged for the class regardless of attendance.
Class registration is open.  Click here to register.
Classes are limited to 30 and fill quickly. If you would like to register for more than one person please register yourself twice. Limit: Two registrations per person.
*This cooking class is sponsored by WellU; however, attendance does not count toward fulfilling the requirements for the WellU Discount.  For information on WellU, please see the Program Requirements brochure.
---