JUNE WELLU COOKING CLASS
Join the Benefits Department and Chef Carl for hot and cold quinoa recipes.  For dessert he will make his famous Irish Whiskey Chocolate Cake.
This month's cooking class will be held on Monday, June 8, 2015 from 6-8 p.m. at th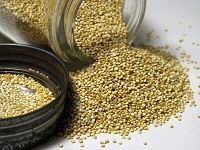 e Salt Lake Culinary Center (2233 S. 300 East).  The cost is $20 per person, which includes the class and the meal for each participant. Payment method is a one time, automatic payroll deduction.  Registered employees will be charged for the class regardless of attendance.
Class registration is open.  Click here to register.
Classes are limited to 30 and fill quickly. If you would like to register for more than one person please register yourself twice. Limit: Two registrations per person.
*This cooking class is sponsored by WellU; however, attendance does not count toward fulfilling the requirements for the WellU Discount.  For information on WellU, please see the Program Requirements brochure.
---
BENEFITS ANNUAL OPEN ENROLLMENT


Benefits annual open enrollment is open now through June 7. Open enrollment packets have been mailed to all employees and should have already arrived. All documents are now available on the benefits department's website at hr.utah.edu/benefits/oe. This year we have a new online enrollment tool for employees, called UBenefits, to view or update health plan elections and enroll in the FSA/HSA plans for the new plan year.
Open enrollment sessions will be held during the first week of June.