JUMP TO:
University Campus Store, Bed Bath and Beyond partnership
UMFA re-envisioning elevates respected arts administrator
U announces founding director for newly formed School of Dance
Customized promotional items by University Print & Mail
Register for the Susan Sandoval Memorial 5K: A new WellU option
U5K now a WellU option



---
UNIVERSITY CAMPUS STORE, BED BATH AND BEYOND PARTNERSHIP[bs_row class="row"][bs_col class="col-sm-4″]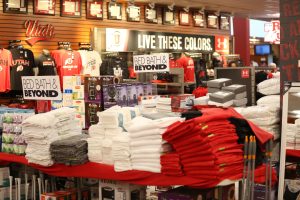 [/bs_col]
[bs_col class="col-sm-8″]As part of its mission to provide comprehensive support to students, the University Campus Store is teaming up with Bed Bath and Beyond to make back-to-school shopping easier, faster and more convenient this fall.
Through Aug. 29, Bed Bath and Beyond will operate a temporary store inside the University Campus Store. There, students will be able to purchase bedding, small appliances, cookware and other household items alongside textbooks and other school supplies, helping to consolidate shopping trips in the busy days leading up to fall semester.
This marks the first time that students will have the opportunity to purchase everything they need for both school and home in one place. It's also the first time that the University Campus Store will house household items to help students organize their kitchen, bedroom and bath spaces in concert with their academic and study spaces in a complete, convenient package.
As a special service to on-campus residents, the University Campus Store and Bed Bath and Beyond will be on site at the Heritage Center's move-in weekend on Aug. 18-19. A slightly smaller version of the University Campus Store collection, the Bed Bath and Beyond table will feature dorm room essentials to help students make their new spaces feel just like home.
For more information, please visit the University Campus Store or call 801-581-6326.[/bs_col][/bs_row]
---
UMFA RE-ENVISIONING ELEVATES RESPECTED ARTS ADMINISTRATOR[bs_row class="row"][bs_col class="col-sm-4″]

[/bs_col]
[bs_col class="col-sm-8″]Sonja Lunde, respected state arts leader and administrator at the Utah Museum of Fine Arts (UMFA), has been promoted to a top leadership position within the museum. Lunde's promotion is part of a strategic reorganization that comes as staff re-envision the UMFA for next year's reopening.
In her new position as deputy director of planning and programs, Lunde will have greater responsibility for managing cross-departmental work and collaboration among the curatorial, collections, design, and education and engagement staff, who will now report to her. The goal, says executive director Gretchen Dietrich, is to enhance collaboration among these essential museum departments as they develop exhibitions, installations and programs aimed at creating meaningful visitor experiences.
"Sonja is an incredibly capable, focused, and passionate museum professional. She is an exceptional manager and possesses a wonderful ability to ask the right questions and to keep the work on track and moving forward," Dietrich says. "As the Museum continues on an exciting trajectory of re-envisioning and growth, her leadership will be invaluable."
Lunde has taken on positions of increasing responsibility since joining the UMFA staff in 2008 as a development officer. In spring 2015 she was one of 26 museum leaders selected for one of the Getty Leadership Institute's prestigious Executive Education Programs. She is currently president of the Utah Museums Association Board of Directors. A Vermont native, she has a bachelor's degree in art history from George Washington University and is completing a master's degree in communication at the University of Utah.
For more information, please visit go here.[/bs_col][/bs_row]
---
U ANNOUNCES FOUNDING DIRECTOR FOR NEWLY FORMED SCHOOL OF DANCE[bs_row class="row"][bs_col class="col-sm-4″]
[/bs_col]
[bs_col class="col-sm-8″]After an extensive search, the University of Utah named Luc Vanier as the director of the new School of Dance. Vanier comes to the U from his position as associate director and head of dance at the School of Theatre and Dance at Texas Tech University.
Earlier this year, the U announced the departments of ballet and modern dance would be uniting to form one school, which is the first of its kind in the Intermountain region. Both programs will continue their long esteemed legacies but will now take advantage of expanded opportunities and more collaboration. While preserving the individuality of each discipline, the new structure will facilitate greater interdisciplinary education and research opportunities across multiple genres of dance.
"Luc's extensive knowledge in dance technique, history and pedagogy, paired with his experience as an arts administrator make him the perfect candidate for this position" said Raymond Tymas-Jones, dean of the College of Fine Arts. "We are thrilled to have him at the helm as we embark on this new and exciting journey."
Vanier was a former principal dancer and company choreographer with Ohio Ballet and danced pivotal roles across the U.S. His choreography has been produced at the Joyce Theater in New York City and toured nationally. In 2001, he graduated with his MFA from the University of Illinois and became a certified teacher from the Urbana Center for the Alexander Technique. Since then, Vanier has lectured and presented his research nationally and internationally on the integration of the technique and developmental movement in dance curriculum. In 2011 he co-wrote "Dance and the Alexander Technique: Exploring the Missing Link" published by the University of Illinois press.
"I feel very fortunate to have worked in academia for the past twenty-five years," said Vanier. "After all these years, my goal is still to provide dancers with information I wish had been accessible when I was younger. I am thrilled to have the opportunity to support dancers of all backgrounds and be a part of the legacy of quality at the U."[/bs_col][/bs_row]
---
CUSTOMIZED PROMOTIONAL ITEMS BY UNIVERSITY PRINT & MAIL[bs_row class="row"][bs_col class="col-sm-4″]

[/bs_col]
[bs_col class="col-sm-8″]Employee Appreciation Day is less than two months away — have you ordered your department swag?
University Print & Mail is ready to help you design your department or organization's customized promotional items, from office supplies to water bottles, totes and other fun giveaways. If you can think it, Print & Mail can create it. In addition to standard promotional fare, specialized items such as umbrellas, blankets, hats, shirts and other apparel are also available.
Some items can take six to eight weeks for production and delivery, so order now at printandmail.utah.edu to ensure your items arrive in time for Employee Appreciation Day which takes place on Thursday, Sept. 29.
University Print & Mail is your ongoing resource for customized promotional items any time of year. Contact Print & Mail for a custom quote at 801-581-6171, uprint@utah.edu or order online at printandmail@utah.edu.[/bs_col][/bs_row]
---
REGISTER NOW FOR THE SUSAN SANDOVAL MEMORIAL 5K FOR OVARIAN CANCER AWARENESS: A WELLU OPTION
Saturday, Sept. 10, 2016 | 8-10 a.m.
Sugar House Park, Big Field Pavillion[bs_row class="row"][bs_col class="col-sm-4″]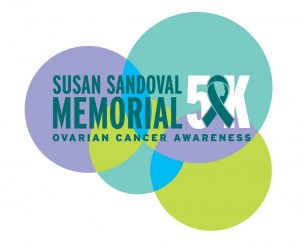 [/bs_col]
[bs_col class="col-sm-8″]Come join us for the 10th annual Susan Sandoval Memorial 5K for Ovarian Cancer Awareness! The event is held annually at Sugar House Park, and this year will be held on Saturday Sept. 10 from 8 a.m.-10 a.m. The event began in 2007 in memory of Susan Sandoval, a nurse at LDS and Primary Children's hospitals, who battled ovarian cancer. Many event participants have been touched by ovarian cancer in some way, whether they come to honor the memory of a lost loved one, support survivors, and/or come out to support the cause. Participation in the race not only honors Susan Sandoval's memory, but also the struggles of all who have been touched by gynecologic cancer.
The event is sponsored by the University of Utah Department of Obstetrics and Gynecology and the funds go to the Ovarian Cancer Research, Awareness, and Education Fund.
Register now at Sandoval5K.UofUMedicine.org or contact Natalie Moore for more information.[/bs_col][/bs_row]
---
U5K NOW WELLU OPTION[bs_row class="row"][bs_col class="col-sm-4″]
[/bs_col]
[bs_col class="col-sm-8″]For the first time, the annual Homecoming Scholarship 5K (U5K) will be a WellU option. Sign up by Sept. 2 for a discounted rate on the already discounted staff/faculty pricing. This race is a great start to Homecoming Saturday and there will be lots of food and prizes.
Hope to see you there.
Date: Saturday, Oct. 8, 2016
Time: 8:30 a.m.
Location: 332 S. 1400 East (Old Law School building)[/bs_col][/bs_row]