JUMP TO:
U of U staff scholarships: apply today
Join the Clear the Air Challenge

---
U STAFF SCHOLARSHIPS: APPLY TODAY[bs_row class="row"][bs_col class="col-sm-4″]
[/bs_col]
[bs_col class="col-sm-8″]Applications are now being accepted for staff development scholarships for the Fall 2016 semester.
Each scholarship is worth up to $500 and can be used towards the employee's tuition bill. Scholarships can be used towards professional trainings, symposiums, conferences or workshops and their associated expenses.
The committee will process the scholarship applications in the most fair and judicious manner to benefit the employee, according to the procedures directed by the University of Utah policy. UUSC is an equal opportunity provider.
Qualified applicants must meet the following criteria:
Currently working at 75 percent or above Full Time Equivalency (FTE) position (30-40 hours per week).
Maintained 75 percent or greater Full Time Equivalency (FTE) in a benefits eligible position for two consecutive years as of Feb. 29, 2016.
Have not received a Staff Council Scholarship within the past two years.
Current Staff Council members are not eligible.
CLICK HERE TO APPLY and applications are due by 5 p.m. (MST) on Aug. 1, 2016.

Incomplete applications will not be considered.[/bs_col][/bs_row]
---
JOIN THE CLEAR THE AIR CHALLENGE JULY 1-31, 2016[bs_row class="row"][bs_col class="col-sm-4″]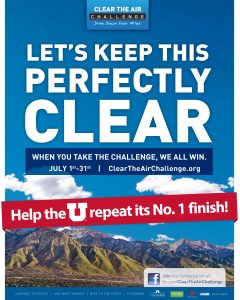 [/bs_col]
[bs_col class="col-sm-8″]Help the University of Utah repeat its No. 1 finish in the July 2016 Clear the Air Challenge.
The Clear the Air Challenge is all about improving air quality in Utah by eliminating unnecessary vehicle trips. By participating in the Clear the Air Challenge, employers, employees and individuals can help by driving less and driving smarter. Seek out public transportation, trip-chain, bike, walk or carpool whenever possible to campus or any of your destinations, and then log those trips on the dashboard at travelwisetracker.com.
Cool prizes are available for participants, but more importantly, with clearer air, we're all winners. Get involved and get your friends to participate.
Be a champion of the challenge with your friends and colleagues. Download marketing materials, including flyers and social media ideas, for the 2016 Clear the Air Challenge through Box here.
For questions, contact the Sustainability Office at 801-585-9352.[/bs_col][/bs_row]
---