JUMP TO:
Pershing, trustees on sustainable investments
Sheryl (Sherrie) Hayashi joins the U as director of the Office of Equal Opportunity and Affirmative Action
Benjamin C. Bromley named new chair of Physics and Astronomy
Join the Clear the Air Challenge
U alum inducted into National Army ROTC Hall of Fame
---
PERSHING, TRUSTEES ON SUSTAINABLE INVESTMENTS
---
SHERYL (SHERRIE) HAYASHI NEW DIRECTOR OF THE OFFICE OF EQUAL OPPORTUNITY AND AFFIRMATIVE ACTION
We are delighted to announce that Sheryl (Sherrie) Hayashi will join the University of Utah as director of the Office of Equal Opportunity and Affirmative Action (OEO/AA) on July 18, 2016. In this role, Hayashi will also serve as the university's Title IX and ADA/Section 504 coordinator. Hayashi received her law degree from the University of Utah and is deeply committed to the principles of equal opportunity and non-discrimination. Hayashi comes to us from the State of Utah, where she has served as the Utah labor commissioner since 2006.  She previously served as associate general counsel for the Labor Commission. Hayashi is an experienced and collaborative leader, with values, perspective and experience that will be of significant benefit to the university community.
We are grateful to Julie Thomas for serving as interim director of OEO/AA these past few months.  Thomas has worked tirelessly to lead the outstanding OEO/AA team through this transition in leadership.  We also deeply appreciate Lori McDonald, University of Utah dean of students, for her great work chairing the search committee for this important leadership position.
Please join us in welcoming Hayashi to the University of Utah.
---
NEW PHYSICS AND ASTRONOMY CHAIR
Benjamin C. Bromley, professor of physics and astronomy at the University of Utah and notable expert in astrophysics, has been named Department Chair of Physics and Astronomy, effective July 1, 2016. Bromley joined the Department in 1998. He was the department's associate chair starting in 2015. Student enrollments in physics and astronomy classes exceed 5,000 per year, and the department has about 300 declared physics majors and 100 graduate students.
---
JOIN THE CLEAR THE AIR CHALLENGE JULY 1-31, 2016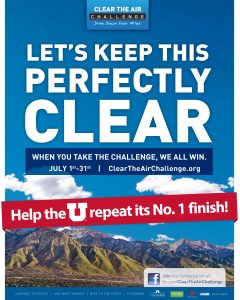 Help the University of Utah repeat its No. 1 finish in the July 2016 Clear the Air Challenge.
The Clear the Air Challenge is all about improving air quality in Utah by eliminating unnecessary vehicle trips. By participating in the Clear the Air Challenge, employers, employees and individuals can help by driving less and driving smarter. Seek out public transportation, trip-chain, bike, walk or carpool whenever possible to campus or any of your destinations, and then log those trips on the dashboard at
travelwisetracker.com
.
Cool prizes are available for participants, but more importantly, with clearer air, we're all winners. Get involved and get your friends to participate.
For questions, contact the Sustainability Office at 801-585-9352.
---
U ALUM INDUCTED INTO NATIONAL ARMY ROTC HALL OF FAME
John S. Edwards, B.S. '63, was inducted in June into the National Army ROTC Hall of Fame. He is a distinguished alumnus of the University of Utah's Army ROTC program.
After taking command of an Armored Cavalry Reconnaissance Platoon in the 1960s, Edwards led them in surveillance and security missions along the East-West German Border in the strategic Fulda Gap. This took place during the height of the Cold War and less than two months after John F. Kennedy was assassinated. After being honorably released from active duty, he commanded a tank company of the 81st Tank Battalion at Fort Douglas until honorably discharged.
His 30-year career in broadcast journalism began in Salt Lake City at KUTV. He then worked in Portland, Oregon, and Pittsburgh. He spent 15 years as news director at KTVX in Salt Lake City, and six years with the University of Utah Health Sciences Development Office as a director of major gifts and communications.
Edwards received a bachelor's degree in communication and journalism from the University of Utah's College of Humanities. He is serving his 14th year as the Civilian Aide to the Secretary of the Army for Utah and his 13th year as a member of the U's Veterans Day committee.
---