RED BUTTE GARDEN SUMMER CAMP REGISTRATION OPEN
Monday, Feb. 29, 2016
Discover. Learn. Grow.
Red Butte Garden offers over 50 week-long summer camps from June through early August for kids entering Kindergarten through 6th Grade. Each camp is designed to spark your child's curiosity for plants and the natural world through STEAM (science, technology, engineering, art and math).
Partners include NHMU, Tanner Dance, Wasatch Community Gardens, Utah's Hogle Zoo, and more!
Registration opens at 10 a.m. on Monday, Feb. 29.
Click here for camp dates and to register.
---
EQUITY AND DIVERSITY AWARDS
Deadline: Friday, March 4, 2016
The Office for Equity and Diversity is now accepting nominations from University of Utah faculty, staff and students for the annual Equity and Diversity Awards. The awards are presented on the basis of excellence, leadership and commitment to enhance equity and diversity at the University of Utah. The award also seeks to recognize those who demonstrate commitment to creating and expanding opportunities for students, staff and/or faculty of historically underrepresented backgrounds to succeed at the University of Utah. One award will be given in each of three categories:
Sustained contributions by University units, faculty or staff over many years
Contributions in the last year by University units, faculty or staff
Contributions by students
Nomination process:
Nominations must include the nomination form.
Nominations must include at least two letters of support describing how the nominee has fostered leadership and commitment to enhance equity and diversity and expanded opportunities for students, staff and/or faculty. Self-nominations are welcome, but must come with letters of support from two other sources.
The deadline for award nomination letters is Friday, March 4, 2016.
Submit nominations by to oed-events@utah.edu.
The recognition luncheon will be held on Tuesday, April 19, 2016, from 12-1:30 p.m. in the Varsity Room at the Tower at Rice-Eccles Stadium (level six). Recipients must be present to accept the award.
See previous award recipients at diversity.utah.edu/awards-events.
---
GLOBAL LEARNING ACROSS THE DISCIPLINES (GLAD) GRANTS
Deadline: Friday, March 4, 2016
The Office for Global Engagement (OGE) is offering grants of up to $10,000 for departmental/college or interdisciplinary teams composed of a minimum of three faculty members to improve global learning as part of the Global Learning Across the Disciplines (GLAD) initiative at the University of Utah.
See past award winners here and click here for more information.
---
STUDENT LEADERSHIP AWARDS
Nominations due by Friday, March 11
In its inaugural year, Student Leadership & Involvement is eager to celebrate the Student Leadership Awards. The vision of Student Leadership & Involvement is to empower students to be effective leaders, invested in positive change, by serving as a clearinghouse and training ground for impactful engagement across campus, within the community and around the world. In keeping with our vision, we are excited to provide all University of Utah offices and areas the opportunity to celebrate student leadership within their areas.
Nomination information for the traditional awards is now available at the Student Leadership & Involvement website. Nominations are due by Friday, March 11, at 5 p.m. via email to Student Leadership & Involvement. For more information on the awards and how your office and area can participate, please contact Jeff Furlong.
---
U'S NEW DIRECTOR OF EMERGENCY MANAGEMENT
After a nationwide search with more than 131 candidates, the University of Utah, Department of Public Safety is pleased to announce Jeffrey L. Graviet as the new director of emergency management for campus operations. A Utah native, Graviet has had 31 years of experience in public safety and emergency management. As a National Emergency Management Executive Academy graduate and Certified Emergency Manager, Graviet is well suited for the position.
His previous work includes 23 years with the Utah Department of Public Safety. During his tenure with the Utah's Department of Public Safety, Jeff served as the Bureau Commander of Homeland Security and the Deputy Director of the Department of Health and Emergency Services. After leaving the Department of Public Safety in 2008, Jeff took over as the Director of Emergency Services for Salt Lake County where he has been for the past eight years.
Graviet will begin March 21, 2016.
---
UIT MIGRATING OLD CENTREX PHONES TO NEW VOIP SYSTEMS
Over the next three years, UIT Unified Communications (UC) will be migrating from the legacy Centrex telephone system to the new Unified Communications Voice over IP (VOIP) system, also known as Skype for Business/Lync.
Skype for Business/Lync provides new features, such as integration with calendar, web conferencing and instant messaging. University Information Technology's goal is to migrate 5,000 Centrex users to Skype for Business/Lync before the end of fiscal year (June 30, 2016), followed by 5,000 each for the next two fiscal years.
---
CRIMSON CLUB ATHLETIC FUND KICKS OFF U BE COUNTED CAMPAIGN
The Crimson Club Athletic Fund (CCAF) kicked off its annual `U Be Counted' membership drive today with the goal of raising awareness and needed funds to enhance Utah's student-athletes experience.
The CCAF is trying to reach every fan that has a passion for Utah Athletics. If you want to support Utah student-athletes or increase your financial pledge, know that any donation is providing the needed resources to be competitive in the Pac-12 and nationally. The funds raised in the U Be Counted campaign is critical in providing the operating budgets within athletic department.
"The cornerstone of the campaign is to demonstrate the many ways in which people can help support Utah's student-athletes," Associate Athletics Director for External Relations Ann Argust said. "The `U Be Counted' membership drive will raise awareness of where Athletics needs addition funds – from tuition, housing, travel, recruiting, uniforms, medical care and the new full cost of attendance, just to name a few. Any donation helps our student-athletes and department grow and become more successful."
When you give to the Crimson Club Athletic Fund, you are directly helping provide the ultimate experience for over 400 student-athletes. There are a variety of ways to give to the Crimson Club Athletic Fund. If you have any additional questions, email crimsonclub@huntsman.utah.edu or contact your account representative at 801-585-UTES.
---
TEXTBOOK ADOPTION DUE DATES
The time has come to submit textbook adoptions for fall 2016 semester. The Campus Store can help save students up to 60 percent off textbooks compared to new book pricing.  In order to do this, it is important that the Campus Store know which course materials are needed for each class in the upcoming semesters. If you are a faculty member who has not yet requested their course materials for the summer 2016 and fall 2016 semesters, please do so by the dates below:
Fall 2016: March 1, 2016
To research your estimated cost, visit facultycenter.net. For a cost estimate on custom printed course packets, contact Steve Beck in Print & Mail Services at steve.beck@utah.edu or 801-581-5779.
Submit textbook adoptions at Campus Store's textbook adoption page.  For questions contact a department textbook buyer:
Dave Nelson               dnelson@campusstore.utah.edu                 801-581-8321
Rand Merritt              rmerritt@campusstore.utah.edu                801-581-3158
Heidi Booth                hbooth@campusstore.utah.edu                  801-581-3536
University Campus Store 801-581-6326.
---
CALLING ALL ACADEMIC ADVISORS TO LEARNING ABROAD WORKSHOP
Join us in March for bagels and coffee for our new Learning Abroad Academic Advisor Workshop.
Learning Abroad is excited to announce a spring workshop held specifically for academic advisors. Our aim is to strengthen the connection between your students and the global initiatives of Learning Abroad.
Join us over bagels and coffee as we cover general information about learning abroad, the application process for students, the benefits of learning abroad for all students and how advisors can get involved. We will provide resources to help answer any questions you and your students may have about Learning Abroad.
Details are as follows:
What: Learning Abroad Academic Advisor Workshop
When: March 15, 2016 from 8-10:30 a.m.
Where: Union Den
Space is limited, so please RSVP to Learning Abroad by March 1, 2016. We look forward to seeing you there.
---
UNIVERSITY TEACHING GRANTS APPLICATION NEXT DEADLINE IS MARCH 11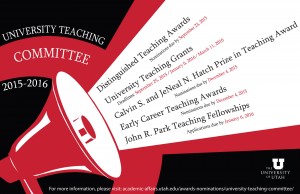 Awards are made to faculty to undertake projects that will enhance their teaching or the curriculum in which they teach. Tenure-line and Career-line faculty are eligible to propose individual and group grants. Preference will be given to applicants whose primary professional affiliation is as faculty at the University of Utah.
Awards are made for amounts up to $3,500 for individuals and $7,000 for groups for items such as equipment, supplies or travel where appropriate (see website for detailed instructions).
The deadline for applications is now March 11.