JUMP TO:
April is Sexual Assault Awareness Month
Data retrieval tool for the Free Application for Federal Student Aid (FAFSA) is unavailable
The U is officially a voter-friendly campus
John R. Park Debate Society earns national championship
April is National Distracted Driving Awareness Month
The Office of the Registrar announces electronic wait list
Matlab: Latest release available for download
This week's Red & White Fridays winner
University committee service survey
What you need to know about the U's rental car contracts
Athletics online store move to Utahutes.com
Real Food labels arrive on campus
---
APRIL IS SEXUAL ASSAULT AWARENESS MONTH
Wednesday, April 12, 2017 | 12-2 p.m.
Union Den[bs_row class="row"][bs_col class="col-sm-4″]
[/bs_col][bs_col class="col-sm-8″]April is Sexual Assault Awareness Month, a time where we highlight the history and culture of sexual violence to educate, raise awareness and rejuvenate prevention efforts. This month we have chosen the theme "Engage Voices. Challenge Rape Culture." to invite all voices to join together to end sexual violence in all its forms.
Please join us for one or more events hosted by various partner offices on campus throughout April. See the outline of events below and visit our website for more details.
Contact the Center for Student Wellness with any questions you may have at 801-581-7776.

April 12 – Bystander Intervention @ 12 to 2 p.m. in Union Den
April 13 – "I Don't Get It": Taking a Closer Look at Rape Culture @ 11 a.m. to 12 p.m. in Union Den
April 19 – Centering Margins within Movement @ 11 a.m. to 12:30 p.m. in Audre Lorde Student Lounge
April 19 – Protecting U: Introducing New Policy on Sexual Violence @ 2:30 to 4 p.m. in Union Theatre
April 20 – Barriers to Reporting: Why Survivors Remain Silent @ 11 a.m. to 12:30 p.m. in Union, Parlor A[/bs_col][/bs_row]
---
Data Retrieval Tool for the Free Application for Federal Student Aid (FAFSA) is Unavailable[bs_row class="row"][bs_col class="col-sm-4″]

[/bs_col][bs_col class="col-sm-8″]According to a statement released by the U.S. Department of Education and the Internal Revenue Service (IRS), the Data Retrieval Tool (DRT) for the FAFSA and studentloans.gov is unavailable due to security concerns. At this time, extra security measures are being implemented and the DRT is expected to be operational by the time the 2018-2019 FAFSA opens in October.
Students and parents will still be able to complete the FAFSA by transferring information manually from their 2015 federal tax returns. Those who do not have a copy of their federal tax returns can request a tax transcript online or through the mail. Review the requirements for secure access carefully before attempting to register.
The University Office of Scholarships and Financial Aid is available to assist students and families with the FAFSA process. We can be reached by telephone at 801-581-6211 and by email at financialaid@sa.utah.edu. Walk-in appointments are available – visit our office in Student Services Building, room 105 on the University of Utah campus.
Full statement from the IRS and the U.S. Department of Education can be found here.
Click here for information about how to apply for financial aid at the University of Utah.[/bs_col][/bs_row]
---
WE (HEART) VOTERS: THE U IS OFFICIALLY A VOTER-FRIENDLY CAMPUS[bs_row class="row"][bs_col class="col-sm-4″]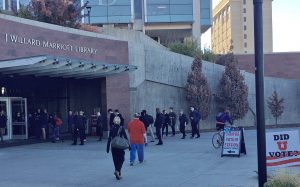 [/bs_col][bs_col class="col-sm-8″]NASPA (Student Affairs Administrators in Higher Education) and the Campus Vote Project recognized the U as one of 83 campuses around nation, including three in Utah, for its efforts to make political engagement accessible to students.
Voter-Friendly Campuses were required to submit a campus engagement plan discussing their efforts, coalitions and plans to increase voter registration, voter education, ballot access and voter turnout on their campus. Leading up to the November 2016 elections, the U registered more than 1,200 students using a new online voter registration platform; hosted debate watch parties with hundreds of students in attendance; and secured an on-campus polling location that was used by nearly 3,000 students, faculty and community members.[/bs_col][/bs_row]
---
JOHN R. PARK DEBATE SOCIETY EARNS NATIONAL CHAMPIONSHIP[bs_row class="row"][bs_col class="col-sm-4″]
[/bs_col][bs_col class="col-sm-8″]University of Utah's John R. Park Debate Society earned the season-long national championship awarded by the National Parliamentary Debate Association and finished in sixth place (first in Pac-12) at the NPDA National Championship Tournament held at the Colorado College in Colorado Springs, Colorado.
"This year's success in the season-long rankings marks a historic level of success for the John R. Park Debate Society and cements the U as the most successful collegiate debate program in the state," said Michael Middleton, director of the debate society. "The staff and students of the debate society could not be more thrilled to have helped achieve this accomplishment on behalf of the U."
The overall rankings, which determine the season-long championship, are based on points earned from tournaments throughout the year. This year, the U broke the record for most points earned in a single a season by a public institution and established the second highest point total in the NPDA's history, solidifying their number one position. Importantly, these rankings are a squad-wide honor reflecting the overall strength of the U's 18 active debaters.
The weekend tournament included more than 140 teams from 41 universities and colleges. In addition to the debate society's collective success, the U advanced four debate partnerships to elimination rounds and senior Alex Cadena earned an NPDA All-American Award and freshman Jacob McShane earned fifth place among all first-year competitors at the tournament.
Read the full article here.[/bs_col][/bs_row]
---
APRIL IS NATIONAL DISTRACTED DRIVING AWARENESS MONTH[bs_row class="row"][bs_col class="col-sm-4″]
[/bs_col][bs_col class="col-sm-8″]Distracted driving is any activity that could divert a person's attention away from the primary task of driving. There are three types of distracted driving – Visual: taking your eyes off the road, Manual: taking your hands off the wheel and Cognitive: taking your mind off what you are doing. The technology in our vehicles allows us to make phone calls, dictate texts or emails and update social media all behind the wheel. We are multitasking when we ought to be paying attention to driving and safety. Please commit to distraction free driving and you may save a life.
Click here to go to the U Risk & Insurance Services website, where you can find out more about distracted driving.[/bs_col][/bs_row]
---
THE OFFICE OF THE REGISTRAR ANNOUNCES ELECTRONIC WAIT LIST[bs_row class="row"][bs_col class="col-sm-4″]
[/bs_col][bs_col class="col-sm-8″]The Office of the Registrar is excited to announce that electronic wait listing will be available beginning with the Fall 2017 registration cycle. That means that when students attempt to register for a class that is full, wait listing will allow them to add their name to an electronic list to potentially be added to the class, if space opens up and they meet all the class requirements.
Wait listing does not guarantee a seat in the class if it remains full, and it is only available through departments who have decided to activate this new functionality. We look forward to bringing this new technology to the campus community.
For a full list of departments who currently allow wait listing, information about launching wait listing for your department and answers to many frequently asked questions, please visit registrar.utah.edu/register/waitlisting.php.[/bs_col][/bs_row]
---
MATLAB: LATEST RELEASE AVAILABLE FOR DOWNLOAD[bs_row class="row"][bs_col class="col-sm-4″]
[/bs_col][bs_col class="col-sm-8″]
The latest version of MATLAB – R2017a—has been released and includes a number of new features. Remember, the MATLAB Total Academic Headcount (TAH) Academic Annual License is available to students, faculty, and staff. This license is for academic (which includes both research and teaching) use purposes. Learn more about purchasing the MATLAB TAH Academic Annual License.
Pricing for each MATLAB license, which includes Simulink and the 48 products:
MATLAB TAH Academic Annual License:

Student – $20 per individual use license
Academic – $90 per license/seat for Individual, Group, and Concurrent Use licenses

MATLAB TAH Classroom Annual License

Classroom – $20.00 per seat for Concurrent Use licenses
New features for version R2017a include:
Regression learner app
Big data algorithms
Code generation
Bayesian statistics
Feature extraction[/bs_col][/bs_row]
---
UNIVERSITY COMMITTEE SERVICE SURVEY[bs_row class="row"][bs_col class="col-sm-4″]
[/bs_col][bs_col class="col-sm-8″]We need your help, the university has almost 50 university-wide committees that need the active and engaged participation of our faculty (both tenure and career-line), as well as staff and students. Committee service not only benefits the university, but also provides an excellent opportunity for faculty members to get a glimpse of how the university works as a whole, meet new colleagues and further the progress toward reappointment and promotion.
Whether you want to advance the cause and practice of academic freedom, you are concerned about health and safety on campus, you want to work to increase diversity among our students and faculty, you want to be heard on matters of budget and planning, or you think parking on campus needs to be restructured and reorganized, there is an opportunity for you to learn about issues and to have an impact on how the matter is handled in our university.
Click here to begin the survey.
You can find a complete list of university committees here. You can find a complete list of senate committees here.
If you have any questions or want additional information, please feel free to email or talk to any of us. Our contact information is located here.[/bs_col][/bs_row]
---
THIS WEEK'S #REDWHITEFRIDAY WINNER[bs_row class="row"][bs_col class="col-sm-4″]
[/bs_col][bs_col class="col-sm-8″]This week's Red & White Fridays winner is Paul Schmachtenberger, a recent high school graduate who just won $100 to Utah Red Zone by showing his University of Utah pride on Instagram! He has also been entered for the Red & White Fridays grand prize – a $1,000 shopping spree at Utah Red Zone. Congrats, Paul!
Next week's winner could be you – just follow these three steps:
Take a photo of yourself wearing Utes gear
Tag and follow @americafirst and @uredzone
Post your photo to Instagram using #RedWhiteFriday
Visit redandwhitefridays.com for more information about how to win a weekly $100 to Utah Red Zone, and don't forget to wear red and white on Fridays.[/bs_col][/bs_row]
---
WHAT YOU NEED TO KNOW ABOUT THE U'S RENTAL CAR CONTRACTS[bs_row class="row"][bs_col class="col-sm-4″]
[/bs_col][bs_col class="col-sm-8″]Did you know the University of Utah has access to car rental companies using state-negotiated contracts? Contracts are available with Hertz (contract # 0198552) as well as National and Enterprise (contract #XZ47075).
Travelers or drivers who use these agencies while traveling on University of Utah business do not need to purchase extra insurance or pay U internal fee. However, insurance must be purchased for 1) vehicles larger than a minivan, 2) when renting outside the state contracts or 3) renting in a foreign country. Instructions for renting vehicles can be found at the Risk & Insurance Services website under the Vehicle section, or by calling 1-5590.[/bs_col][/bs_row]
---
ATHLETICS ONLINE STORE MOVES TO UTAHUTES.COM[bs_row class="row"][bs_col class="col-sm-4″]
[/bs_col][bs_col class="col-sm-8″]Utah Athletics and the University Campus Store have strengthened their long-standing partnership by designating UtahUtes.com as the official online store for Utah Athletics branded products.
Owned and operated by the University of Utah Campus Store, Utah Red Zone is the largest retailer for University of Utah apparel. With its new online partnership with UtahUtes.com, the University of Utah Campus Store plans to offer an even more robust selection of Utah products.
Online visitors to UtahUtes.com will receive free shipping on all orders of $100 or more and a portion of all sales go directly to University of Utah and Utah Athletics scholarships and programs.[/bs_col][/bs_row]
---
REAL FOOD LABELS ARRIVE ON CAMPUS[bs_row class="row"][bs_col class="col-sm-4″]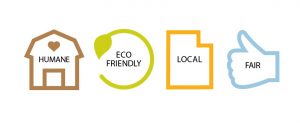 [/bs_col]
[bs_col class="col-sm-8″]Noticed a little white sticker on your recent campus food purchase? If you have eaten at Mom's Café and Mom's Pantry at the Marriott Library, or at the Counsel Café in the S.J. Quinney College of Law, you may have purchased an item with one of these Real Food labels. The Real Food labels are round icons on a white background, about the size of a quarter. The labels indicate whether your food is humane, eco-friendly, local, and fair, the four criteria needed for an item to be considered "real food." The University has taken the Real Food Challenge, a commitment to offering 20 percent real food on campus by 2020. These labels help campus reach our goal by promoting the purchase of real food. Learn more about the Real Food Challenge and look for food with these stickers across campus.
Implementation of the labels is supported by the Real Food Challenge, the Sustainability Office, Chartwells, the Sustainable Campus Initiative Fund and the Office of Undergraduate Research.[/bs_col][/bs_row]