The University of Utah College of Architecture + Planning celebrated the ribbon cutting of the new elevator, ramp insertions and several new student success spaces in the Architecture building.
During the grand opening on Aug. 24., students, faculty, staff and alumni enjoyed remarks from donors, the U director of the Center of Disability and Access, Scott Mcaward, and members of the campus community.
"Tressa Parkes, our undergraduate student speaker said it right; this project makes clear that diversity and inclusion are indeed central to the college's definition of design excellence," said Keith Diaz Moore, Dean of the College of Architecture + Planning. "This certainly is another initiative that brings us closer to a more inclusive environment, a value invested by our professional community."
Spaces
An elevator on the north side of the building, a ramp that transforms the Bailey Gallery ADA accessible, and new studios for classes and collaborative work were launched this fall semester.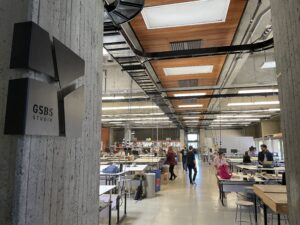 The 3rd-floor studio was named for GSBS Architects in recognition of their commitment to inclusive design, exemplified in their lead gift for the elevator project.
"We're grateful to have played a role in making the CA+P building more inclusive," said Kevin Miller, President of GSBS. "The college is a great partner for us, and we strongly support all of our GSBS colleagues with varying adaptive needs. That combination really made it easy for our employees and shareholders to get behind this effort."
For their support of the new student success-oriented 1st floor ("The Commons"), the collaborative studios in the middle were named in honor of MHTN Architects and VCBO Architecture.
"It is an honor to support the college; architecture is a challenging discipline and having inclusive and supportive student environments is essential for advisors and faculty to help students complete their degrees," said Peggy McDonough, President of MHTN Architects. "Spaces, well designed, give voice to people, and students inspire us as much as we might inspire them."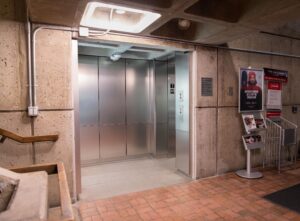 For Jeanne Jackson, Principal of VCBO Architecture, partnering on this project illustrates the college's strong history with its students and alumni community.
"VCBO considers the CAP one of our most important partners. Many of us are graduates of the school, and we are heavily invested in students' success. We have always been proud to support the program in any way we can."
The launch of these spaces is part of an ongoing renovation project that contemplates new and improved plotting areas for students, a new video & photo lab secured by the CA+P Student Senate, ADA-compliant wayfinding signages, and multiple new spaces in the iconic Einar Nielson Field House to be completed by spring 2023.