By Bill Keshlear, communications specialist, College of Health
Beyond the countless statistics that coaches of the New England Patriots and Atlanta Falcons will analyze in the run-up to Sunday's Super Bowl – such as yards per pass attempt, field position after kickoffs, red-zone scoring efficiency and generic tendencies of their opponent – is one that could threaten the future of professional football as the No. 1 spectator sport in the United States: The number of possibly debilitating concussions the game produces.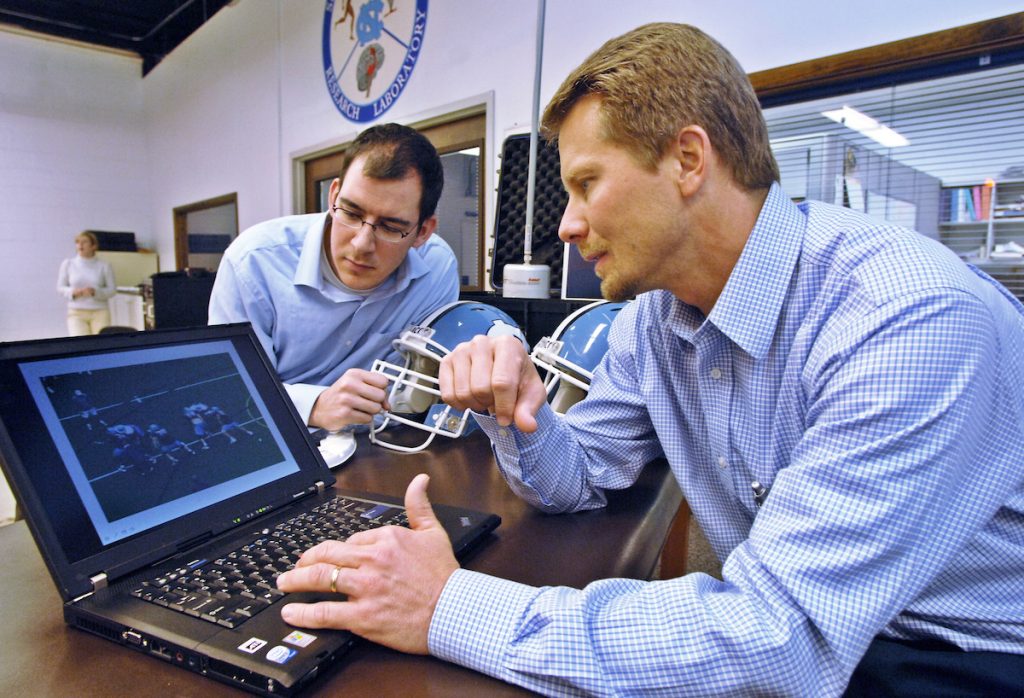 The National Football League reported that players suffered 271 concussions during 234 games of the 2015 season.
That's just the tip of an iceberg. From 2001 through 2005, children and youth 5 through 18 years of age who were diagnosed as suffering sport-related concussion accounted for 135,000 visits to emergency rooms in the United States. Many of those kids were deeply influenced by elite athletes and their style of play.
A lecture and panel discussion sponsored by the College of Health will examine sport-related concussion 9 a.m. Friday at S.J. Quinney College of Law's Moot Courtroom. Panelists include a prominent researcher and former National Football League adviser, the University of Utah's athletic director, its physician for all athletic teams, the football team's head athletic trainer, a University of Utah researcher administering a Pac-12 Conference brain-imaging grant and a medical spotter for the Big-10 Conference.
Is it a legitimate concern for fans and parents or media-driven paranoia? Given what we know about the injury, should children even play vigorous sport in which contact is inevitable? What about head-injury risk associated with non-contact sport such as competitive bicycling or skiing?
"I am totally, 100 percent against eliminating contact sport for kids. We need to look for ways to minimize the risk of injury and keep kids active in sport," said Kevin Guskiewicz, dean of the College of Arts and Sciences at the University of North Carolina at Chapel Hill, a prominent researcher in sport-related concussion and former adviser to the National Football League on sport-related concussion.
Guskiewicz will speak at the Friday event.
He believes football, in particular, is as safe as it has ever been because of rules changes, better equipment and general awareness of concussion. Guskiewicz is a big believer in sport as a way to develop individual character and increase childhood physical activity while reducing rates of obesity and diabetes.
Over the past 20 years, his research has focused on sport-related concussion, specifically its effect on balance and neuropsychological function in high school and collegiate athletes. It helped persuade the NFL to adopt rule changes that led to a decrease in concussion during kick-offs — one of football's most dangerous plays. He has been a member of the NFL's powerful advisory Head, Neck and Spine Committee.
Guskiewicz was awarded a MacArthur Fellowship, a "Genius Grant," for his innovative work. For example, his research team and the North Carolina football program pioneered the use of helmet sensors that monitor the amount, direction and magnitude of impacts. Data from the sensors can be used to change rules and modify style of play.
He and his colleagues used the fellowship's stipend to improve safety in high school sport and identify and treat serious head injury in the U.S. military.
Guskiewicz has been outspoken as a national leader in sport-related concussion. The title of Friday's discussion, "The State of Sport Concussion: Legitimate Concern vs. Paranoia," highlights possible conflicts between neurological research, the nation's richest and possibly most powerful spectator sport and a ratings-driven news media.
One emerging but inconclusive line of research examines repetitive jolts to the head that don't quite meet the diagnosis for concussion, so-called sub-concussive hits. It has enormous implications for football because unavoidable helmet-to-helmet contact occurs on every play during a game and in practice drills. In response to this research Guskiewicz said, "Well, let's figure it out. Where's the evidence to support this notion or theory."
Photo credit: Courtesy of University of North Carolina – Chapel Hill