JUMP TO:
Is downtown Salt Lake City overbuilt with rental units?
Utah Museum of Fine Arts Café is open
Follow the Lassonde Entrepreneur Institute
New nonprofit mailing guidelines
Changes to incoming freshman scholarships
Apply now for Alternative Spring Break
Utah Red Zone Fan Cave Giveaway presented by America First Credit Union
---
IS DOWNTOWN SALT LAKE CITY OVERBUILT WITH RENTAL UNITS?
Downtown Salt Lake City is seeing an unprecedented boom in apartment development, according to a new study released by the Kem C. Gardner Policy Institute.
In 2010, after 100 years of development, the number of downtown rental units in Salt Lake City totaled 5,200. By 2020, that number is expected to double to 10,000 units and the downtown population will grow to an estimated 20,000, about the same size as the population of Payson or Brigham City. For the purpose of the study, downtown includes the area from approximately 700 East to 700 West and from 400 South to North Temple, or roughly 1.65 square miles.
Read more by clicking here.
---
UTAH MUSEUM OF FINE ARTS CAFE IS OPEN
Enjoy your favorite sandwiches, salads, soups and drinks in the UMFA's newly remodeled
Museum Café
. The café is open 8:30 a.m. to 4:30 p.m., Monday through Friday, with food service 10:30 a.m. to 3 p.m. Updates include new seating for dine-alone customers, with plenty of outlets.
---
Join the U's community of student entrepreneurs and innovators by subscribing to the Lassonde Entrepreneur Institute email newsletter.
Click here to subscribe.
---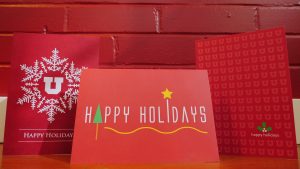 Get a head start on the holiday season by ordering your greeting cards from University Print & Mail Services. Conveniently place your order online and choose from more than 20 designs, enhanced by your own personalized message. Orders are typically completed in five business days and can be picked up or delivered to your office for free. Making this annual task even easier, Print & Mail can address your envelopes, apply postage and place your cards in the mail for you.
In addition to holiday card designs, University Print & Mail offers several other styles for fall, along with other special occasion cards such as birthday cards, thank you cards, custom-design cards and personalized stationery.
Both personal and office orders are welcome. To view designs online and place your order, visit printing.utah.edu.
NEW NONPROFIT MAILING GUIDELINES
Users of the Nonprofit Standard Mail service are advised by the U.S. Postal Service to more clearly identify their nonprofit organization on all items mailed at this rate.
All mailing pieces sent from campus using nonprofit permit 1529 must have 'The University of Utah' displayed in a prominent location on the package or envelope. The USPS requires that the return address begin with, 'The University of Utah', followed by the sender's name and a campus address. To prevent confusion, delay or higher postage rates, please ensure that the university name is easily identifiable and avoid abbreviations such as 'U of U'.
Help the university keep this valuable resource by complying with USPS guidelines on nonprofit mailings. Questions regarding nonprofit permits and other mailing services may be directed to Kim Hansen at 801-581- 7212. Questions regarding the printing of mail items may be directed to 801-581-6171.
---
CHANGES TO INCOMING FRESHMAN SCHOLARSHIPS
The University Office of Scholarships and Financial Aid has announced new scholarship names for 2017-18 academic year:
Utah Flagship Scholarship
Formerly known as Honors at Entrance
Utah Academic Scholarship
Formerly known as Partial Honors at Entrance
Utah Academic Recognition Award
Formerly known as Cash at Entrance
Academic Excellence Scholarship for Non-Residents
Formerly known as Academic Full Tuition for Non-Residents
Academic Excellence Scholarship for Non-Residents
Formerly known as Academic Partial Tuition for Non-Residents
The criteria for these scholarships will remain the same for 2017-18 and the new names will be used for the 2017-18 academic year and beyond. Additionally, there will be no changes to the names for students currently on these scholarships.
If you have any questions, please contact the University Office of Scholarships and Financial Aid at 801-581-6211 or scholarship@sa.utah.edu.
---
APPLY NOW FOR ALTERNATIVE SPRING BREAK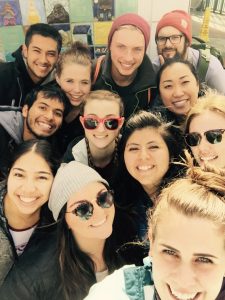 Apply now to spend spring break volunteering, learning and traveling with the Bennion Center's Alternative Break program. Eleven different trips are being offered to cities in the western United States and Canada. It's an immersive, week-long opportunity to learn first-hand about important social and environmental issues. Applications are due Monday, Nov. 28, at 11:59 p.m.
---
UTAH RED ZONE FAN CAVE GIVEAWAY PRESENTED BY AMERICA FIRST CREDIT UNION
Utah Red Zone and America First Credit Union are working together to give one lucky Utah Football fan the best seat in the house with the
Utah Red Zone Fan Cave Giveaway
. Utah Red Zone will make one fan's living room have as much Utah pride as they do with a fully furnished and decorated fan cave for the perfect home and away game experience.
The Utah Red Zone Fan Cave Giveaway grand prize includes:
Samsung 65″ Class 4K Ultra HD TV
(2) Imperial University of Utah Recliners
Blakeway framed Rice-Eccles stadium panorama
Northwest Utah tapestry woven blanket
Northwest Utah plush throw blanket
Northwest Utah rug
Legacy Utah vintage game poster artwork
Legacy Utah wall-mount bottle opener
Legacy Utah serving tray
Paulson Designs Utah athletic logo canvas art
Authentic Street Signs "Man Cave" sign
Dahl large vinyl decal
and more Utah Red Zone merchandise.
Utah fans can enter to win the Utah Red Zone Fan Cave Giveaway by going to URedZone.com/FanCaveGiveaway. The lucky winner will be randomly selected at the conclusion of the Utah Football season.
For more information, call or visit Utah Red Zone or the University Campus Store.
---