BEACONS OF EXCELLENCE AWARDS: CALL FOR NOMINATIONS


Each year, the University of Utah's Office of Undergraduate Studies and the Office of Student Affairs recognizes people, programs and projects committed to creating a transformative, undergraduate educational experience.
The six Transforming U: Beacons of Excellence awards celebrate "best practices" found across campus, including labs, student clubs, individuals, centers and more. Since the award was created in 2012, hundreds of nominations have been submitted by students, faculty, staff and community members.
Nominations are currently being accepted and are due by Monday, April 20, at 5 p.m.
Recipients of the 2015 awards will be honored throughout the year in print and other media outlets on campus and in the community.
More information about the award and past honorees is available online.
---
YOUR UTAH YOUR FUTURE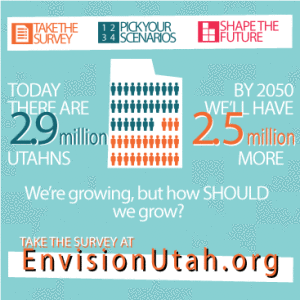 Utah is one of the fastest growing states in the nation and by 2050 its population will double. Make sure your voice is heard in shaping the future of education, recreation, public land use and more in the Your Utah Your Future survey.
Envision Utah launched the survey last week and will donate $1 to ASUU for every University of Utah student, faculty, staff member or community member who takes the survey. The maximum donation amount is $20,000 and is available on a first come, first served basis. The school with the most survey respondents will receive an additional $1 per respondent up to $5,000.
The survey will be available at envisionutah.org until May 31.
The survey results will determine Utah's vision for the next 40 years of growth for policymakers, local governments, businesses and developers, in every aspect from transportation to agriculture. Please take the time to thoughtfully respond to the survey in creating and sustaining beautiful, prosperous and healthy neighborhoods.
Go here to cast your vote today.
---
SCHOLARSHIP OPPORTUNITIES
Deadlines Friday, April 10 and Friday, May 8


The Alumni Association has partnered with University Neighborhood Partners to award scholarships to U students. Students at any stage in their education are welcome to apply, but preference given to those who live and/or volunteer in the west side neighborhoods of Salt Lake City. This year there will one $5,000 scholarship and two $3,000 scholarships available. Applications are due Friday, April 10. Click here for more information and to fill out the scholarship application.
UNP also offers several Wolf/Meritus scholarships to students. The program was started by Joan and Harold (Hal) Wolf in 2008. The Wolfs have a long history with the U (click here for more about them). These scholarships range from $1,000 to $3,000 and are available for incoming freshman or transfer students to the U for any post-secondary education program. Applications are due Friday, May 8. Click here for more information and to fill out the scholarship application.
---
STUDENT MEDIA


This week's news from your campus newspaper, The Daily Utah Chronicle, can be found on our website at dailyutahchronicle.com. Newspapers are available in the large red boxes on campus or download our iOS app. If you would like to receive the Top 3 stories each day in your inbox, be sure to sign up on our website.
Tune in to our campus radio this week online at kuteradio.org. Follow @Ustudentmedia on Twitter for news and concert ticket giveaways.
---
STUDENTS WIN NATIONAL POLICY SOLUTIONS CHALLENGE USA COMPETITION

For the second year in a row, a team of University of Utah students has won the national Policy Solutions Challenge USA competition in Washington D.C.


U students Christopher Collard, Gavin Noyes, Tyler Murdock and Liz Larsen earned top honors on Saturday for their multi-pronged approach to creating policy solutions designed to mitigate the potential for a water crisis in the U.S. The team proposed to increase collaborative regional planning, including the establishment of water markets; to improve investment in watershed programs and to expand urban efficiency and conservation policies.
The team beat out several schools from around the country at the national competition between teams of students studying public policy, public affairs and public administration. The Policy Solutions Challenge culminates after teams work together for several months to research solutions and draft proposals on a specific public policy problem in the U.S. Students present their ideas at regional competitions, where a panel of judges evaluate the solutions based off of students' research papers and a live 15-minute presentation from the teams. Winners of the regional competitions advance to nationals.
For more on their project, click here.
---
CALL FOR SHAKEOUT 2015 VOLUNTEERS

If you are interested in participating as an Emergency Assembly Point volunteer for ShakeOut 2015 on April 16, please contact Jen Stones for details at 801-585-3751 or email Jen.Stones@ehs.utah.edu.
The U would love to have you help "Drop, Cover, Hold On and Evacuate."
---
ARTS PASS SPRING 2015 CONTEST


Use your Ucard as your Arts Pass and you could win big.
Here's how:
Use your UCard to get your tickets to U arts events between March 1 – April 30
Take a photo with your UCard showing the event you're attending
Upload it to Instagram or Twitter using #ArtsPassSpring15
Prizes:
16G iPad Air 2 (Wifi)
$350 gift certificate to the Campus Store
$250 gift certificate to the Utah Museum of Fine Arts (UMFA) Gift Shop
Read more about the contest here.
---