SPRING SEMESTER ALTERNATIVE BREAK OPPORTUNITY[bs_row class="row"]
[bs_col class="col-sm-4″]

[/bs_col]
[bs_col class="col-sm-8″]Students can still sign up for an alternative break service learning experience this spring. The Bennion Center's "Alt Breaks" program is accepting applications for students wishing to travel to cities in the western U.S. where they will learn about social or environmental issues. Students will also do volunteer work related to topics such as animal advocacy and rehabilitation; coastal ecosystem restoration; HIV and AIDS; LGBTQUIA and human rights; and immigration. Trip costs include lodging, transportation and meals and range from $435-$655.  Application deadline is Jan. 22 at 11:59 p.m.
For more information, contact laura.schwartz@utah.edu or visit altbreaks.bennioncenter.org.[/bs_col]
[/bs_row]
---
NOMINATE AN OUTSTANDING ACADEMIC ADVISOR [bs_row class="row"]
[bs_col class="col-sm-4″]

[/bs_col]
[bs_col class="col-sm-8″]Do you know an academic advisor who has made a positive impact on the lives of their students? Nominations are now being accepted from students, staff and faculty for the 2016 University Academic Advising Committee's Outstanding Advisor Awards. The deadline to nominate is Feb. 5, 2016.
The awards recognize U of U academic advisors who have demonstrated qualities associated with outstanding advising of students such as:
Approaches advising as teaching
Strong interpersonal skills
Available to advisees
Reaches out and supports underserved populations
Makes appropriate referrals
Uses and disseminates appropriate information sources
Caring, helpful attitude toward advisees, faculty, and staff
Works with students outside of office in formal University-related activities
Monitors advisee progress toward academic and career goals
Mastery of institutional regulations, policies, and procedures
Participates in and supports advisor development programs
Proactive; builds relationships with advisees and follows up
Practices developmental advising
It only takes a few moments; Complete the nomination process by clicking here.
Additional questions can be addressed to Bobbi Davis (Bobbi.Davis@utah.edu) or Shawn Adrian (Shawn.Adrian@utah.edu).
Consider recognizing an outstanding advisor at the U of U by submitting a nomination today![/bs_col]
[/bs_row]
---
ARE YOU GRADUATING IN 2016? JOIN THE BEEHIVE HONOR SOCIETY
Applications due to the Alumni House on Friday, Feb. 12[bs_row class="row"]
[bs_col class="col-sm-4″]

[/bs_col]
[bs_col class="col-sm-8″]Applications for membership are available online here.
Contact Cassie Timpson at cassie.timpson@alumni.utah.edu or call 801-585-9012 for questions or additional information.[/bs_col]
[/bs_row]
---
APPLY NOW TO BE A CSBS AMBASSADOR FOR 2016-17
Deadline to apply is Feb. 1[bs_row class="row"]
[bs_col class="col-sm-4″]

[/bs_col]
[bs_col class="col-sm-8″]Ambassadors assist the College of Social and Behavioral Science in a number of strategic activities including:  student recruitment, engagement and philanthropy.
The position is open to all students who are officially declared in at least one of the following:
Anthropology
Consumer & Community Studies
Economics
Environmental & Sustainability Studies
Ethnic Studies
Gender Studies
Geography
Health, Society & Policy
Human Development & Family Studies
Political Science
Psychology
Sociology
No letters of recommendation are required to apply.
If selected, Ambassadors are awarded a scholarship of $500 for fall 2016 and $500 for spring 2017.
Click here to apply to become a student Ambassador.
Contact Bobbi Davis (Bobbi.Davis@utah.edu) with any questions.[/bs_col]
[/bs_row]
---
MARTIN LUTHER KING JR. DAY HOLIDAY – NO SCHOOL
Monday, Jan. 18 [bs_row class="row"]
[bs_col class="col-sm-4″]

[/bs_col]
[bs_col class="col-sm-8″] Martin Luther King Jr. Day is today. There will be no school. [/bs_col]
[/bs_row]
---
JOIN THE U'S LEGISLATIVE ADVOCACY EFFORTS [bs_row class="row"]
[bs_col class="col-sm-4″]

[/bs_col]
[bs_col class="col-sm-8″]Faculty and staff are invited to join in the U's legislative advocacy efforts, through the U for Higher Ed Program. Legislative advocates are volunteers — alumni, present and former faculty and staff members and students — who encourage their representatives and senators to support the University of Utah in particular and higher education in general.
Through the efforts of the U for Higher Ed Program, advocates are provided with information on important issues and funding priorities, so they can collectively speak in a unified and coordinated way to support the U's priorities for greater impact with the Legislature.
The 2016 Utah legislative session kicks off on Jan. 25. The U's priorities for 2016 include a request for a three percent performance-based compensation increase for faculty/staff and funding for a new Medical Education Building.
For details on the program, and to sign up, click here.[/bs_col]
[/bs_row]
---
SNOW-FREE, COVERED PARKING AVAILABLE[bs_row class="row"]
[bs_col class="col-sm-4″]
[/bs_col]
[bs_col class="col-sm-8″]Snow-free, on-campus, plentiful covered parking is now available for students, staff and faculty. Two new parking garages, completed in the fall of 2015, added more than 1,000 parking spaces that are available to all members of the campus community.
The Central Garage, located in the Business Loop, offers more than 800 parking spaces and is the first garage on campus available to students, in addition to staff and faculty.
The Northwest Garage is located east of Naval Sciences and offers parking to faculty, staff and visitors attending evening performances on the north end of campus.
These garages provide abundant, covered and convenient parking and will serve as a valuable asset to those who need to park on campus. Make this winter a little easier by purchasing a covered parking permit through your account here. For detailed information on parking permits, contact Commuter Services at 801-581-6415.[/bs_col]
[/bs_row]
---
FITNESS CLASSES BEGIN THIS WEEK [bs_row class="row"]
[bs_col class="col-sm-4″]

[/bs_col]
[bs_col class="col-sm-8″]Join us for semester-length fitness classes at the George S. Eccles Student Life Center. Classes begin this week but registration is ongoing.
With a large variety of classes and times, you're sure to find something to fit your new year's fitness goals.
If you're ready to register, head over to campusrec.utah.edu and get started.[/bs_col]
[/bs_row]
---
INTRAMURAL SPORTS REGISTRATION IS WIDE OPEN[bs_row class="row"]
[bs_col class="col-sm-4″]

[/bs_col]
[bs_col class="col-sm-8″]Registration for Intramural Sports is open and the leagues are just a few days away. Spots fill up fast so get your teams registered early.
You can register as a full team or as an individual. Faculty and Staff are eligible to play as well with a CRS membership.
For a complete list of sports, registration deadlines, and league days check out campusrec.utah.edu.[/bs_col]
[/bs_row]
---
ALTA SUSTAINABILITY LEADERSHIP AWARDS – NOMINATIONS DUE BY FEB. 8, 2016[bs_row class="row"]
[bs_col class="col-sm-4″]

[/bs_col]
[bs_col class="col-sm-8″]The University of Utah is partnering with Alta Ski Area to recognize students, faculty and staff with the second Alta Sustainability Leadership Awards. The awards recognize four members of the university community who demonstrate leadership in sustainability education, research or campus/community initiatives.
Application deadline is Feb. 8, 2016
The awards will be presented on March 3, 2016. Each recipient also receives a $2,500 cash prize. For more information on applying, click here.[/bs_col]
[/bs_row]
---
CLINIC SERVICES AT THE SCHOOL OF DENTISTRY [bs_row class="row"]
[bs_col class="col-sm-4″]

[/bs_col]
[bs_col class="col-sm-8″]The Ray and Tye Noorda Oral Health Sciences Building is home to a full-service community dental clinic featuring 62 dental operatories; an oral diagnosis suite with eight operatories and a Cone Beam CT machine for 3-D imaging; a pediatric dentistry suite with eight operatories including a private waiting room for children and an oral maxillofacial surgery suite with four private operatories.
The clinic offers a full range of services including:
Oral health screening
Periodontal treatment
Comprehensive restorative care:

Fillings
Crowns
Bridges – fixed and removable appliances
Root canals
Implants
Cosmetic dentistry and teeth whitening

Pediatric dentistry
Geriatric dentistry
Orthodontics (at our residency clinics)
Oral surgery
Special needs patients
All patient care is supervised by faculty who are licensed dentists in Utah. Service fees are as follows:
Student dentists – 50 percent discounted
Resident dentists – 30 percent discounted
Faculty dentists – Full cost
Most insurance plans are accepted.
To schedule an initial screening/consultation call -801- 58-SMILE (7-6453) and visit dentistry.utah.edu for more information. [/bs_col]
[/bs_row]
---
U CHEMIST HONORED BY CHINA'S PRESIDENT[bs_row class="row"]
[bs_col class="col-sm-4″]

[/bs_col]
[bs_col class="col-sm-8″]University of Utah chemist Peter J. Stang shook hands with Chinese President Xi Jinping after Stang and six other foreign scientists were honored with China's 2015 International Science and Technology Cooperation Award.
"I said 'thank you' to him in Chinese and he smiled," says Stang, recalling the Jan. 8 award ceremony in the Great Hall of the People on Tiananmen Square in Beijing.
Stang – a University of Utah distinguished professor of chemistry and former dean of science – now has been given major awards and shaken hands with leaders of the world's two most powerful nations: Xi after the recent award and U.S. President Barack Obama in 2011, when Stang was honored with a National Medal of Science.
What does that feel like?
"I'm a scientist. I'm not very emotional," Stang says. "It was a nice whatever, but I was cool as a cucumber. I felt good obviously, and I felt honored."
Video of Stang shaking hands with Xi was captured by CCTV, the primary television broadcaster in China.
Click here to read the full story.[/bs_col]
[/bs_row]
---
U RESEARCH HIGHLIGHTED IN SCIENTIFIC COMPUTATION PUBLICATION[bs_row class="row"]
[bs_col class="col-sm-4″]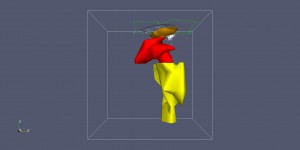 [/bs_col]
[bs_col class="col-sm-8″]Affiliate research from the U's Center for High Performance Computing (CHPC) is highlighted in the Coalition for Academic Scientific Computation (CASC)'s 2016 brochure.
"Inclusion in the CASC brochure is competitive, so having the university featured twice serves to point out the important role CHPC plays in broadly supporting, innovating and enabling research computing on campus," said Tom Cheatham, director of Research Computing and CHPC at University Information Technology (UIT).
A research team led by Philip Smith, director of Carbon-Capture Multidisciplinary Simulation Center (Department of Energy's National Nuclear Security Administration multi-disciplinary simulation center) and professor of Chemical Engineering at the U, is featured in a piece about new coal technologies.
A second piece highlights the findings of a research team led by Fan-Chi Lin, assistant professor of geology and geophysics at the U, and postdoctoral researcher Hsin-Hua Huang. Advanced imaging techniques helped the team discover one of the world's largest active volcanoes deep beneath the surface of Yellowstone National Park.
The research summaries can be found on pages 8 and 15 of the brochure.[/bs_col]
[/bs_row]
---
PATIENT AND FAMILY HOUSING GIVES BACK[bs_row class="row"]
[bs_col class="col-sm-4″]

[/bs_col]
[bs_col class="col-sm-8″]Patient and Family Housing's Health Information Management Department (HIM) resolves to find a way to give back to the community, especially during the holidays. When it came to their attention that The U's very own Patient and Family Housing Facility could use help with patient supplies, HIM jumped right in.
Adrienne Wilson, manager of the Patient and Family Housing facility, presented at the November staff meeting explaining the lists of items the guests needed. HIM chose to do "Welcome Baskets." As soon as the list was distributed the entire department pitched in. Over the entire month of December Adrienne would come up and everyone would help load her SUV with as much as it could hold. The goal was to complete 20 baskets and we were able to complete 50 Welcome Baskets! We had so many blankets, paper towels, toilet paper, dinner napkins and boxes of facial tissue that we boxed them separately.
We all felt that this was by far the most rewarding way to give back to our patients, the community and the U.[/bs_col]
[/bs_row]
---
U DRIVE ELECTRIC DEADLINE EXTENDED [bs_row class="row"]
[bs_col class="col-sm-4″]


[/bs_col]
[bs_col class="col-sm-8″] Another excuse to buy an electric car! 
U Drive Electric deadline has been extended into Jan. 31, due to popular demand. U community members now have a longer opportunity to purchase or lease a, clean, plug-in hybrid or zero tailpipe emissions eclectic vehicle at a discounted price — 5-20 percent off MSRP. With the New Year's spirit in the air and the inversion season upon us, U Drive Electric hopes to inspire and to facilitate a new generation of electric car owners. To receive the most current information, visit udriveelectric.org. The University of Utah is regularly considering and implementing solutions to lessen its environmental impact and to improve conditions for the community and future generations. The University's Sustainability Office in partnership with Utah Clean Energy, and with a generous grant from UCAIR has joined together to offer this incentive program. [/bs_col]
[/bs_row]

---
ANNUAL NOTICE: PEER-TO-PEER FILE SHARING AND COPYRIGHT VIOLATION [bs_row class="row"]
[bs_col class="col-sm-4″]
[/bs_col]
[bs_col class="col-sm-8″]Every year, as a result of the Digital Millennium Copyright Act and the Higher Education Opportunity Act, The University of Utah distributes a notice about its policy regarding peer-to-peer file sharing and copyright violations. All students, faculty and staff should understand that it is a violation of federal law and university policy to share and/or distribute copyrighted materials without the permission of the copyright holder. Violators may be subject to civil and criminal prosecution under federal law, as well as personal sanctions specified in university policy.
Please review the policy notice and contact helpdesk@utah.edu with any questions.[/bs_col]
[/bs_row]
---