ASUU's GEEK WEEK EXTENDING MARRIOTT LIBRARY HOURS FOR FINAL
In collaboration with the Marriott Library, ASUU's Academic Affairs Board is extending library hours for students from Dec. 1-17. For details about extended hours, visit lib.utah.edu/info/hours.php. Intermountain Therapy Dogs, free pizza and studying supplies are just a few of the Geek Week services ASUU is excited to bring back for Geek Week. For more details about Geek Week, visit: asuu.utah.edu/geekweek. 
---
SPRING 2016 OPEN ENROLLMENT BEGINS
This is a reminder that open enrollment for spring 2016 semester begins Monday, Nov. 30. If you have any questions, contact the Office of the Registrar at registrar.utah.edu or 801-581-5808.
---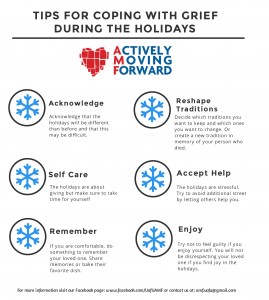 STUDENT-LED GRIEF SUPPORT GROUP ON CAMPUS
One in four college students is grieving the death of a loved one. On a campus where over 30,000 students are currently enrolled, this means that there are over 7,500 students grieving. As anyone who has experienced the death of a loved one knows, the world keeps on turning despite the grief. This is especially true on a college campus where students are expected keep up with our studies. Combine this with a culture where death is a taboo subject and many are left with an environment in which expressing grief can be particularly difficult.
Actively Moving Forward (AMF) is non-profit organization committed to supporting college students who are grieving the death of a loved one. The University of Utah chapter runs a student-led grief support group providing a space for students to talk about their experience and feel supported by their peers. The group is held the first and third Wednesday of the month from 6-7:30 p.m. and the fist and third Thursday of the month from 12-1:30 p.m. in the Union.
As a group of grieving college students supporting other grieving students on campus, we know the holidays can be an especially difficult time. While, we do not believe that there is one "right" way to grieve, we want to offer a few tips to help students deal with their grief over the holidays.
---

OPEN THE DOOR TO GIVING WITH THE U HOSPITAL ANNUAL FOOD DRIVE


Join the University Hospital food drive and make a difference this year.
The annual hospital food drive, held Nov. 23 through Dec. 15, benefits the Utah Food Bank. All donations will support the mission to feed hungry Utahns.
There are many ways to give: Run the Utah Human Race on Thanksgiving morning, donate online or volunteer at the Utah Food Bank to help the hospital reach this year's goal of 450,000 pounds of donated food.
University Hospital has led the effort to gather food donations for those in need over the past five years, collecting over 1,262,340 pounds of food since 2010.
Call Tracy Bodrero at 801-581-2429 with any questions about volunteering, and for more ways to give, visit Pulse.
---
THE CALVIN S. AND JENEAL N. HATCH PRIZE IN TEACHING
Deadline: Dec. 4, 2015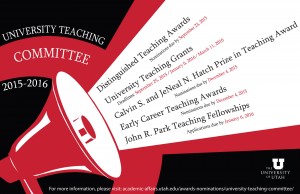 The Hatch Prize recognizes an outstanding and longstanding service by a teacher from tenure-line faculty ranks. The recipient of the Hatch Prize will receive $5,000. The award will be announced in March 2016.
All award nominations, grant applications and fellowship applications are available for submission online here.
---
EARLY CAREER TEACHING AWARD
Deadline: Dec. 4, 2015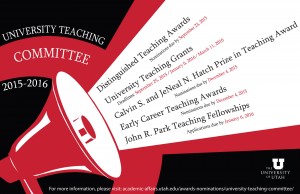 The Early Career Teaching Award recognizes up to four outstanding faculty at an early stage in their careers at the University of Utah. To be eligible, a faculty member must have completed at least three full years but fewer than eight years of service at the university and must be tenure-line or career-line faculty. Each recipient will also receive $2,500. These awards will be announced in March 2016.
All award nominations, grant applications, and fellowship applications are available for submission online here.
---
U EXPLORES THE BODY IN CINEMA WITH NEW COURSE


Beginning spring 2016, the U's Department of Film and Media Arts and the Department of Modern Dance will offer a new course titled The Body & The Screen (FILM 3905-002, DANC 3961-002, DANC 6961-002) that will critically explore bodies in cinema, both on and off the screen.
This new course will also explore the connections between the filmic medium and bodies: bodies that watch the screen, bodies on the screen and everything in between. The creator and teacher of the course is Stéphane Glynn, who received his bachelors degree from the University of Virginia with majors in media studies and psychology and a dance minor. He is currently completing an MFA in film production and a graduate certificate in Screendance at the University of Utah.
For more information, click here.
---