UNIVERSITY DISTINGUISHED TEACHING AWARD
Deadline: Sept. 23
The Distinguished Teaching Award recognizes significant contributions to the teaching mission of the University of Utah. Up to four faculty members will be recognized as outstanding teachers with an award of $5,000. Tenure-line and career-line faculty are eligible with one award available to non-tenure line faculty. To be eligible, faculty must have completed eight or more years of teaching service at the University of Utah. The awards will be announced in January 2016.
UNIVERSITY TEACHING GRANTS
Deadlines: Sept. 25, 2015 / Jan. 6, 2016 / March 11, 2016
Awards are made to faculty to undertake projects that will enhance their teaching or the curriculum in which they teach. Tenure-line and career-line faculty are eligible to propose individual and group grants. Preference will be given to applicants whose primary professional affiliation is as faculty at the University of Utah. Awards are made for amounts up to $3,500 for individuals and $7,000 for groups for items such as equipment, supplies or travel where appropriate .
See our website for detailed instructions.
---
SPRING 2016 REGISTRATION DATES AVAILABLE
Don't forget that spring 2016 registration dates are available starting Monday, Sept. 21.
---
SAVE THE DATE FOR THE 2016 GREAT UTAH SHAKEOUT

---
VETERANS SUPPORT CENTER HAS MOVED
Please be aware that the Veterans Support Center has now moved from Union 162 to Union 418, and Veterans Services has moved from Window 10 of the Student Services Building to Union 418 within the Veterans Support Center for the convenience of our student veterans. Please update any directories, and distribute this change to your faculty and staff so they can point student veterans to the right location in order to access their veteran-related benefits, or handle any veteran-related issues they may have.
We appreciate your support as these veterans transition back in to both civilian, and student life.
---
APPLY TO BE AN ORIENTATION LEADER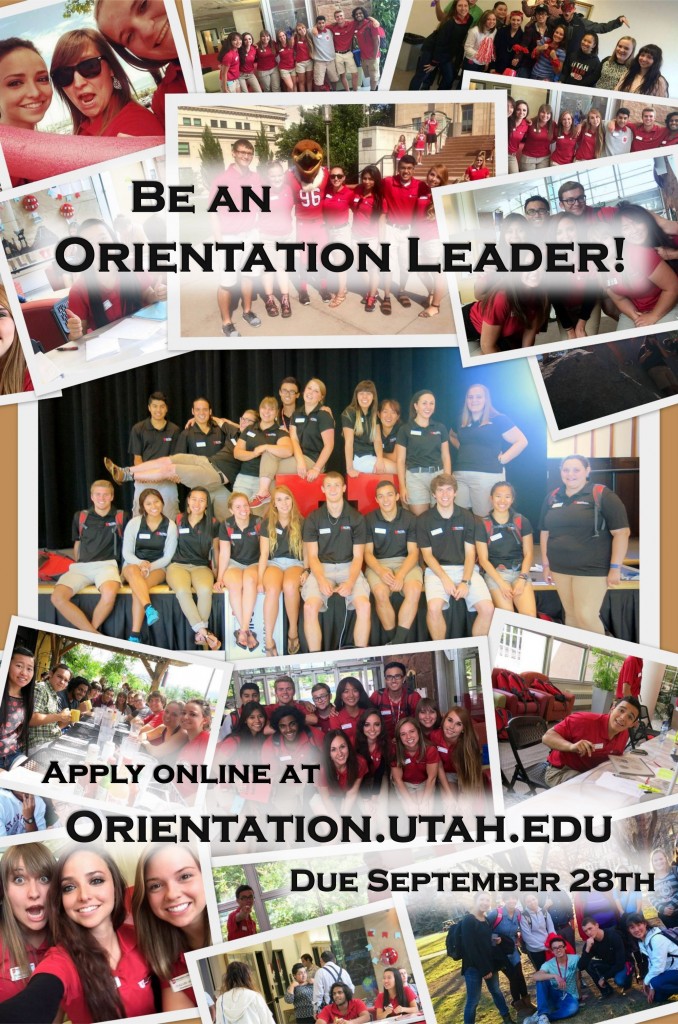 The Center for New Student and Family Programs is currently searching for Orientation Leaders for the summer of 2016.
Applications can be found at orientation.utah.edu and are due by Sept. 28. As an Orientation Leader, you will have the opportunity to officially welcome the class of 2020, facilitate small group discussion, lead team cheers, mentor individual students, give campus tours and much more.
Spending the summer as an Orientation Leader is also an effective way to get connected to the campus and build a strong network within the university. Benefits include a $2,500 stipend, free summer housing and leadership credit from the spring training class.  Above all, orientation leaders can potentially build lifelong relationships with their fellow orientation leaders. Expectations include working full-time over the summer along with enrolling in a 3-credit hour leadership class during the spring semester.
For more information feel free to call the orientation office at 801-581-7069, or for quick questions, feel free to text Taylor Checketts at 435-512-7278.
---
U-MATCH


U-Match is connecting the university community to seek, provide and trade one-on-one child care needs. New for this fall is a simplified electronic application that can be accessed via the home page at childcare.utah.edu. Those interested can register using their uNID as "looking for a babysitter or nanny" and/or "willing to babysit or nanny." Once logged in, users can search the growing registry of babysitters and nannies.
"We're starting to see traffic increase as more students, faculty and staff understand the benefit of this service — especially for parents needing irregular care hours or in-home care," says Virginia DeSpain, project coordinator for the U's Child Care and Family Resources office.
---
UNIVERSITY TEACHING COMMITTEE AWARDS AND NOMINATIONS
The University Teaching Committee encourages the efforts of faculty members, departments and colleges to improve individual teaching skills, devise effective teaching techniques, recognize and reward superior achievements in teaching.
Nominations for the Distinguished Teaching Award are due by Sept. 23. These awards honor faculty who have made significant contributions to the teaching mission of the University of Utah.
The first round of University Teaching Grants applications are due by Sept. 25. Grant awards are made to faculty to undertake projects that will enhance their teaching or the curriculum in which they teach.
---
PARTICIPANTS NEEDED FOR TEEN LISTENING STUDY
Looking for teenagers, their friends and their mothers to participate in a study and receive $150.
The Social Development Lab at the University of Utah is looking for teenagers in seventh or eighth grade to come to the lab with their mothers and a same gender friend (who is also in seventh or eighth grade) to participate in a study. The study is being conducted to better understand how teenagers talk to different people about their experiences.
Teens, their mothers and their friend will attend one, two and a half hour-long session at the University of Utah. Mother, child and friend will each receive $50 upon completion of the study. The total compensation per triad is $150.
For more information and to schedule your appointment, we ask that mothers send an email to teenlisteningstudy@gmail.com.
In the email please include:
1. Your child's age and gender
2. Your child's friend's age and gender
3. A phone number where we can reach you.
You will be contacted a few days after receiving your email.