JUMP TO:
U holiday cards
Remembering Francis "Frank" Brown
U honors novelist with award in the Environmental Humanities
Financial counseling course sequence offered by FCS
October is National Cyber Security Awareness Month
---
U holiday cards[bs_row class="row"][bs_col class="col-sm-4″]
[/bs_col][bs_col class="col-sm-8″]Get a head start on the holiday season by ordering your greeting cards from University Print & Mail Services. Conveniently place your order online and choose from more than 20 designs, enhanced by your own personalized message. Orders are typically completed in five business days and can be picked up or delivered to your office for free. Making this annual task even easier, Print & Mail can address your envelopes, apply postage and place your cards in the mail for you.
In addition to holiday card designs, University Print & Mail offers several other styles for fall, along with other special occasion cards such as birthday cards, thank you cards, custom-design cards and personalized stationery.
Both personal and office orders are welcome. To view designs online and place your order, click here.[/bs_col][/bs_row]
---
Remembering Francis "Frank" Brown[bs_row class="row"][bs_col class="col-sm-4″]
[/bs_col][bs_col class="col-sm-8″]Francis "Frank" Brown, distinguished professor of geology and geophysics, and Dean Emeritus of the College of Mines and Earth Sciences, passed away unexpectedly on Saturday, Sept. 30, 2017, at age 73. The geologist's life-work explored the sediments of the Turkana Basin in East Africa, and provided key data for determining the ages of important hominin fossils.
Brown joined the Department of Geology and Geophysics in 1971, became department chair in 1988, and served as dean of the College of Mines and Earth Sciences for an unprecedented 25 years. During his tenure, Brown oversaw the funding and construction of the beautiful Frederick Albert Sutton Building. He won the departmental outstanding teacher award five times over a span of two decades, and was awarded the Rosenblatt Prize of Excellence, an annual prize to the most outstanding professor at the U for teaching, research and academic leadership. In a truly "Frank Brown" move, he donated the $40,000 prize money to the U as a fund to help students.
A memorial service will be held on Nov. 12 at the Natural History Museum of Utah, time TBD. For updates and details, please see the College of Mines and Earth Sciences Facebook page.
Read the full article here.[/bs_col][/bs_row]
---
U HONORS NOVELIST WITH UTAH AWARD IN THE ENVIRONMENTAL HUMANITIES[bs_row class="row"][bs_col class="col-sm-4″]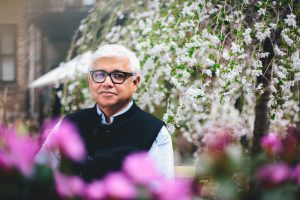 [/bs_col][bs_col class="col-sm-8″]The University of Utah's Environmental Humanities graduate program will award Indian novelist Amitav Ghosh with the inaugural Utah Award in the Environmental Humanities.
"We are thrilled to bring an environmental thinker of Amitav Ghosh's status to campus," said Jeff McCarthy, director of the Environmental Humanities program. "His writing imagines new tools for collaborative living in a new climate."
The $10,000 award will be an annual celebration of environmental leadership and expression and honor those who solve the planet's environmental problems using the tools of the humanities such as creative expression, scholarly research, popular art forms and advocacy.
"The award is the world's first prize in the field of environmental humanities. It celebrates and validates the recipients while putting their goals in the spotlight. It also puts the U on a national stage, and further distinguishes our environmental humanities graduate program," added McCarthy.
Recipients of the award will travel to Salt Lake City for a public reception, give a lecture about the role of the environmental humanities and engage with students, faculty and the community. Ghosh will visit the U campus in March 2018.
Ghosh has written 10 novels and several books of non-fiction including 2016's "The Great Derangement: Climate Change and the Unthinkable." Ghosh's work has been translated into 20 languages and published in myriad outlets including The New Yorker, The New Republic and The New York Times. His writing focuses on environmental consciousness in the most difficult circumstances of a multi-cultural, globalized and interdependent world.
Since 2006, the environmental humanities graduate program housed in the College of Humanities has been training the next generation of leaders to become academics, activists and artists for the causes they care most about.
"Our students come from around the world to study in the American west with committed faculty, impressive field stations and full-fellowships. They leave with jobs in non-profits, careers in the arts and positions in excellent doctoral programs and professional schools," concluded McCarthy.[/bs_col][/bs_row]
---
Financial counseling course sequence offered by FCS[bs_row class="row"][bs_col class="col-sm-4″]
[/bs_col][bs_col class="col-sm-8″]A new offering through the Department of Family and Consumer Studies is aimed at helping students not only earn money, but help others manage it.
The department, in partnership with the University's Personal Money Management Center, has added a new course sequence in financial counseling, which has received approval from the Association for Financial Counseling & Planning Education (AFCPE).
"We are pleased to bring this accreditation to the Family and Consumer Studies department," said Zhou Yu, an associate professor in the Department of Family & Consumer Studies and director of the financial planning program.
Accredited financial counselors may help clients with such money matters as developing a personal budget, building good credit, getting out of debt, repaying loans and preparing for home ownership, said Ann House, director of the U's Personal Money Management Center.
"This new course of study steers students toward a career as a personal financial counselor or coach, debt or credit counselor or a housing counselor," House said. "These are careers that are currently needed to assist consumers achieve lifelong financial well being." Students who complete the sequence can take the AFCPE exam at a discount rate.
The addition of the new sequence strengthens an existing major emphasis and certificate program in financial planning, which the department — in partnership with the Department of Economics, David Eccles School of Business and Professional Education — has offered for the past nine years.
The U's certificate program was approved this year by the Certified Financial Planner Board of Standards (CFP). Students who complete the planning program may take the CFP certification exam.
Both AFCPE and CFP Board require candidates to have additional work experience and adherence to a professional code of ethics to become certified professionals.
Financial advisors help clients meet financial goals, prepare for retirement and resolve financial problems. The accreditation and new course sequence can boost options for graduates interested in careers in banking, trust companies, brokerage firms, insurance businesses and as private financial planners and counselors. According to the Bureau of Labor Statistics, the 10-year job outlook for personal financial advisors is much stronger than the average for all professions — a finding that reflects the wave of retirements anticipated as Baby Boomers leave the job market.
Any student can seek the certificate, which also is available through the U's Professional Education program. The emphasis is available to students pursuing a consumer and community studies major.
In addition, the Department of Family and Consumer Studies has just approved an articulation agreement to help Salt Lake Community College transfer students complete the program.
"Several of the courses offered in this program meet students' Gen Ed requirements," House said. "We believe, most importantly, that everyone needs to learn about personal money management no matter what field they plan to major in.
"Our curriculum covers budgeting, building a good credit report, protecting personal identity, home ownership, understanding retirement needs and strategies to repay student loan debt," she added. "We are committed to graduating our U students as savvy consumers."[/bs_col][/bs_row]
---
October is National Cyber Security Awareness Month[bs_row class="row"][bs_col class="col-sm-4″]
[/bs_col][bs_col class="col-sm-8″]The internet is a huge part of life at work and at home, and no one is immune to cyber threats. That's why for the fourth year in a row, University Information Technology (UIT) is participating in the National Cyber Security Awareness Month (NCSAM) campaign. It's everyone's responsibility to behave safely online, and UIT wants to help you learn how to do so.
This year, UIT's message is aligned with the StaySafeOnline.org campaign. The topics to be covered each week include:
Week 1 (Oct. 2-6): Simple Steps to Online Safety
Week 2 (Oct. 9-13): Cybersecurity in the Workplace is Everyone's Business
Week 3 (Oct. 16-20): Today's Predictions for Tomorrow's Internet
Week 4 (Oct. 23-27): Protecting Critical Infrastructure from Cyber Threats
UIT invites you to visit our NCSAM website each week as we learn together about ways to stay informed, as well as best practices for how to stay safe online.[/bs_col][/bs_row]