UCARD DISCOUNT AT AUBERGINE AND COMPANY

Every night
, there will be a dinner special for U students on chicken pita sandwiches.  Instead of the normal $8.75, students will be able to get that sandwich for $6.95.
Also, all University of Utah students with their UCard will receive a free upgrade to a large size upon the purchase of a small salad and/or acai bowl every Tuesday.
The free upgrade to a large size on the acai bowl and/or salad will only be on Tuesdays.  The chicken sandwich will be every night for dinner only.
Aubergine and Company is located at 2122 S. Highland Dr. Salt Lake City.
---
DISCOUNT GRIZZLIES TICKETS
Saturday, Nov. 19, 2016 | 7 p.m.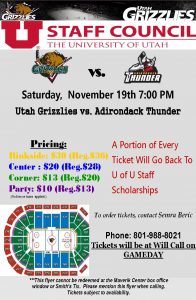 Want to see a hockey game? Want to support Staff Scholarships at the University of Utah?
You can do both this Saturday, Nov. 19 at the Grizzlies game beginning at 7 p.m.
To order tickets, contact Semra Beric at 801-988-8021. Tickets will be at will call on game day and are subject to availability.
Proceeds from your ticket purchase will support staff scholarships at the U.
---