On Sept. 15, the applause at Salt Lake City's Eccles Theater as the lights went down was not for the latest touring Broadway production or for a headliner performance–it was applause for science. Hosted by Ira Flatow, the live show of WNYC Studios' "Science Friday" took the audience on a tour of science in Utah in which University of Utah researchers took, quite literally, center stage.
Listen to segments from this show, which was broadcast on public radio stations on Sept. 21, 2018, here. Because Science Friday could only use 30 minutes of the live show, not all of our U scientists were included in the broadcast. 
Nalini Nadkarni
Professor of biology
Director of the STEM Ambassador Program
Nadkarni, a tree canopy ecologist, met with Flatow backstage and chatted with him about the orchids that Flatow raises as a hobby and Nadkarni studies in the rainforests of Costa Rica.
"Being used to giving formal public lectures," Nadkarni said, "I wanted to prepare with facts and figures about my topics of tropical forest ecology and public engagement, but [the producer had] said there was really no way to prepare–as Ira Flatow, the host, could ask questions that could draw on any aspect of my work."
They talked about Nadkarni's 35-year research career working in rainforests. "I was happy to describe both the science and the beauty of what I encounter when I climb there," she said.
She also told Flatow about her work to bring science to the incarcerated. She's brought U faculty and graduate students to talk about science at the Utah State Prison, Salt Lake County Jail, and juvenile detention centers. The professors and students say they gain as much as they give, Nadkarni said. "They learn that inmates are just as interested in and capable of learning science as are our students and that everyone can benefit from getting access to knowledge about our complex world. I heard, and felt, the audience take that in, and agree that science is, indeed, for everyone."
Randall Irmis
Curator of paleontology at the Natural History Museum of Utah
Associate professor at the Department of Geology and Geophysics
Irmis took the "Science Friday" gang on an adventure into the past. Prior to the live show, two producers joined Irmis in southeast Utah at Indian Creek, an area inside Bears Ears National Monument. Irmis and his team have discovered a diversity of fossil reptiles that lived at the beginning of the age of dinosaurs. The "Science Friday" team produced a video and "audio postcard" of the excursion that played at the live show. Irmis brought a replica of a phytosaur skull, a reptile that his team had recently excavated. He spoke to Flatow about his work and emphasized that volunteers are essential to his research.
"We have lots of volunteers that come from all walks of life to help in the field and in the lab. The phytosaur that we excavated was found by a volunteer who works as a pizza delivery guy. These are regular people who come out and make important discoveries," said Irmis. "It was a lot of fun, and the crowd seemed to have a good time."
Jessica Cleeves Dwyer
Founder of

Dark Sky SLC
Academic program manager for the U's Center for Science and Mathematics Education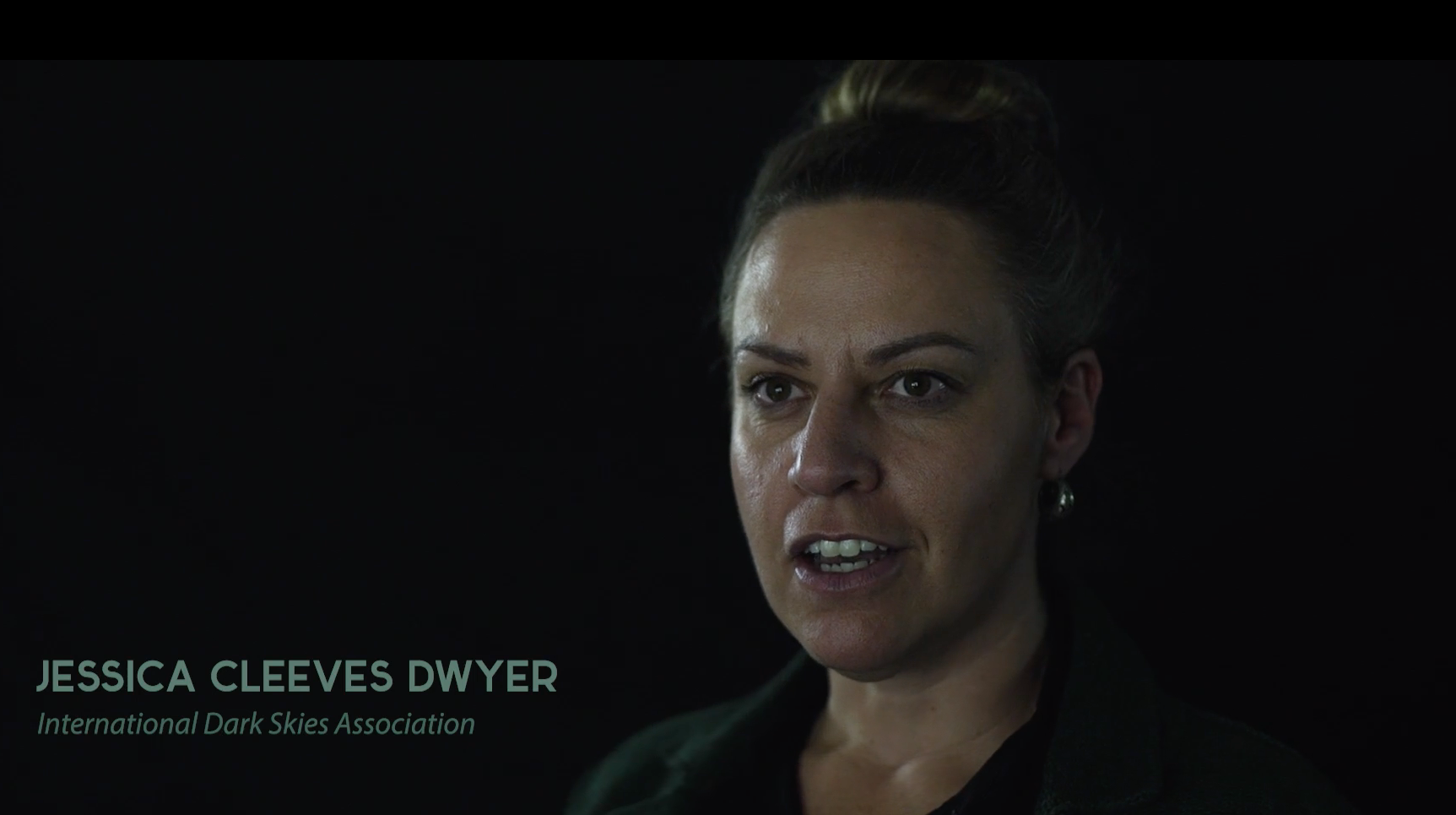 Utah is home to some of the darkest skies in the world, but light from city centers threatens this precious resource. Dwyer, founder of Dark Sky SLC, a local chapter of the International Dark-Sky Association, told the Science Friday team how artificial light at night threatens more than just stargazing; research shows that light pollution negatively impacts wildlife, air quality, and human health, including increased risk of depression, anxiety, breast cancer and more.
Science Friday screened a video of Dwyer's work, and she spoke with Flatow about the ways that individuals can improve their community's dark skies. She collaborated with the program to create a week-long pledge campaign in which audience members receive tips, via text, on how they can make small, meaningful decisions to defend the dark.
"I felt extreme gratitude; I was advocating in a massive room full of smart people who really cared, who were there because they wanted to be there," Dwyer reflected about the experience. "I felt really grateful that I could bring low-cost, actionable ideas that will allow us to take a baby step toward a more ecologically-minded citizenry.  Prioritizing a hyper-local, focused campaign to mobilize Wasatch Front residents feels like a fair trade for not making the cut for the national broadcast."