SHIPPING AND RECEIVING DANGEROUS GOODS AND HAZARDOUS MATERIALS [bs_row class="row"]
[bs_col class="col-sm-4″]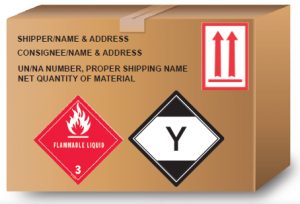 [/bs_col]
[bs_col class="col-sm-8″]The U.S. Department of Transportation has detailed regulations related to the shipment of dangerous goods. Penalties, including fines, can result from failure to abide by these regulations. Dangerous goods offered for shipment have unique packaging requirements. There are also strict training requirements for anyone shipping dangerous goods.
For these reasons, only qualified EHS personnel can ship hazardous materials from the University of Utah. If you have questions about the Dangerous Goods shipping program or about how to use the form call 801-581-6590 and ask to speak with the Hazardous Materials Transport Specialist. [/bs_col]
[/bs_row]
---