This past November, incoming President Taylor Randall reaffirmed the University of Utah's pledge toward Carbon Neutrality by 2050, a foundational strategic objective.  The university's ongoing commitment toward renewable energy sources was recently recognized by The Association for the Advancement of Sustainability in Higher Education (AASHE). The U is one of only 143 institutions worldwide to earn a STARS Gold rating or better.  AASHE also included the U in its 2021 Sustainable Campus Index, highlighting its groundbreaking geothermal energy purchase with Cyrq Energy and Rocky Mountain Power.
To help meet the carbon-neutral goal, the University collaborated with Rocky Mountain Power to utilize a new billing rate, creating a framework for large-scale users to purchase power from renewable energy sources. The U signed a long-term purchase of geothermal energy from the Soda Lake Field in Nevada, which helped finance a system overhaul and plant upgrade without drilling new wells. In 2020, the University also signed a 25-year contract with the Castle Solar Project near Huntington, Utah, to provide 20MW of electricity. This has significantly changed the U's electricity profile since 2018:
University of Utah Electricity Sources over Time: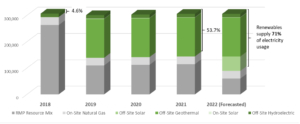 The U's Chris Benson, Associate Director of Sustainability & Energy, thanked the host of stakeholders who contributed to these considerable advancements:
"We requested proposals in 2017 – shortly after the tariff was revised – in partnership between the Sustainability Office and Facilities," said Benson. "One of the first tariff barriers was the complication of calculating costs. Using hourly comparisons of production and consumption, my team, Energy Strategies (energy consultant), and Rocky Mountain Power did extensive modeling and sensitivity analyses to fairly compare technologies, understand the range of impacts, and conduct conservative analysis for decision-making. The Sustainability Office helped seek input and buy-in from senior leaders.  We then had to develop new three-way contracts to be approved by all parties and by the Utah Public Service Commission.
For the second phase of the solar work, I worked with Dave Quinlivan of Facilities, Jeff Johnson of Procurement, Gary Dodge (legal consultant), and SITLA (the Utah School and Institutional Trust Lands Administration) to find an excellent complementary project. Again, we had to confirm the new solar scope was supported by senior leadership, including our budget office, President, and Board of Trustees. Thanks to all of this coordination, the geothermal project began delivering power in 2019, and the Castle Solar Project will come online at the end of 2022."
This great work is only possible through the campus-wide partnerships of the Sustainability & Energy group in Facilities, U Facilities, and the Office of Sustainability. The teams are excited about the Castle Solar Project progress, currently scheduled to be online by the end of 2022.
Click here to read more on the rate tariff and the selection of geothermal energy.