On Feb. 21, around 10:45 p.m., resident assistants found a racial slur, along with other profane language, written in marker on a bulletin board in a Shoreline Ridge student housing building. The vandalism was removed, and the incident was reported. Housing & Residential Education officials are reviewing security footage to identify who was involved. The university's student disciplinary process is outlined below, and updates will be posted to this page as they become available.
Upon removal, Housing & Residential Education posted the following flyer in its place: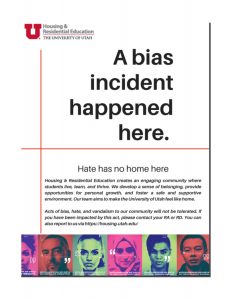 It reads:
A bias incident happened here.
Hate has no home here.
Housing & Residential Education creates an engaging community where students live, learn, and thrive. We develop a sense of belonging, provide opportunities for personal growth, and foster a safe and supportive environment. Our team aims to make the University of Utah feel like home. Acts of bias, hate, and vandalism to our community will not be tolerated. If you have been impacted by this act, please contact your RA or RD. You can also report to us via https://housing.utah.edu/.
About the student code and violations of policy:
University students are expected to abide by all university policies, including the Student Code, which prohibits dishonesty, disruption, assault, theft, unauthorized use of resources or equipment, unauthorized entry into university premises, possession of controlled substances or alcohol and more. Students suspected of violating the policy are expected to cooperate in the investigation and resolution of the issue.
The process is designed to support those who have been harmed by a violation of policy, facilitate outcomes focused on the safety and protection of others on campus and to hold those who violate the code accountable for their actions.
If the office determines that the student code was violated, appropriate resolutions/sanctions are set. These are intended to provide an appropriate response to the student misconduct, as well as a learning opportunity. Additionally, those most directly victimized have an opportunity to be consulted as part of this process. Sanctions are determined on a case-by-case basis and range from a written reprimand to dismissal.
Student conduct records are protected under the Family Education Rights and Privacy Act (FERPA), so individuals involved and specific resolutions to policy violations cannot be shared.
Resources:
Students, faculty, staff and visitors who believe they have witnessed or been the target of bias, intolerance or discrimination may report an incident to the Office for Inclusive Excellence (bias and intolerance) or the Office of Equal Opportunity and Affirmative Action (sexual misconduct and discrimination).
Below are some additional resources available to the campus community:
The U is committed to equity, diversity and inclusion 
The University of Utah strongly condemns bias, discrimination, racism, bigotry and hate in the strongest possible terms and is no place for violence. We support fostering an inclusive campus and are committed to diversity. U administrators want to assure students, faculty and staff that they are dedicated to creating a safe, welcoming and equitable campus where we work together to engage, support and advance a living, learning and working environment that fosters values of respect, diversity, inclusivity and academic excellence.
President Ruth V. Watkins addressed this in a previous message to campus. Additional information about these types of critical conversations, including a discussion about intent vs. impact, surviving and thriving, claiming space and more, is available online.