Over the years, the Peterson Heritage Center dining hall at the University of Utah has grown to offer arguably the best Mardi Gras party in town. U Dining Services Director Reggie Conerly is a Louisiana native who loves to share his favorite holiday with the campus community.
Mardi Gras falls on Tuesday, Feb. 17, this year, and the dining hall will serve its feast from 4:30 until 9 p.m. The menu of authentic Cajun food includes jambalaya, hush puppies, crawfish etouffee, frog legs, alligator, shrimp po' boys, king cake and more. Faculty and staff who present their UCard will receive a discounted rate of $8 to dine at the all-you-care-to-eat buffet. They are invited to bring their families, who will also be eligible for the discount.
Conerly moved to Utah in 2000 to manage part of the food production for the 2002 Olympics. He and his team were charged with feeding Olympic athletes, military personnel and volunteers, as well as running concessions and dining venues.
After the 2002 Olympics, Conerly became the director of the Peterson Heritage Center Dining hall, and in 2003, he organized the dining hall's first Mardi Gras celebration. Mardi Gras, French for fat tuesday, became a legal holiday in Louisiana in 1875 and is marked with traditions such as parades, floats, food, masks, feathers and beads. However, the holiday's origins stem back to medieval Europe and have a religious context.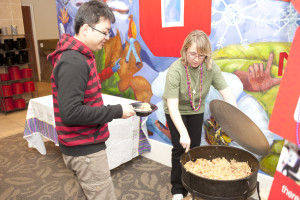 "I wanted to share my experiences in New Orleans with the people in Utah," Conerly explains. "I enjoy putting a little bit of diversity into Utah's food culture."
What started small, with just a few beads and some southern food, has grown into a full, authentic Cajun menu, featuring Conerly's personal jambalaya recipe, an authentic New Orleans jazz band and beads for all guests.
Among his favorite Mardi Gras traditions is king cake. King cake has evolved over centuries into a cinnamon Danish shaped into a hollow circle and topped with glaze and sugar. A plastic baby is sometimes baked into the cake, and it symbolizes luck and prosperity to whoever finds it in their slice. Hundreds of thousands of king cakes are eaten in New Orleans during the carnival season. The dining hall will serve about 15 king cakes, and guests who find a baby in their slice will receive a prize.
To ensure authentic king cake is served at the celebration, Conerly purchased a cake from Haydel's Bakery, one of the most famous bakeries in New Orleans, for the U's pastry chef Eleana Fielding to taste and mimic.
"Every year, the students who regularly eat in the dining hall and our staff look forward to the Mardi Gras party," said Barb Remsburg, director of Housing & Residential Education. "We love that Reggie shares his heritage with us — from the food to the music to beads — this is a tradition you won't want to miss!"